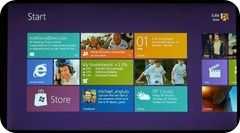 I, like many others, believe that Windows 8 will re-enable the pocket productivity market and lift us out of this strange consumer-focused mobile mess we're in at the moment and get us back to a place where we have ultra mobile PC choices for our mobile, flexible working practices and scenarios. Marketing, social networking, price wars and tablet fever are getting in the way of what many people want – productivity in the pocket.
I love Android and IOS of course but I'm not letting that change my opinion that there is a requirement for a full desktop capability in a handheld form factor. The market is indeed fairly small but it's in many different niches and sectors. [Raise your hands in the comments if you're one of those 'niche' users.] Android and IOS have done a lot for mobility, sharing and mobile media and have quickened the pace of mobile processor developments so much that we'll all benefit in the end but when you look at the software, the pace of development of productivity software is just embarrassing. On the whole, It's a sector that focuses on quick-hit, fast turnaround, short-lifecycle software and it's vastly different to the full-fat, long lifecycle, productive and flexible software you get on the desktop. Two years after this consumer mobile market started taking off there still isn't a way to buy an off-the-shelf DVB-T module, extend the screen or even log in with multiple user IDs. There are literally hundreds of features that are missing and each one of them is a potential roadblock for the advanced mobile user.
That's why Windows 8 is an exciting operating system to look forward to. It will retain probably all of the flexibility of Windows 7 but will introduce important features from the world of consumer mobile devices. Always-on, improved sensor support, touch user interface, quick-hit apps and sharing along with support for ARM-based platforms and new X86 platforms that remove some of the old legacy PC features and introduce new boot and power management subsystems. Between now and, lets say, mid 2012, I doubt we'll see any of the existing mobile operating systems advance so far that they challenge Windows and none of the new operating systems have much of a chance either. Buying an ultra-mobile PC has never been so hard but 12-24 months is a long time to wait for Windows 8. If you've got a requirement, you need a device and it's as simple as that.
Your first strategy would be to sit tight and do nothing.  That assumes you don't have a new requirement or your current device(s) can be stretched out until then. If you have a new requirement though, be it speed or scenario, and you don't have a device you can cover it with you could believe the rumors that Windows 8 will arrive early or you could do one of the following things:
1 – Go netbook
It's a low-cost solution but requires a table or a lap. That's not quite ultra mobile computing is it! Having said that, if you want to save money until Windows 8 comes along, searching for a surface or using your lap might not be too much of a problem to put up with. My advise would be to look at some of the Atom N550 or N570-based devices with a focus on Samsung who still seem to lead with better build quality and more efficient electronic engineering and screens than others. The NF310 continues to get good reports. Asus are also worth considering and the Eee PC 1015 with N570, 2GB RAM and Windows 7 Home Premium is a real bargain at under 400 Euro in my opinion. There's even the updated T101MT with N570 and 2GB, Windows Home Premium and capacitive touchscreen at around 500 Euro in Europe. Drop a fast SSD into that and it should make quite a nice Windows convertible.
2 – Buy a Menlow UMPC
Given the age of Menlow and the lack of choices around it's not something I would recommend to everyone but if the pocket is the destination and Windows is the requirement, what option do you have than to buy a Viliv N5 or a UMID Mbook SE? Both companies appear to have disappeared from the radar though so be very aware that major failures may not be fixable.
3 – Wait for an Oaktrail UMPC
ECS and Viliv have both talked about building a 7 inch Oaktrail-based Windows tablet but unless a major customer or market is found, neither of those solutions are going to hit the market. By all means, wait and see but I personally think it could be a very long wait.
4 – Buy an Oaktrail-based tablet
Early review of Oaktrail-based devices aren't singing the praises about performance and with the CPU inside being basically the same as before, it's no surprise. The RAM will need to be 2GB, the SSD will need to be fast, Aero will need to be turned off and I dare say there's some GPU driver improvements to be made but despite the claims of speed issues, you'll still be able to render full flash and javascript-enabled web pages with 100% accuracy and faster than any ARM-based tablet out there. Battery life reports are showing marked improvements too so if running a PC in a 5W power envelope is your aim, take a close look at Oaktrail. The Samsung PC7 (TX100, Gloria) slider is one to watch out for and although my recent queries to Samsung don't return any new information, they certainly don't indicate that the project has been scrapped. I'll keep you updated on that one.
5 – Go IOS or Android, adapt your requirements and track the developments
You may want to plug in your DSLR and run the remote capture software but there are alternatives. In this case, check out the Eye-Fi card. For those wanting full Microsoft Office support, look at the Asus Transformer and think about a remote desktop solution. For full-internet-experience browsing, look at whether IOS or Honeycomb will satisfy your needs. On smaller Android tablets, the Dolphin HD and Opera Mobile browsers are coming along nicely. Firefox is progressing too.  Think about a Dell Streak (only 299 Euros here in Germany right now) or a Galaxy Tab (350 Euros) along with a low-cost netbook. Look at PC keyboard sharing solutions for Android. Think about the Google suite too. Android also offers a lot that you can't get in a PC yet. Location, Sharing, always-on and a large amount of fun!
If you've read this far, you're into ultra mobile computing which is a good thing. It's fun, flexible and productive but you will also have very individual requirements. The private pilot. The dentist. The courtroom assistant. The musician. The world-tourer. Take a close look at your requirements and see what would want and compare it with what you, realistically, will need. If possible, take a risk or two and ignore that extreme scenario that you've got on your list. One thing I would advise all of you to do though is to check out the Samsung Galaxy Tab. I'm not joking when I say it changed my mobile computing world. I no longer have a netbook. I no longer have a high-end smartphone and there are very few scenarios that I can't cover with it now. I've heard people say the same about the Dell Streak (5 inch) too. If you really can't swallow that, the iPhone 4 has to be high on the list, the netbooks I mentioned above and even some older devices like the Samsung Q1 Ultra Premium.
Oh, and don't forget to look at the Toshiba Libretto W100/W105!