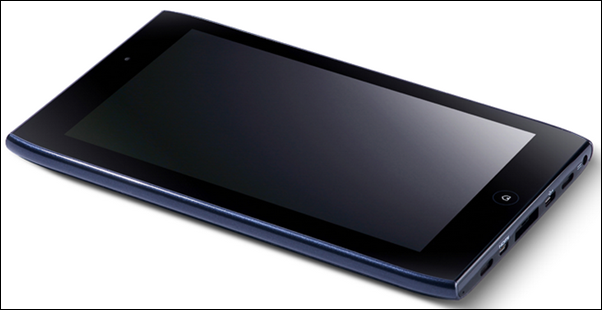 The wait is officially over. Today, Acer announced that the Acer Iconia Tab 100, the first 7" Honeycomb tablet, is available in the US today and will be coming to Canada next month. It haven't yet found it officially listed for sale on the site of any major retailers (or even on Acer's own site), but I'd expect it to start popping up later today
We've actually known pretty much all there is to know about the Iconia A100 for some time now, other then when it would be launched. Right a the end of the July, we covered a story by Engadget that indicated that the A100 would be available in August, and it seems that they were right on the money.
Speaking of money; it was unclear which capacity the $300 price-point that we heard originally was intended for. Now we've got that information officially. Acer is offering an 8GB and 16GB variant of the device. The 8GB has an MSRP of $329 USD and though $329 USD is only $324 CAD, Acer lists the CAD MSRP as $349. For the 16GB version, the MSRP is $349 USD and $399 CAD.
These low initial prices are great as we'll likely see them come down further relatively soon.
Another good thing is that the Iconia A100 will be shipped with the latest Honeycomb 3.2 installed, which means that, at least for now, customers will be able to enjoy the latest and great version of the OS and not have to worry about whether or not they'll receive timely updates… yet.
Joanna Stern has some hands-on photos and early impressions over at This is My Next. She's already reporting some unstable software on the device, which will hopefully get cleared up soon.
I'm still concerned as to whether or not Acer is lying again about the 1080p support on the A100, as they did with the Iconia A500. At launch, Acer claimed that the A500 would be able to do 1080p output even though it actually couldn't. They promised an update that was supposed to hit in June to include the functionality, but that never came, and to my knowledge, still hasn't. The press release for the A100 claims 1080p output capability, just like the A500 situation. Time will tell whether or not they are lying again.
Swing by our Acer Iconia Tab A100 forum for discussion, and if you missed it, you can find full product specs, links, and more on the Iconia Tab A100 tracking page in our database.