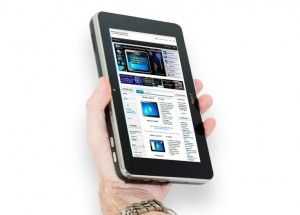 It looks like we've hit another 7 inch requirement with very few solutions. Any more of these requests and i'm going to go out there and make my own ultra mobile PC and sell it to you all!
Mike contacted me to see if he could get some suggestions for an extremely mobile computer. It's one that needs a full MS office suite and also needs to do duty as a support system in a light aircraft.
Here's the breakdown.
·As an IT manager I use the MS Office suite, MS Project, MS Visio, and Firefox to do my job.
· I also travel by small plane for work and I need a unit that runs Windows so that I can use my flight navigation software (www.anywheremap.com)
·The yoke (steering wheel of the plane) can only accommodate a unit with an 8.9 inch screen without blocking critical flight instruments – 7 inches provides the best fit
·When I land at the local airport I often use a car GPS for street navigation.
·I don't use my computers for gaming or video editing, but I do need to have reasonably snappy performance in the office environment.
That's a clear requirement. 7 inch, Windows and wallop! right into the no-devices zone.
I initially thought about leading with a device that had GPS installed but that can be problematic. In my car there's a UV filter on the screen and it kills reception. Where reception is critical, a well-positioned GPS puck is going to be the answer. Bluetooth isn't the most reliable of connectivity mechanisms but once set-up, it does work.
Now that we don't need the built-in GPS, we've widened our scope ….
I'm looking at the Libretto W100/W105 as I did in the last CCC. Mike is in situations where power is likely to be available and in the plane he can use a power brick. Do they have cigarette lighters in small planes though?! As with our previous CCC, there's also the Q1 Ultra Premium (2nd-hand) and the Viliv S7 convertible. It's got a faster SSD, good battery life and is available with 3G. It might not have the oomph to run Windows 7 though. The same goes for the Viliv X70 EX
It's the Windows requirement I want to get right in the suggestion though. A ultra mobile PC running Windows 7 really needs a fast SSD, a 1.6Ghz CPU and, preferably, 2GB RAM. It's why I keep thinking about the Libretto W100 but then there's the screen area to think about on that. It could be too big!
I've got three more to offer-up though. (Click images for more info)
HP Slate 500. 8.9 inch screen. 1.8ghz CPU. SSD. Includes dual-layer screen. The HP 500 does seem to be satisfying most people that buy it. At 1.8Ghz it's got just enough more than a 1.5Ghz Z-series Atom, along with an SSD, to make Windows 7 work smoothly. Here are some more thoughts on the HP Slate 500.
Panasonic CF-U1. It's an expensive rugged 7 inch-er ($2K entry price) but it's a seriously good bit of kit. It only has a 7 inch screen but it's a fairly bulky 7 inch device.
Netbook Navigator Nav 7 (or even Nav 9). I heard from Netbook Navigator yesterday that the Nav 7 is about ready to launch and I've just put all the details of this one in the database. Obviously you'll need to wait for some reviews before committing but it certainly looks compact enough. Unfortunately there's no docking station or VGA / HDMI out but from your email, Mike, I see you've been using a USB-based docking station anyway. This might work for you. I'll be writing more about the Nav 7 in an upcoming article. [Available here when posted]
So, Mike. What do you think? Will an 8.9 inch device work for you (HP Slate 500) or are you determined to go for a 7 inch device? Are you OK without VGA? Do you want laptop-style processing power?
Chime-in with comments people. Mike needs help!