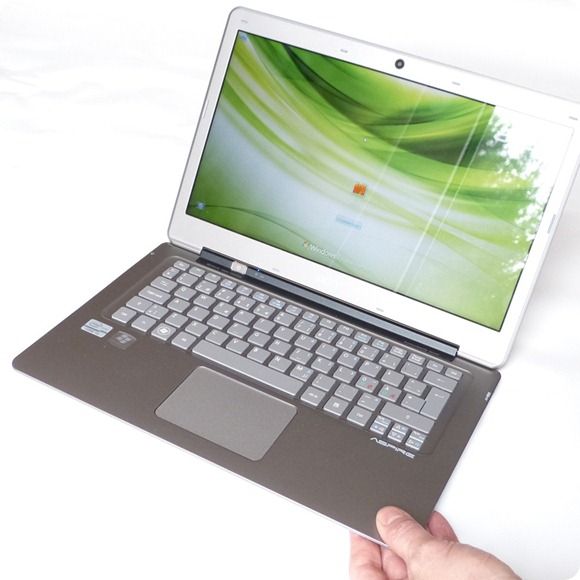 From the day that the Acer Aspire S3 was launched  everyone knew that it would be coming in as a 'value' option in the Ultrabook field. We've tested it extensively over the last week and can say that it's not only a 'value' option offering Core i5 performance where others in the price category are only offering capped Core i3, but it's also an honest Ultrabook too. It doesn't show-off, doesn't have any outstanding features but it does everything well. From screen to keyboard to performance and battery life it works well as an all-round 1.3KG 13" Ultrabook. Read on for our full review of the Acer Aspire S3 320GB HDD, Core i5 Ultrabook. (Model MS2346 with Finnish keyboard layout being tested here.)
The First 5 Minutes
Unboxing the Acer S3 is going to be a fun experience for anyone that hasn't spent a long time with an Ultrabook and that's most people out there at this stage in the Ultrabook lifeline. While the packaging is a little basic the star of the show looks great and feels light. Opening up the Acer S3 reveals a grey 'facia' of keyboard screen and touchpad and the grey stickers make it almost feel a little unexciting but it's smart. There are no swish lines like on the Samsung Series 9 and no super-thin wedge figures to talk about but there's nothing unattractive about it at all. First boot won't impress anyone looking for sub 30-second start times and after a few minutes the fan kicks in and accompanies the hard disk with a very light woosh – air noise only. The screen seems bright but the chosen background on this sample did nothing to impress, causing an overly bright and low contrast feeling. It's true to say that the screen doesn't really pop but it's acceptable and comfortable with it's 1366×768 font sizes. As with the rest of the device, the keyboard feels OK and responds well. It doesn't feel luxurious though.
Live Review
As part of our review process we spent 2 hours with the device while live with an audience. Videos from the live review are available along with a round-up of what we found out in the live session. All of it should be included in this review but just in case, take a wander over to the Acer Aspire S3 Live Review post.
Specifications
The model reviewed here is based on a Core i5, 1.5Ghz CPU (Turbo Boost to 2.3Ghz) with 4GB RAM and 320GB HDD with a 20GB 'SSD cache' that is used to speed up some operations.
Full specifications along with links to news and galleries is available here.
Size and Weight
In terms of size and weight the Acer S3 is about average for the category but like all Ultrabooks, certainly not a heavy 13" notebook. It's slim and new Ultrabook users will be more than happy.  13" Ultrabooks are all a little difficult to hold with one hand in the corner due to the lever effect of the wide body. 11" devices feel, to the wrist, so much lighter. You won't hesitate to lug this around in one arm though. In a comparison with the Toshiba Z830, it's even a little smaller in terms of depth, something that might be important for the train or plane table.
Ports
The port selection on the Acer S3 isn't 'complete by a long shot but what's here is all full-size. That includes the HDMI port and SD card slot which photographers and videographers will love. In fact, given the storage and the Core i5 CPU on this, it makes a great mobile photo and video editing device. We'll talk more about that later.
Around the device you've got two USB 2.0 ports (No USB3.0 on this) a full-size HDMI port, the SDHC card slot and a combined headset port for mic and headphone. The USB, HDMI and DC-in ports are across the back of the device.
For those of you needing VGA and Ethernet, you'll have to but USB2.0 adaptors but we think the target audience for the S3 is going to be happy with the port selection.
Screen
Again, we're going to use the word 'average' because the screen is just that. It's glossy, has a 1366×768 resolution, can sometimes appear a little washed, has a limited vertical viewing angle and bounces quite a bit on its hinge. But it's not bad and in normal use, sitting in front of the device with 30% screen brightness and typing this review, it's perfectly acceptable. Mobile users might want to think about a matt screen cover. In terms of efficiency it appears to be OK.
Keyboard / Trackpad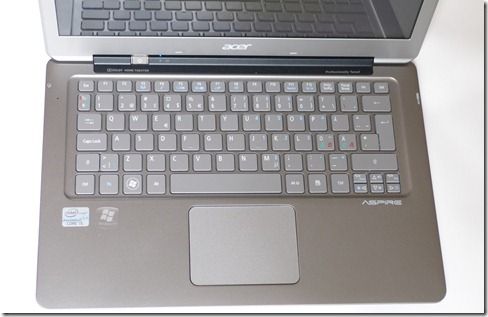 The second-most important part of the working facia of a notebook is the keyboard and here, once again, we can't say that it's the best in class. The keys sound a little noisy and don't feel quite as nice as others but it has to be said, you can type fast and error-free on it. The only serious problem is actually to do with the keycap printing. White on grey is never the best for low-light work and because there's no backlight, you'll benefit from a good desk lamp. The small cursor keys may annoy some people but we found them OK. There's a number pad available through the use of the Fn key. We have a Finnish keyboard layout here but were able to attack the QWERTY layout just like any other.
As for the touchpad, it's much the same. It works without any major showstoppers. If we must be critical we'll point out the rough plastic feel of the sensor but you'll only notice it if you use other, smoother feeling touchpads. The touchpad unit is from Elantech.
Indicator lamps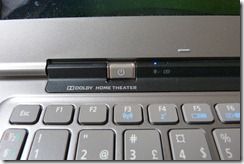 There aren't much in the way of indicator lamps. A blue 'on lamp' and a charging/charged lamp are the only two which, for a hard-drive based system, feels like it needs more. A hard-drive lamp and wifi lamp would have been helpful. At least the charging lamp can be seen when the device is closed. There's no indicator lamp for the web cam which may be important for the privacy of some people.
General Performance
It's here where we start to really notice some of the corners that have been cut by Acer through the use of the hard drive. It just doesn't feel as peppy as any of the other Ultrabooks we've tested although the Core i5 CPU, as always, does a great job of processing in general. Idling at 800Mhz and peaking at a constant 2.2ghz under load it's as dynamic as other Core i5 systems. In general we're talking about a 10% – 15% performance reduction over the Toshiba Z830 which we've been testing side-by-side with the Acer S3. Boot time though isn't a swift experience. it's as slow as any other hard-drive based Windows 7 system. 60-75 seconds being the norm. The Z830 and UX21 and UX31 all boot in around 20 seconds.
Boot, Standby
Athough the Acer S3 has a fast standby resume time of 1-2 seconds there are a few things to note. Firstly, cold boo is slow. We mentioned it above but it's worth mentioning again that the Acer S3 won't be any faster than other devices here. Secondly, the standby mode holds for 2 or 6 hours depending on configuration. After that, the device goes into Depp Sleep state where the session is saved to the 20GB SSD. Return from that can take longer. 5-10 seconds is our estimate having seen it returning a few times from deep sleep.
Disk – Speed, Size
The advantage of a Hybrid disk is that you get the storage of a traditional hard disk. The disadvantage is that you don't get the read and write speeds of a good SSD. The Acer S3 offers a very useful 240+GB of storage from its 320GB disk (After installs, updates and recovery partition) Not even the 256GB SSD devices, which are much more expensive, can offer that. For Those wanting to carry around a library of audio and video content, it's perfect. For those wanting to throw around large files and see application startup times cut down to 1/3rd or less than on a hard drive system, it's not. The read and write speeds top out at 71MB/s but go down to small block read and write speeds and you're nowhere near what even a cheap SSD can offer. Small, 4K blocks are written at just 500KB/s

Disk speeds using mains power in balanced power settings.
One program we've been using to test application startup times is Cyberlink Power Director. On the UX21 and UX31 it takes around 5 seconds to start up. On a mature WIndows 7 build on the Acer S3 that gets completed in 10 seconds. Try it soon after a cold boot and it will take 15-20 seconds.
Audio
Audio from the built in speakers is acceptable and reasonably loud but it's not full-range and not in the same class as the audio on the UX21, UX31 and Toshiba Z830 as it sounds rather tinny and no very well separated although there are a lot of settings available through the Dolby Home Theatre V4 software that can re-equalise this. Analogue output is powerful and clean and the Realtek hardware detected a headset from a Samsung Galaxy Tab.
Video
The video playback capabilities of PCs have three limiting factors. CPU, video decoding hardware and software codecs. Windows 7 provides a good set of software codecs out of the box and supports most hardware video decoders. MPEG2, MPGEG4 part 2 (like Xvid, Divx) and MPEG 4 part 10 (like H.264) along with WMV of course. You'll need to download and install codecs for other types of file.
Like all notebooks based on 2nd-gen Core processors, the Acer Aspire S3 supports full HD (1080p) decoding in hardware and we tested it up to 30Mbps which is as high as you'll get on most consumer video cameras. DVD and Blu-ray should be no problem (Blu-Ray not tested) and you'll find that the CPU barely moves during the process as all the work is done in dedicated silicon. For the 30Mbps H.264 file (2-channel audio) we saw 10% max CPU load in power-saving mode.
The reduced wide-angle viewing on the Acer S3 doesn't lend itself to multi-party viewing although the full-size HDMI port makes it easy to connect an HD screen. There's no Intel Wireless Display support.
[continue from here.]
The Sandy-Bridge 2nd generation core platform used in all 2011 Ultrabooks includes the Intel Quick Sync Video hardware that, through use of an Intel SDK, can provide accelerated encoding capabilities for common video file formats. It's useful for a number of scenarios but the one that most people will probably use is format conversion so that large-format videos can be reduced to more portable versions. Using Cyberlink MediaEspresso, a program that supports the Intel Quick Sync Video subsystem, we were able to convert a 50 second video from 1080p to a YouTube upload-friendly 480p in 20 seconds. That's 5 seconds slower (about 30% slower) than on the Core i7-based UX21 but it's still a useful conversion speed.  For field reporters needing to record in full quality this provides a great way to crunch the video for upload either in quick time (newsrooms will be particularly interested in this) or over low-bandwidth connections, this is an important feature.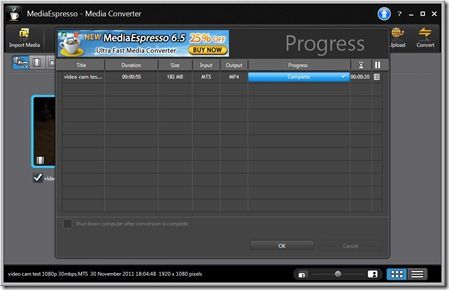 The Intel Quick-Sync video feature found on all Ultrabooks can also be used by video editing programs to speed up, significantly, the rendering process. We use Cyberlink PowerDirector 10 to test video editing on Ultrabooknews and we're pleased with its support of the Intel Quick Sync Video.  A quick test of Cyberlink PowerDirector 10 to sequence two H.264 1080p 50 second videos together with a fade and down-convert to a more portable  6Mbps (H.264) 720p format, on battery power, was completed in 2 minutes which is better than real time. That's not as quick as the Core i7 UX21 we tested.
Note that the battery drain on rendering will run at about 20W giving about a 2 hours render time.
There web cam on the 900X1B is an HD cam. There's an 'active' light and Cyberlink YouCam is shipped pre-installed. We didn't find anything special in the webcam performance but it will work well in a well-lit room for high-definition video conferencing and Skype scenarios.
Gaming
The Acer S3 is not a 'gaming' notebook but it's certainly gaming-capable.
We had a successful test of Half-Life 2 without modifying any graphics settings and Pinball HD from the Intel Appup store worked without a hitch.
In order to provide a better benchmark we've added Just Cause 2, another Steam-based game, to our test suite. It's a 2010 game and, importantly, it has a benchmarking mode. The demo runs at an unusably low frame rate under default settings, just as with other HD 3000 – powered graphics units. 11.1 FPS with default settings and resolution, battery power and high-performance mode. The Toshiba Z830 (Core i5) comes in at 10.5 FPS with the Asus UX31 (Core i7) only managing 9 fps but having a much larger 1400×900 display. We don't expect any 2011 or early 2012 Ultrabooks to beat these figures by any significant amount but it will be interesting to see how Ivy Bridge-based devices change these scores in the second half of 2012.
During gaming the Intel Turbo Boost settles at around 2.2Ghz. There is noticeable fan noise too.
The Acer S3 will provide you with a reasonable game experience if you choose older or less graphics-hungry games but neither the processing platform or the battery capacity is enough for any serious on-the-road gaming.
Support Ultrabooknews and our detailed reviews.
You'll find a Facebook 'Like', Twitter and Google +1 buttons below. Please take the time to promote us if you feel this review was useful. It will help us with the next Ultrabook review. Thanks!
Networking
The Acer S3 does not have a wired Ethernet port so a USB adaptor will be needed for 10/100 Ethernet. The Wi-Fi module, an Atheros AR5BWB225 appears to be wired well and reception levels are acceptable, if not slightly above what we' expected. No throughput tests were performed. Bluetooth 4.0 is provided which supports Wifi transfers but we have not tested it further than paring with a phone (Nokia N8) and transferring a few images.
Pages: 1 2