If you've been looking at getting the best specifications into your Ultrabook choice you are likely to have the Toshiba Z830 at the top of your list. With a backlit keyboard, SSD, Intel WiFi module with Wi-Di and My-Wifi support, full size set of ports including VGA, HDMI and SDXC, all in the lightest weight possible, the Toshiba Z830 with Core i5 promises a lot. But that's just specifications and real-world is sometimes very different. Fortunately the Z830 delivers, although it  has one possible showstopper hidden away beyond the specs and a few little niggles that might put you off. You can read about them in the full Toshiba Z830 review below. Thanks to Toshiba Europe for sending the Z830-10J over for review.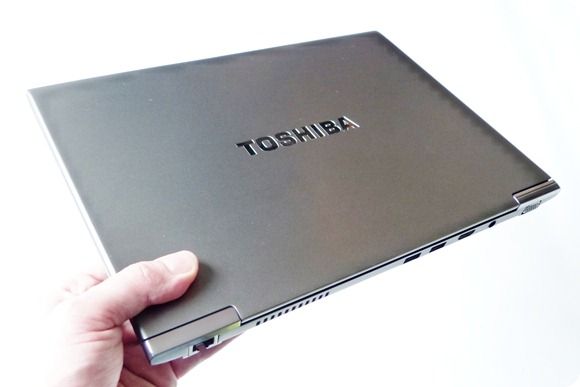 The First 5 Minutes
The high-point of the first five minutes is undoubtedly going to be the surprise at how light this 13" notebook is. 1.1KG is lighter than most netbooks, that have smaller screens. It's lighter than the size would indicate and it's thin too. There's no wedge-design excitement but you'll be pleased at the professional look and feel. There's a nice thin 'sock' to put the Z830 in which we think is very practical as a lightweight scratch-stopper. As you lift the lid you're likely to notice, and worry about some flex in the screen. If you're a mobile type you'll like the matt screen, the high-contrast keycap printing and the big set of ports on the rear of the Z830. You might find the keys a little short on travel and low on registration feedback but don't worry too much about that.
As you turn the device on and wait for first boot it's likely you'll get your first shock. We'll talk a bit about this later but on this sample, and according to reports, many more, the fan noise is surprisingly buzzy.
Live Review
We put the Toshiba Z830 up against the Acer S3 and the UX31 in a live 3hr session. You can find 1hr of recordings in this YouTube playlist here. There's an overview of the Z830 in Part 1.
You can find our Toshiba Z830 unboxing video here.
Specifications
The model reviewed here is based on a Core i5, 1.6Ghz CPU (Turbo Boost to 2.3Ghz) with 4GB RAM and 128GB SSD
Full specifications along with links to news and galleries is available here.
Size and Weight
At 1.1KG (measured) the Toshiba is one of the lightest 13" notebooks on the market. It's 16mm thin and picking it up in one corner with one hand is no problem.
Ports
Possibly the most important feature of the Z830 is not its weight but its professionally focused set of ports. On the left there's the SD (SDXC compatable) card slot which offers full-insert. There's also a separate mic and headphone port which should widen the choice of headsets that can be used. Across the back there's a VGA port (without screw fixings) a full size HDMI port and two USB2.0 ports. To cater for high-speed fixed networking, a Gigabit Ethernet port is also provided. On the right you have a USB3.0 port with configurable sleep and charge. Maybe we'll be looking for Thunderbolt or DisplayPort in 2012 but for the time being, this is going to satisfy almost everyone.
Screen
We briefly mentioned the flex in the screen above. It also wobbles back and forth if you haven't got a steady table so watch out anyone that's going to use a Z830 webcam for a lot of conference calls. As far as we can tell the hinge is strong and the Duraluminium metal on the back of the screen should help to protect it from knocks. We're not sure how much flexing the screen could take before it would crack but we're not going to test that. Toshiba tell us that the Z830 went though 100KG load tests on top of the device so you should be OK with it in a carry-on bag in an overhead locker. DONT try and step on it. Your weight  won't be distributed in the same way and you're going to break it. Having said that, if you're going to test it, please take a video and send it to us !
The 1366×768 screen resolution is a somewhat average and having used the UX31 we long for a higher pixel density. We're sure most people would benefit from it even with smaller default font sizes. Color balance and contrast seem good although there's a tight vertical viewing angle. It's OK from left to right but after 45 degrees the brightness drops away.
As for brightness we'd guess that it's better than the Acer S3 but it's not as bright as the UX31. Is anything? We're in a dark room right now with the keyboard backlight on and a screen brightness of 25%. Color at 100% brightness is a little washed. Not as good as the Samsung Series 9 screens but a lot better than the Acer Aspire S3. Average-to-good.
The matt screen finish on this version (note that some Z830's have a glossy screen) really helps to reduce reflections but doesn't 'punch' when playing back videos as much as a glossy screen in a dimly lit room does.
Keyboard / Trackpad
We can start with confidence and say 'no showstoppers' here but there are one or two things you need to take note of.
On the keyboard, we're really pleased to see a backlight. Having used the backlight on the Samsung Series 9 ultra-thins it's now almost inconvenient to have a device without it. It's not adjustable for brightness but works extremely well. The right-hand row of navigation keys helps too. It will probably take a while but for navigating through web pages and documents they appear to add value without creating awkward misses of the Enter key. The keys themselves have a useful bold white on black print. You won't feel the press action of the keys as much as other keyboards and we'd agree with others that say the key action is slightly squishy but this author is a light typist and finding it fast and error free after a few days of use. [Edit: We've written over 5000 words on the keyboard now the review is finished.] There are 2nd-function keys for everything you can think of and two programmable keys that are pre-programmed for external screen mode and eco mode. Finally there's a button to turn off the touchpad.
The touchpad is a good Synaptics unit and has separate mouse buttons. The buttons can feel a little hard to press but at least they are well-defined.
Indicator lamps for mains input, power/standby, charging, disk access, wifi/blutooth and cellular radio (unused on this version. A 3G version is promised.) exist below the touchpad and the mains, standby and charging lights are viewable when the device is closed. While we're on the subject of indicator lamps, there's one under the caps-lock key and one next to the webcam.
We have no complaints on the keyboard / touchpad part of the Toshiba Z830
General Performance
We're dealing with a Core i5 Ultrabook sunning an SSD here and there's only one possible disappointment in the average SSD write speed but overall this is an Ultrabook that extends right down to long-battery life typing to video editing and gaming.
Boot, Standby
Boot from cold is done in about 20 seconds proving at least that the SSD read speed is up to scratch. The ASUS UX31 is only one or two seconds ahead of the Z830. Resume from standby is around 4 seconds. Resume times appear to increase after a few hours of standby. We haven't measured standby drain.
Disk – Speed, Size

Disk speeds using mains power in balanced power settings on the left.For comparison, the Acer S3 is shown on the right.
When we originally heard about the relatively low write speeds on the SSD we had our head in our hands. It turns out that we needn't have worried. Real-world usage is fast and you'll see that when you look at the read speeds. The small block size read and write speeds are OK too. This isn't a slow SSD. You may, however, notice some limitations on file copying but seriously, it's not going to affect too many users.
One program we've been using to test application startup times is Cyberlink PowerDirector 10. On the UX21 and UX31 it takes around 5 seconds to start up. On the Z830 you're looking at 7-8 seconds. The Acer S3 can take 20 seconds to start Powerdirector.
Audio
Audio from the built in speakers is OK. Just OK. We found the UX31 and Samsung Series 9 to be better at normal listening volumes but it's got a fuller sound than the Acer S3. Fine for background music while you work – as we've been using it while writing this review. The audio is 'Dolby Advanced Audio' certified which gives you some features like virtual surround and volume levelling. Over headphones the sound was clean but we felt it was missing some highs and that the separation wasn't as good as it could be. Of course, this is the analogue output of a laptop we're talking about. If you want the best audio out of the Z830 you'll take the digital audio via the HDMI port.
It's useful to have a separate mic-in port. We would be able to plug in our podcasting headphones for a better Skype experience.
Video
The video playback capabilities of PCs have three limiting factors. CPU, video decoding hardware and software codecs. Windows 7 provides a good set of software codecs out of the box and supports most hardware video decoders. MPEG2, MPGEG4 part 2 (like Xvid, Divx) and MPEG 4 part 10 (like H.264) along with WMV of course. You'll need to download and install codecs for other types of file.
Like all notebooks based on 2nd-gen Core processors, the Toshiba Z830 supports full HD (1080p) decoding in hardware and we tested it up to 30Mbps which is as high as you'll get on most consumer video cameras. DVD and Blu-ray should be no problem (Blu-Ray not tested) and you'll find that the CPU barely moves during the process as all the work is done in dedicated silicon. For the 30Mbps H.264 file (2-channel audio) we saw 12% max CPU load in power-saving mode and a power drain of around 11W for about 4.5 hours of HD playback.
In addition to VGA and HDMI out there's a third method that can be used with compatible equipment. The Wi-Fi card, a Centrino module, supports Wireless Display (Wi-Di) so you can send 1080p video to a screen without a cable. Wireless CD-quality audio is also supported over Wi-Di. A Wi-Di / HDMI receiver costs from around $80.
The Sandy-Bridge 2nd generation core platform used in all 2011 Ultrabooks includes the Intel Quick Sync Video hardware that, through use of an Intel SDK, can provide accelerated encoding capabilities for common video file formats. It's useful for a number of scenarios but the one that most people will probably use is format conversion so that large-format videos can be reduced to more portable versions. Using Cyberlink MediaEspresso, a program that supports the Intel Quick Sync Video subsystem, we were able to convert a 50 second video from 1080p to a YouTube upload-friendly 2mbps 480p in about 15 seconds, the same speed as the Core i7-based UX21.  For field reporters needing to record in full quality this provides a great way to crunch the video for upload either in quick time (newsrooms will be particularly interested in this) or over low-bandwidth connections, this is an important feature.
The Intel Quick-Sync video feature found on all Ultrabooks can also be used by video editing programs to speed up, significantly, the rendering process. We use Cyberlink PowerDirector 10 to test video editing on Ultrabooknews and we're pleased with its support of the Intel Quick Sync Video.  A quick test of Cyberlink PowerDirector 10 to sequence two H.264 1080p 50 second videos together with a fade and down-convert to a more portable  6Mbps (H.264) 720p format, on battery power, was completed in 2 mins 40s which is slower than the Acer S3. Update: We updated the BIOS, graphics drivers and turned off shadow files in PowerDirector (which we suspect was slowing the process down) and the render ran at at about 2x real time (50 seconds for the 1m55sec video.)
The web cam, a 1.3MP unit was grainy in low-light but it will work well in a well-lit room for high-definition video conferencing and Skype scenarios.
Gaming
The Z830, like all Ultrabooks, isn't a 'gaming rig' but it's capable of some gaming entertainment.
As with other Ultrabooks, we had a successful test of Half-Life 2 without modifying any graphics settings and Pinball HD from the Intel Appup store worked well.
In order to provide a better benchmark we've added Just Cause 2, another Steam-based game, to our test suite. It's a 2010 game and, importantly, it has a benchmarking mode. The demo runs at an unusably low frame rate under default settings, just as with other HD 3000 – powered graphics units. 10.5 FPS with default settings and resolution, battery power and high-performance mode. For comparison the Asus UX31 (Core i7) only manages 9 fps but it has a much larger 1400×900 display. We don't expect any 2011 or early 2012 Ultrabooks to beat these figures by any significant amount but it will be interesting to see how Ivy Bridge-based devices change these scores in the second half of 2012.
The fan can get very 'buzzy' on the Z830 which could affect any gaming unless you're wearing headphones. Heat build-up is detectable during gaming.
Support Ultrabooknews and our detailed reviews.
You'll find a Facebook 'Like', Twitter and Google +1 buttons below. Please take the time to promote us if you feel this review was useful. It will help us with the next Ultrabook review. Thanks!
Networking
As mentioned above, one of the great features of the Toshiba Z830 is the port selection and that includes a full-size Gigabit Ethernet port. In addition you've got an Intel Centrino 6230 Wifi and Bluetooth module. The Wifi includes My-Wifi (Wifi direct) support along with Wireless Display support. While we haven't been able to test the Wireless Display we have been impressed with the quality of the wireless connection and the range of reception, the best we've seen on an Ultrabook so far. The Centrino 6230 has two antennas and supports 2.4 and 5Ghz bands for throughput up to 300Mbps. The Bluetooth module supports up to 3.0+HS too which means you can potentially get fast transfers over Bluetooth. If you're used to battling with connectivity in conferences, exhibitions and airports, the Wifi module on the Toshiba Z830 might give you a nice little advantage.
Pages: 1 2