Performance Testing
Running performance test suites gives you a benchmark with which to roughly compare against other devices.
PCMark7

Toshiba Z830 PCMark7: 2885 (battery power, high-performance mode.)
Previous Ultrabook results:
Acer Aspire S3 PCMark7:1967
Samsung 900X1B (Core i3) PCMark7: 2508
Asus UX21 (Core i7) PCMark7: 3358
Cinebench 11.5 CPU test (2 core)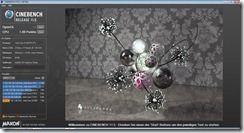 Toshiba Z830 (Core i5): 1.89 (battery power, high-performance)
Previous Ultrabook results:
Acer Aspire S3 (Core i5): 1.63
Samsung 900X1B (Core i3):  1.25
ASUS UX21 (Core i7): 2.11
Cinebench OpenGL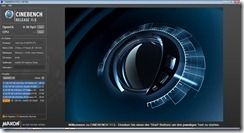 Toshiba Z830 8.36 fps (battery mode, high performance)
Other Ultrabook results:
Acer Aspire S3: 7.51 fps
3DMark06

Toshiba Z830 (Core i5 Battery power – high-performance mode): 3508 3D Marks (2nd-run:3518) Interestingly this is better than our score on the ASUS UX21 with Core i7. Notebookcheck, however, got a better 3DMark score: 3755 so we suspect our test results for the UX21 aren't the best that can be had.
Acer Aspire S3 (Core i5): 2784 3DMarks
Samsung 900X1b (Core i3): 2373 3DMarks
ASUS UX21 (Core i7): 3182 3DMarks
Installed Software
Toshiba certainly didn't hold back on the pre-installed software! It's loaded with both Toshiba and try-ware software to the point where it's confusing and probably loading the CPU more than it should. Toshiba have their media content store, there are games, anti-virus, backup software, health monitor, disk monitor, usb charging software, Intel Wifi software, diagnostic software, and stuff we just didn't get round to looking at. After clearing out the A/V software we were still seeing 95+ processes running after a fresh boot. That's just too  much. The Z830 will benefit from a clean-out or, if you've got the patience and a Windows 7 install disk, a fresh install.
Battery Life
There's no single battery life figure for a device that can operate in so many different scenarios. The battery drain figures range from 3.1W (the minimum we could get out of screen-off idle) through to over 30W in full-load scenarios but we've done a lot of tests, watched a lot of 'perfmon' graphs and have come up with the following for you.
Internet Radio (battery saving mode, screen off, clean system) – Average 5.8W drain = 8 hours
Web-based work. Wifi-on. Screen-on 40% – Average 7W drain = 6.7 hours
Average office working scenario – eco mode, apps and web = 8w : up to 5 hours
Video rendering at 75% screen brightness, balanced mode = 22W Over 2hrs.
Gaming and other high-performance activities = 20-25W drain = 1.5 – 2 hours
The figures are generally very good although we noticed that getting to these low averages took a long time. We suspect that the number of background processes are affecting the rate at which the CPU can get to idle. The Wifi module is exceptionally efficient with streaming music taking 300-400mw (802.11g at 5 meters from hotspot.)
Our battery was showing a full capacity of 43.4Wh ; Which is 7% under the 46.4Wh theoretical capacity. [Info from CPUID Hardware Monitor]

Heat / Noise
Pay attention now because here comes the potential showstopper.
We've been really happy at how cool the Z830 remains even under load but there's a noise issue we need to talk about that will affect anyone using the Z830 in very quiet areas. We're not talking about a huge volume of noise but we are talking about a very annoying buzz that comes from the fan. it's not a faulty Z830 either because not only have we read reports from owners but we've also tested another Z830 in a store. To try and describe the noise we would call it an electronic buzz, typical of a cheap fan. it reminds us of fun we had building quiet PVR systems 5 years ago. To quantify the noise is difficult. It can barelfy be measured at close range with a consumer dB meter in a quiet room but we did manage to mask it with the quiestest of music streams. Groove Salad, a downbeat music stream, at a system volume of 9% (WMP volume 100%) was enough to mask the noise and it resulted in our dB reading going from around 45 to 50dB. 50dB is quieter than most offices so this is only something that will affect quiet-room use. Unfortauntely for the home user, it might be enough to be a major issue.
Interestingly the Z830 stays very cool at idle temperatures and it appears that there is scope for either turning the fan off or reducing the rate. There's also reports that some fans are quieter than others to the point that some owners are saying they only hear air noise. Our recommendation, if you often use notebooks in quiet places, is to 1) Keep checking forums for potential BIOS uipdates or other fixes 2) Test the Z830 in a shop before you buy it. Note that store noise is likely to masks the fan noise so pick it up and put it to your ear!
We have a query out with Toshiba on this subject and will update if we hear anything from them.
Update: 21/02/2012. BIOS 1.6 addresses fan noise. See this article for more.
Recovery
Toshiba do not include recovery disks but there is a recovery partition on the hard drive. There is also a snap-shot tool, Recovery Image Creator, for taking an image of your drive and putting it on a USB drive with a size of 13Gb or more.
Stability and Quality
We saw no stability issues during the one-week test period and haven't detected any weak points in the build quality.
Support Ultrabooknews and detailed reviews.
You'll find a Facebook 'Like', Twitter and Google +1 buttons below. Please take the time to promote us if you feel this review was useful. It helps us to keep standards high.
Target Customer
Taking the noise issue into account, we think the Z830 makes a fantastic Ultrabook for mobile and office users. Usage scenarios extend to video editing too. The matt screen, keyboard backlight and lightweight design bring more mobility to a Core i5 laptop than ever before at this price. Some typists may find the keyboard needs a little adjustment in typing style but trust us, after this 3700 word review we're really happy with the quality. The Z830 makes a great laptop for exhibition and airport use but because of the fan noise, we can't recommend for home workers or those wanting a quiet hotel working experience, unless of course, you're happy with some background noise or headphones. It's an option!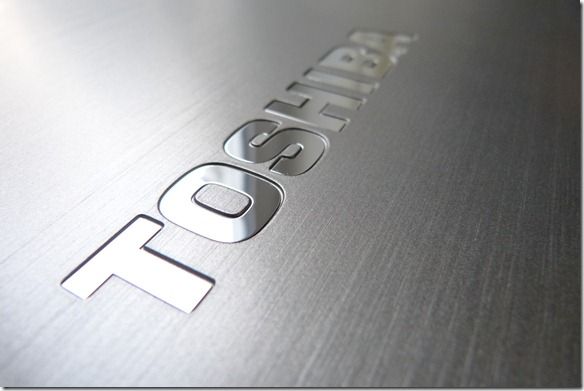 Summary
We're very impressed with what Toshiba have done here with the Z830. A Core i5 processor, SSD and respectable battery life in a 1.1KG 13" laptop is no small feat. The Z830 looks professional and comes with some pro-level features and a great port selection. One could complain about a potentially wobbly screen or spongy keys but they shouldn't out-balance the good on this notebook. The attention to quality appears to be fantastic…until you hear that fan. I suspect Toshiba know about this fan issue but the question is, why have they let it taint an almost perfect Ultrabook? There will be returns and there will be the lucky ones that get a quiet fan or don't work in quiet areas. We would encourage you to test the Z830 out for yourself because if that fan noise is OK for you, you've got a winner on your hands. Highlights: Backlit keyboard, Intel Centrino Wifi/WiDi, incredibly light weight, best battery life / KG of possibly any non-netbook. Lowlights: Fan, spongy keyboard, 'bouncy' screen, pre-loaded software
Images
You can find a large gallery of Toshiba Z830 images in the gallery hosted over at UMPCPortal.
Support Ultrabooknews and our detailed Ultrabook Reviews.
You'll find a Facebook 'Like', Twitter and Google +1 buttons below. Please take the time to promote us if you feel this review was useful. For more 'contact and connect' see this info page.
Pages: 1 2