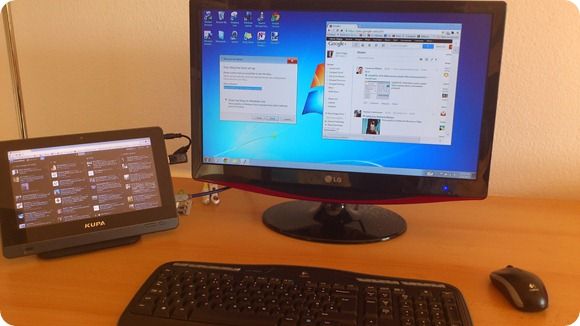 I've done some tests on the Kupa X11 and  just like they say, it's possible to use it for up to 10 hours on battery. It's impressive but what about getting things done on the Kupa X11? You can have all the battery life in the world but if you can't use the device, it's worth nothing.
To test the real-world value of the Kupa X11 in terms of 'getting things done' I've swapped out my Ultrabook-desktop for the Kupa X11 today and as you can see in the image, I've connected an external monitor, keyboard and mouse.
The Kupa X11 runs a single-core 1.5Ghz Intel Atom CPU. It's about as slow as it gets from Intel but you have to remember we're talking about a CPU that can go in a phone here! Under Windows 7, the architecture required (USB, PCI, ACPI, display and more) means that you don't quote get smartphone-like battery life but it's quite impressive. You also get the advantages of being able to hit the ground running with a very flexible and productive operating system.
Average power usage as I type this, with Chrome (3 tabs), LiveWriter, Live Gallery and perfmon windows running, is 6.3W which is 6-7hrs of usage. I'm using 'high performance mode' but the CPU is still down-stepping to try and save power where it can. The Kupa X11 is silent.
This is not a desktop experience I'd like to have every day but I'm getting stuff done and Windows is providing me with all the facilities I need to get to work. Apart from a failed Bluetooth file transfer from a mobile phone, everything has worked smoothly. From plugging in the monitor to connecting a phone via USB to editing this article in the WordPress web interface.
The Kupa as a standalone tablet PC
Unplugging the monitor and working on the Kupa as a standalone PC is a slightly different experience. The 1366×768 resolution helps but font sizes need to be pushed up a bit and that reduces the advantage of the high resolution but here I am, with exactly the same applications running, an average power drain of 5.7W and a touchscreen in front of me that, given the right operating system (I'm talking about Windows 8) could be quite compelling, mobile and productive. Typing away with a few web apps running I'm seeing over 7hrs of battery life.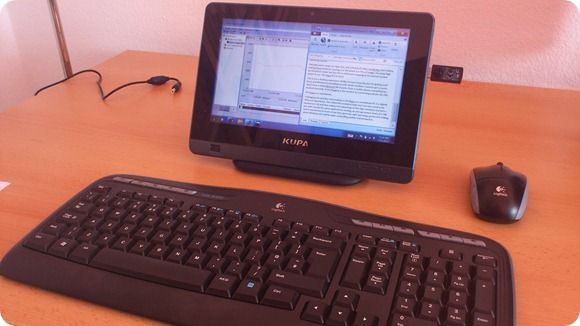 The question is, could this be better?
1.5Ghz Atom, even when coupled with 2GB of RAM and an SSD, isn't a fluid experience in Windows 7 and it's not going to be better in Windows 8 desktop.  For my basic Web and typing requirements here it works well once all the apps are up and running but it's not going to be good enough for, say, a lengthy session of image editing, a 500MB unzip, or some heavy spreadsheet work. Is it going to be good enough for Windows 8 metro though? If it is, the Kupa can then be used in far more scenarios. I suggest it needs to lose 20% of its weight and tidy itself up a bit to become competitive in a mainstream market but as it stands, this 10 inch tablet is going to be a pretty flexible device for pro-mobile types and that's exactly where Kupa are aiming this. With 3G and a fingerprint reader, it really does embody the requirements of a pro UMPC. Flexible, mobile, productive.
Now that I've done some testing with Windows 7, it's time to load-up Windows 8. Stay tuned.
(The Kupa X11 has been silent through this hour of testing. Screen brightness was set to half.)