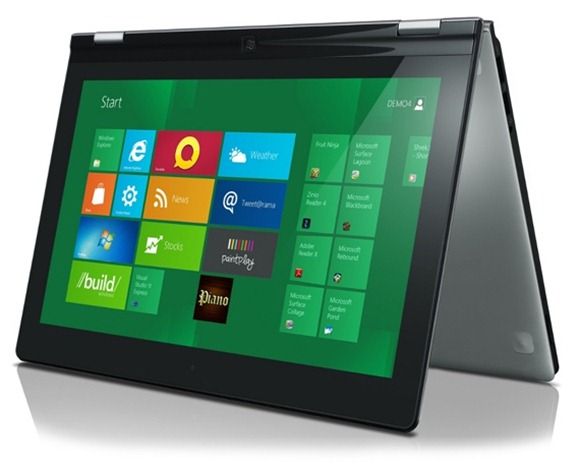 There's a lot of interest in the Lenovo Yoga. It has a few issues that will limit its use as a tablet but the starting price isn't bad considering the design, the touch capability, Windows 8 and the fact that it's the first Ivy Bridge Ultrabook pricing we've seen so far.
I tested out a Yoga back at CES (video below) and like everyone else I was buzzed about the possibilities.  A 1600×900 IPS screen was as impressive as the 'fold back' demo but at just under 1.5KG it's about 3 times heavier than the ideal weight for a tablet. Given that this is a bit of a power-house, perhaps we should be comparing it with TabletPC's but I've just finished testing a full tabletPC over at UMPCPortal though and even at 1KG it's too heavy to handle for any length of time.
This is a tablePC, not a tablet PC meaning that it will be an interesting touch-enabled Ultrabook and has a second mode in it's 'easel' configuration.  Good for presentations and some casual games. If the price premium isn't too much, it will be worth having for those that want the ultimate mobile Windows 8 touch experience. A digitiser layer isn't included though so watch out if you're planning to do pen input.
The Lenovo Yoga is going to hit the UK market for £1199 [That's £999 before tax – our guess would be $1099 pre-tax for the base version in the USA] which is high, of course, but according to our conversation with Lenovo you've got Wi-Di, an SSD and, via Engadget, a 54Wh battery which could well related to an honest 8hr light online usage. Our product tracking page has all the specs so far.
I note that the fan output towards the body in tablet mode.
From the Lenovo press release….
The industry's first multi-mode notebook with a 360 degree flip-and-fold design comes in the form of the IdeaPad YOGA that gives consumers four-in-one personal computing, with four separate usage modes in one PC. Combining the tablet's ease-of-use with the Ultrabook's functionality, the IdeaPad YOGA is the industry's thinnest convertible Ultrabook measuring 0.67" (16.9mm) thin at 3.1lbs (1.47kg).
There's more over at Engadget so give them a hat-tip and head over for their words and pics.