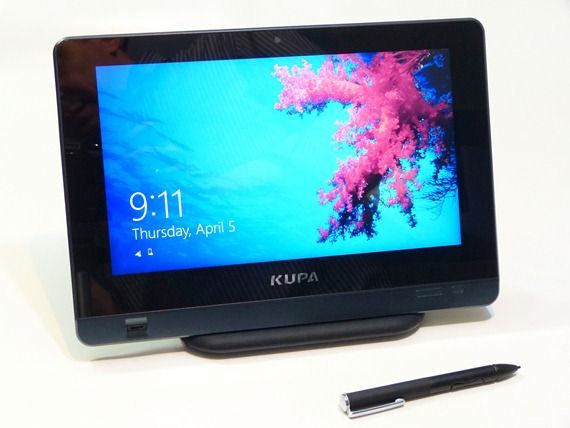 The Kupa X11 is a relatively niche Windows tablet PC based on what is the lowest-energy Windows-capable platform there is Intel Oaktrail, the Z670 CPU and GMA600 GPU. With it's 1366×768 screen, SSD storage, 2Gb of RAM, fingerprint reader, active digitiser layer and fanless design, it stands alone in the market with, as far as I know, no comparison. The model we have here, the Kupa X11 Pro, even comes with 3G. To add to the list of positives, the Kupa X11 also has a huge internal battery that can run it for 10hrs. Just what sort of customer is the Kupa X11 aimed at and how does it perform? Let's take a closer look.
The First 5 Minutes
In the Kupa X11 unboxing video, we took you round the device and showed you the packaging and ports. The Kupa X11 itself doesn't win any style awards as you unwrap it and it's rather dense, despite only weighing 1KG. It's nowhere near as thin as other 10 inch tablets but in comparison to other Windows tablets, it's on par. Build materials seem strong and there's no creaking or cracking. The Kupa X11 has a sold look and a solid feel good for the audience that we think will be interested in it. Top marks to Kupa for some high quality packaging and presentation.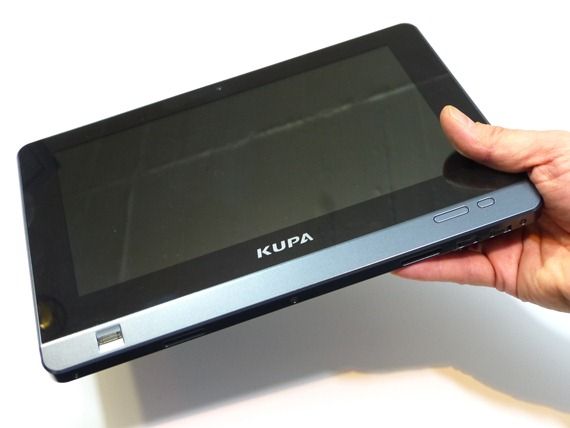 Specifications
Full specifications and details are available here but here are the main points of interest.
CPU type: Intel Atom Z670
CPU speed: 1500 Mhz
Graphics: Intel GMA 600
OS: Windows 7 Professional
Display Size: 10.1″ 1366 X 768
RAM:2048 MB
Flash: 64 GB
Battery capacity: 52 (Wh)
Weight: 1019gm / 35.9 oz.
Ports: mini HDMI, 2x USB2.0, SIM card slot, headset port.
Other: Fingerprint reader. Stereo Speakers
Size and Weight
At 1.019Kg (measured) the the Kupa X11 feels dense. It this was an 11.6 inch tablet it would feel lighter but the eye tells the head to expect a little less for this size device. 1KG isn't ideal for any sort of long-term one-handed use (as is common with a tablet with a digitizer or capacitive input) so for those using it for more than 10-15 minutes in this mode we would recommend a case with a hand-strap across the back.  In comparison with 'consumer' tablets it's rather heavy. In comparison with other Windows tablets, it's not bad at all, especially when you consider the battery life. More about that below.
Ports
With only 64GB on board (128GB model available) it's very surprising that there isn't a removable storage slot. This is going to be a show-stopper for some as Windows 7 (and we assume Windows 8) disk usage will grow quickly. Maybe this reflects the target user. We discuss that below.
You've got 2 USB 2.0 ports which are useful for keyboard/mouse and an HDMI port for presentations and screens. A combo headset port isn't perfect for the Skype headset scenario but acceptable considering the size of the Kupa X11. There's no docking port.
Screen
A 1366×768 10 inch screen is a real advantage on Windows. While fonts may appear small to some, they can be boosted across the board and for others, you have the advantage of being able to get lots of text, or a few windows, on the screen for multitasking. The brightness is impressive and the vertical viewing angles (in landscape mode) not bad at all. Horizontal viewing angles are not as good. This isn't a wide-viewing-angle display but it's better than some. The screen is glossy but matt display covers/filters are available and one was shipped with our review device. We didn't have time to test it.
Touchscreen / Pen
Finger-driven Windows has never been the easiest of experiences. Kupa realise this and have increased the size of some of the windows elements to make it easier on the finger but there are still some issues. Closing a tab on Chrome was difficult, for example. Using the digitiser pen is a solution to this but not easy with one hand holding a 1KG tablet. We understand there are some use cases out there for digitisers but although a 10 inch tablet does increase the portability, it really reduces it's usefulness for digitiser use cases and with the limited amount of CPU power on offer here, there's again a mismatch. We are struggling to think of any users that would want such a low-power device with a pen when there are bigger (yet, more expensive) solutions out there. Pen responsiveness, fluidity and accuracy in handwriting mode (tested under Windows 8) was impressive for this left-handed writer.
Performance
Before reading the rest of the review we suggest you check out this article where the Kupa X11 is used as a desktop office PC.
The Kupa X11 is a low-power device in both senses of the expression. It uses little energy and can last for 8+ hours for basic usage but it's also running one of the least powerful Windows-capable processors available. It means some things take longer. Some things take significantly longer! On the other hand, the Kupa X11 does a good job of some basic tasks.
Disk Speed, Size
The 64GB SSD is not a screamer (or perhaps the platform is the bottleneck) but it does a reasonable job. Raw performance tests gave a max 138MB/s read speeds and 46MB/s write speed with small-block read/writes speeds (the important ones) at 9MB/s and 1.2MB/s respectively. This is echoed by good application start-up times when the device is idle. When the Kupa X11 starts getting busy, processes can get really laggy. We wouldn't like to see a version of this with a spinning hard drive. Kupa have made a good decision to go with a relatively fast SSD.
Boot time, thanks to the SSD, is fairly quick. Return from standby is a typical 5 seconds.
Audio
Audio from the built in speakers is not high-quality and although the max volume seemed OK in our quiet testing environment, it's not loud. If you're thinking of puttinh the Kupa X11 in a noisy environment, and need audio, you may have an issue. We can not confirm that audio is passed through the HDMI port as this was only tested in Windows 8 Beta where we had audio issues.  As video output is working in Windows 7, we assume audio is also working from the HDMI port. The audio through the headphone port was clean.
Pages: 1 2