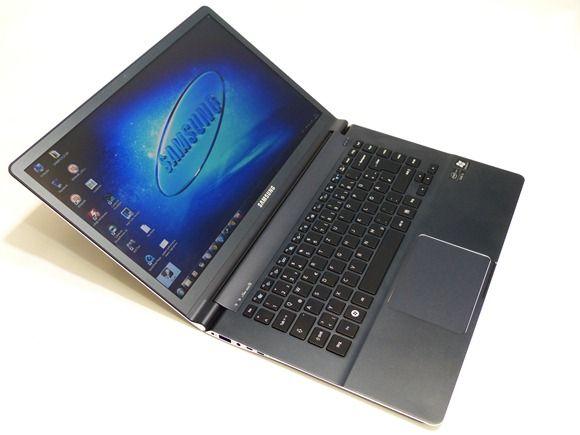 The 15" Samsung Series 9 2012 with Ivy Bridge has been a pleasure to test. It's a stylish Ultrabook with potentially very long battery life and a great 3D performance boost over 1st-generation Ultrabooks. The screen is good and bright and the keyboard a pleasure to use. But all is not perfect. A surprising lack of CPU Turbo under battery load, a strange touchpad action and too many 'micro' ports takes some of the shine from the Series 9 but despite that, it sits in a unique position in the market. There are cheaper Ultrabooks in the 15" bracket but you won't find a 1600×900 screen for this price or weight.
The First 5 Minutes
Check out our initial unboxing video here where we give you an overview of the Samsung Series 9. You'll see that the packaging is top quality and that we're very happy with the design and finish. It's going to be rare that an owner is disappointed with the Series 9 within the first 5 minutes.
Live Review
You can find the Samsung Series 9 in our live review videos. In the article you'll also find our first impressions and some notes on issues.
Specifications
The model reviewed here is a preview release of the Samsung 900X4C with a Core i5-3317 Ivy Bridge CPU at 1.7Ghz, 8GB of RAM and 128GB SSD.  Base model specifications include ports and features along with links to Samsung Series 9 news are always available in our database.
Size and Weight
At 1660gm, 3.6lbs (measured here) the 15" Samsung Series 9 is impressively light. The thin-bezel screen gives the feeling that it's a smaller device than it really is.  The metal casing has very solid feel.
Ports
Samsung have provided a good selection of ports despite the thin casing but in order to squeeze everything in they've had to use three micro-sized ports, two proprietary, that will require adaptors. Micro-HDMI cables are cheap and easy to find but the VGA adaptor is something that many will have to take the time to order. Given that Samsung have provided the micro Ethernet port adaptor with the Series 9 and that they provide a VGA adaptor with the budget-level Series 5, it seems like penny-pinching at this price-point and it's unexpected. Samsung have fortunately included a full-size SD card slot.
Two USB3.0 ports and a USB2.0 port are included along with a combination headset port.
Screen
The screen on the Series 9 is one of the high points. It's a 1600×900 resolution unit with matt finish, good side-to-side viewing angles, good colour and contrast and a very high brightness. A full HD IPS-style unit would have been better and given that ASUS and Apple are offering these on their high-end ultralights, maybe Samsung is beaten in the specs department here. However, 1600×900 works well for default font sizes in Windows and provides a very comfortable experience.
We took the Series 9 outside in bright daylight and tested it side-by-side with another matt screen Ultrabook.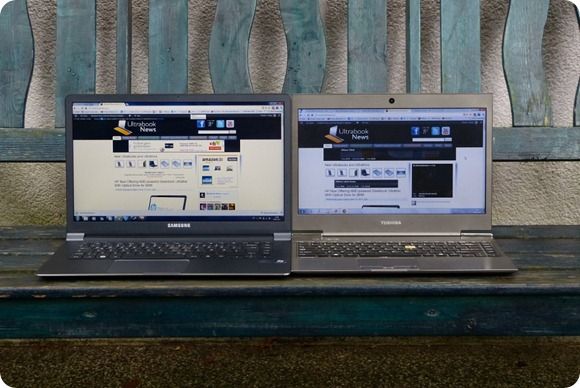 It's often difficult to determine brightness differences between screens but in this case the winner is clear. The Samsung Series 9 15" offers usable screen brightness in bright daylight conditions. The only disadvantage here is that the screen is big and to provide that much backlight takes a huge amount of energy. See the battery life testing section below for more.
Ivy Bridge supports three concurrent screens but on the Samsung Series 5 we were only able to activate any two of the HDMI, VGA and laptop screens at one time.
Keyboard / Trackpad
It's been a long long time since this reviewer has used a keyboard on a 15" device. Many years of 10-13.3" usage means the keyboard almost felt too big. After a short while it felt comfortable though and the responsiveness felt good over the whole keyboard. Key travel is short but there's a good 'give' to the key which provides enough feedback to the touch typist. The keyboard backlight is self-regulating although it seems weak compared to other backlit keyboards we've tried. The backlight turns off automatically under bright conditions.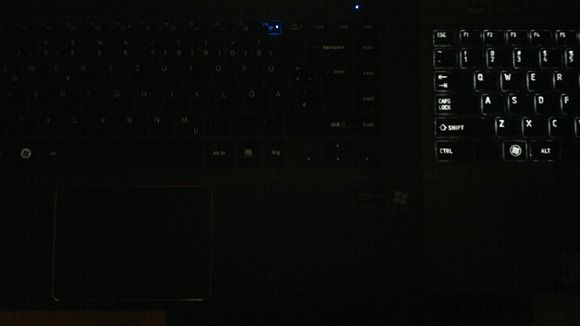 Just visible; the backlight on the Samsung Series 9 on the left and part of the Toshiba Z830 on the right.
In real life the eyes are able to gain an advantage through the use of the backlight but given that there are three level settings, the brightest setting should be at least twice as bright as this to cover more low-light scenarios.
The touchpad is by Elantech and comes with an array of multitouch settings. Unfortunately it's pre-configured with pointer momentum when the finger is left on the touchpad. After about 4 days we were getting used to the effect but it doesn't seem to have any obvious advantage. Samsung, please ask Elantech to provide an option to turn this off.
Further problems on the touchpad were had with mouse button detection. While tap-to-click works reliably, the integrated mouse buttons don't. Time and time again we were waiting for actions only to find out that the click had not registered. This problem seemed to get worse under load which points to a software problem that we hope Samsung can get fixed. We've passed details of our issue to Samsung and are waiting for feedback.
General Performance
The Samsung Series 9 900X4C is the first Ivy Bridge device we've had to test and it performed just as we expected. There are no significant battery life advantages to have with the CPU but the graphics are hugely improved. Gaming results ranged from 70% to 100% better than we've seen on some Sandy Bridge platforms and there's an advantage for the media enthusiast too. More performance testing results below.
Boot, Standby
Boot from cold includes a 3-second BIOS period followed by system boot for a 21-second total. (Fresh Windows 7 build) Return from standby is very quick at under 2 seconds. Return from hibernation is under 10 seconds. We haven't measured standby battery life drain.
Disk – Speed, Size
The SSD on this review device is surprisingly a Sandisk U100 and not one of Samsung's own models. It's not particularly fast either although the results blow away anything you'll see on a laptop hard disk.
On the top the Samsung Series 9 2012. In the middle the Samsung Series 9 2011 and on the bottom, the Toshiba Z830. At first glance it looks like the disk on the newer Series 9 is faster but the important figures – the write speeds at 512K and 4K block sizes are all down. The 512K block size write results are particularly disappointing and we can feel the difference.  We even sensed some unexpected wait time on Windows 7 which could well be attributable to the poor small-block write speeds. Overall we have to say that dispite a high maximum read speed, we'd rather see the SSD from the older Series 9 back in action.
Our test device came with about 90GB free. There's a recovery partition on the disk and the 8GB RAM makes for some large pagefile and hibernation files that take up large chunks of the disk. We completely filled the SSD after our testing (including 6 large game downloads) so watch-out casual gamers!
Audio
Speaker quality is good enough for a laptop. It's not quite what we hear and enjoy on the ASUS Zenbooks but better than say the Toshiba Z830 which, in turn, is also acceptable. Analogue audio output through the headset port was without issues although for the best audio experience you'll want to take the digital output from the HDMI 1.4 port.
Video
Background on Ultrabook video performance:
The video playback capabilities of PCs have three limiting factors. CPU, video decoding hardware and software codecs. Windows 7 provides a good set of software codecs out of the box and supports most hardware video decoders. MPEG2, MPGEG4 part 2 (like Xvid, Divx) and MPEG 4 part 10 (like H.264) along with WMV of course. You'll need to download and install codecs for other types of file.
The Samsung Series 9 2012 with Ivy Bridge uses the new HD 4000 integrated graphics unit with improved media capabilities. (Overview here.)
The HD 4000 GPU supports full HD (1080p) decoding in hardware and we tested it up to 30Mbps which is as high as you'll get on most consumer video cameras. In theory the chip can decode twice that much and can even handle 4K video decoding and display. Unfortunately we weren't able to test that that. CPU usage levels are impressively low on decoding HD video content and the fan didn't come on while we were testing video playback.
Color levels are punchy and we were truly impressed with the 1080p trailer for Timescapes – a fantastic experience.
The Wi-Fi card, a Centrino N 6230 module, supports Intel Wireless Display (Wi-Di) so you can send 1080p video (up to 60fps) to a screen without a cable. Wi-Di is not a lossless transport and targeted at video, not wireless desktop usage. [Samsung are releasing a Wi-Di-capable desktop monitor though so maybe there's scope for desktop usage in the new HD4000/Ivy Bridge variant of Wi-Di.] Wireless CD-quality audio is also supported over Wi-Di. A Wi-Di / HDMI receiver costs from around $50. All Ultrabooks include the Intel Quick Sync Video hardware that, through use of an Intel SDK, can provide accelerated decoding and encoding capabilities for common video file formats. The HD4000 implementation is theoretically faster than the HD3000 implementation.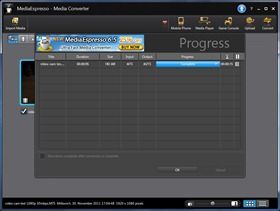 Using Cyberlink MediaEspresso, which supports the Intel Quick Sync Video subsystem, we matched the best results we've seen on 1st-Generation Ultrabooks. Converting a 50 second 1080p to 480p 2mbps took just 15 seconds under mains power. Under battery power the Turbo Boost doesn't appear to be utilized and the result was 20 seconds at best.
There may be further optimizations needed to MediaEspresso to take advantage of new features in the latest Intel Media SDK and we've asked Cyberlink to comment on upgrades to their software.
Gaming
Stay with us at Ultrabooknews because we plan  to step up our gaming coverage. Why? Because the HD 4000 GPU is a huge improvement from the HD 3000. In an nutshell, we're seeing 70-100% frame-rate improvements which is significant because it brings many games up to the magic 30fps 'playable' level. In Just Cause 2 we saw a huge jump in the frame rates on the benchmark test. From an average of about 9 fps to about 18 FPS with a 1366×768 screen resolution. Take a look at the video below for some  gaming action recorded by video camera from the Samsung Series 9.
The fan noise is relatively quiet under gaming load although as with all Ultrabooks, battery drain goes way up. Don't expect much more than 2.5hrs for intensive games.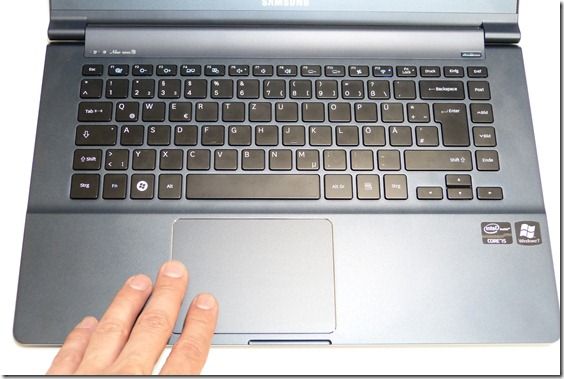 Support Ultrabooknews and our detailed reviews.
You'll find a Facebook 'Like', Twitter and Google +1 buttons at the top of this post. Please take the time to promote us if you feel this review was useful. It will help us with the next Ultrabook review. Thanks!
Networking
The Samsung 900X4C integrates an Intel Centrino N 6235 Wifi and Bluetooth module. The module includes My-Wifi (Wifi direct) support along with Wireless Display support. Antenna reception and throughput was a little dissapointing. In a side-by-side test with the Toshiba Z830 which has the same Wi-Fi module, the Toshiba sustained far higher throughput. Throughput was, however, higher than we've seen on previous Series 9 laptops and in the 'average' range for Ultrabooks we've tested.
We failed to send an image to the Series 9 over Bluetooth from a Nokia phone and Samsung tablet and trying to connect with a similar Ultrabook also failed. We've seen this on other Intel Centrino-based devices and it's just another example of the hit-and-miss affair that is Bluetooth.
The Gigabit Ethernet adaptor worked as expected.
Pages: 1 2