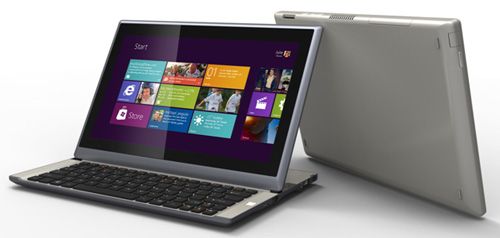 MSI is working on second generation Ultrabook which features a touchscreen and convertible functionality. The S20 is a convertible Ultrabook which uses a sliding design, much like the Asus Eee Pad Slider and long forgotten (and never sold) Samsung Slider 7.  The MSI S20 is equipped with Windows 8 which Microsoft has retooled for touch input with the Metro interface (pictured above). The S20 is exciting because it will be one of the first touchscreen convertible Ultrabooks with both Ivy Bridge and Windows 8 — a combination that could actually represent a good touchscreen computing experience in the world of mainstream PCs for the first time. We tracked down preliminary details for the S20, step inside to have a look at this exciting sliding Ultrabook.
The S20 will feature an 11.6″ screen of an unconfirmed resolution (though we're willing to bet it will be 1366×768). The screen is capacitive and supports up to 10-finger touch.
Ivy Bridge processors have been confirmed, but exactly which ones will be on offer has not. Weighing in at 1.3kg, the S20 has a good weight given the extra mechanisms needed for the sliding design. MSI says that the S20 slider will be "less than 2cm thin" which likely means 18mm (as it must hit this target to be considered an Ultrabook if it is using an 11.6″ screen).
USB 3.0, Bluetooth 4.0, and HDMI (unknown connector-type) are all confirmed, the only other information we have regarding ports is that the S20 will have a "complete array of peripherals and I/O ports", according to MSI.
Because MSI is calling the S20 an Ultrabook, we know that it will feature certain things, such as either a full SSD or SSD cache to support Rapid Boot and Smart Response. We'll see at least 5 hours of battery life, and the S20 might also include WiDi (wireless display). Intel Smart Connect is also likely.
The MSI S20 will be on show at Computex which starts officially on the 5th (two days from now). Stay tuned for more details, photos, and likely hands-on videos of this exciting device!