Use the European comparison engine Skinflint.co.uk today and do a search for Core i5 Ivy Bridge laptops with a screen size up to 13.9" and a weight of under 1.5KG [link] and you'll find about 32 solutions. 5 of them are Apple MacBook Air solutions, 11 of them are Ultrabook alternatives over 1000 Euros and the rest are Ultrabooks…apart from one which sits nearly 30% cheaper than any other offering. Take the screen size limit down to 11.6" and the Acer V5-171-53314G50 is about half the price of any 11.6 Ultrabook out there; and it's very difficult to see where the differences are.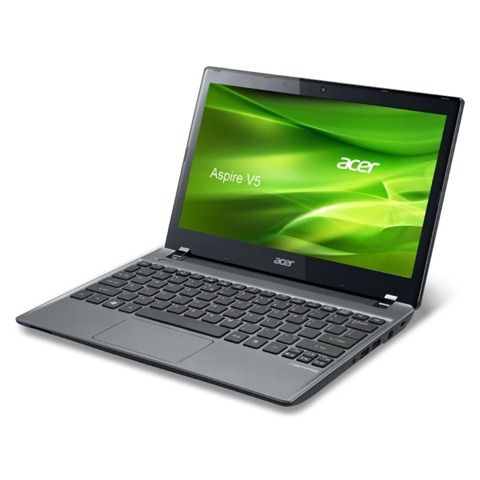 The Acer V5 was shown to us at CeBIT in March [V5 launch artcile here]  and you can now order a Pentium version with 4GB RAM, 500GB HDD for under 400€ – half the price of an Ultrabook but the more interesting version is this Core i5 Ivy Bridge based version for just 550€ which is already shipping in Germany. A Core i3 (Sandy Bridge) version is also available for around 460€. In the USA, the 14 and 15" versions are available with the 14" version coming in at $499
So why is it so cheap?
Video below
Our information pages for the 11.6" version and the 14" Acer Aspire V5
It's difficult to tell from the specifications exactly where Acer have cut the corners and that's one of the problems for Ultrabooks because they require a little bit more explanation than a comparison engine can give you. Despite having Ultrabook-class weight, It's a good bit thicker than an Ultrabook and there's obviously no Hybrid hard drive or SSD here which will impact boot, hibernate, application boot and general operation speed. There's no backlit keyboard and it appears there's no Wi-Di but I'm sure there will be many people that don't care about those two features. The other issue is that the V5 is shipped with a small battery. "Up to 5 hours" sounds OK until you see the size. We haven't got the full Wh specifications but it looks like 36Wh which is lower than most Ultrabooks and (apart from the Acer S3 which also ships with a 36Wh battery) and could empty in under 2 hours if you're pushing it hard.
Fortunately that battery is removable, or at least it was when we looked at CeBIT. There's a good chance you'll be able to buy spare batteries or even a large-capacity battery which could be an advantage over Ultrabooks that have sealed batteries.
You'll also have to consider build quality. Expect plastics all-round and, likely, less ruggedness. When we had hands-on it felt very much like the Acer Aspire 522 that we tested and upgraded last year at UMPCPortal.
The Acer V5 is offering the latest Ultrabook processing power for netbook-plus pricing and with the removable battery and memory/HDD access panel a way to upgrade to SSD and 8GB RAM in the future. Based on early information we think it's the most interesting small-screen Ultrabook alternative on the market today and one that everyone should consider if they're looking at the low-end Ultrabook range. We're trying to get a review model in for you so we can take a closer look.
If the 11" version isn't big enough for you, there's another model that might interest you. The 14" version includes options with an Nvidia GT620M discreet graphics for a comparable price. We're not seeing any Core i5 versions yet but the Core i3 (Sandy Bridge) version with GT620M is also 499€, also 30% cheaper than low-cost Ultrabooks.
[embedsite same_height_as="content" src=http://ultrabooknews.com/pullin/productdetails-pullin-generic.php?id=935]