One of the aims of attending the Intel Developer Forum last week for me was to find out as much as possible about 2013, Haswell and what it means for Ultrabooks. I'm sure there's more detail to come soon (and possibly, a new roadmap) but I came away with a lot of useful information that I've summarized below. What is clear is that Haswell is more about mobility than any other Core CPU to date. It will extend down into tablet territory enabling detachable screens and new form factors. There will be a huge focus on active standby; the claimed 20x lower idle power should equate to multi-day 'active' idle. A 'dual slice' GPU will feature in Ultrabooks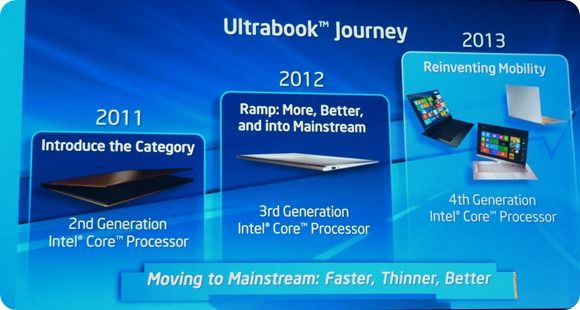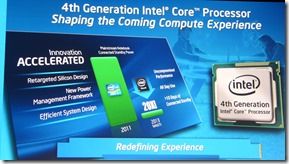 CPU
As with Ivy Bridge, Haswell will be produced using same the 22nm process with 3D transistors but this time it's a single on-chip design. (SOC) which makes the die size much smaller. It helps to reduce motherboard size too.
In terms of performance there are some new advanced features that could help performance in some scenarios but there's no information on major across-the-board performance increases. Applications optimised for the new features (by being compiled with new versions on the Intel compiler for example) could get signification advantages but, based on the information available, we should not expect existing apps to gain a huge performance increase. Most of the work in Haswell appears to be in graphics, media and power optimisation.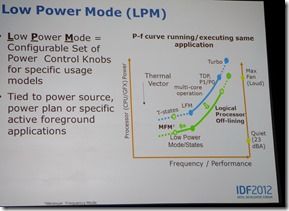 Coupled with more sensors, better 'power island' control, a de-coupling of GPU clock and voltage from the CPU and new logic there should be exceptional increases in idle power and a quicker path to idle meaning battery life gains overall.  The new S0IX power state (already expected in Atom Clover Trail in Sept 2012) will assist developers in making Win 8 applications that allow the system to idle to a very low power state but still receive system notifications.
Don't forget though that a CPU in idle is a small percentage of total system power drain so 20x CPU idle improvements does not equate to the same on the system.
TDP down, introduced in Ivy Bridge to help designers, will be part of a new DTPF power control architecture which includes increased monitoring of heat in more parts of the system and better feedback loops to get the most out of core shutdown, slice shutdown, cTDP, voltage and frequency control. When idle, a system running on the 4th Gen Cores should enter LPM – Low Power Mode.
The new power optimization features are likely to have the most affect in Windows 8 and an even more pronounced affect in Metro/RT mode. Watch for tests of Clover Trail systems in Sept/Oct to get a feel for the end-user advantages.
Official Microsoft AOAC / Connected Standby support was not mentioned at IDF but it may be too early for the official word on that.
Graphics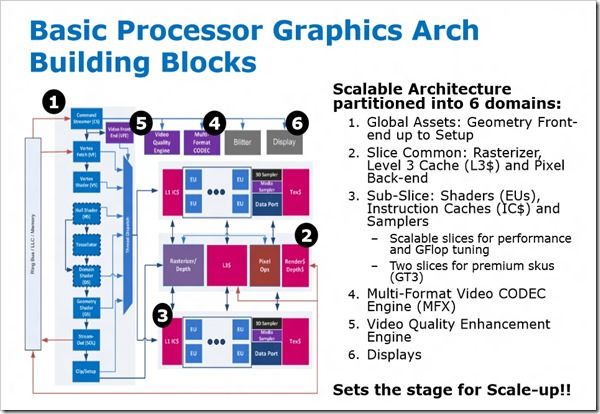 The graphics and media subsystem (HD 5000?) is being re-designed again for Haswell and Ultrabooks stand to get some of the best that the architecture can offer. A 'dual slice' (almost a dual-core) graphics subsystem in the GT3 version will be independently controlled for slice (effectively part of a core) activity, clock and voltage meaning it can be used more effectively for some operations. OpenCL for example. Both slices can be ramped up for 2X performance or the system can be run with both cores, a lower clock and voltage for the same performance as Ivy Bridge – for the same performance.
DX 11.1 ,Open GL4.0 and Open CL1.2 support is being introduced with Haswell.
One figure we picked up on gaming is that under gaming load you can expect 30% more playing time.
Media Support
Like the 3D graphics system, the media system gets the benefit of the dual-slice approach so you can expect that 2X increase, potentially more, in media rendering operations. Video file conversions should speed up considerably. New 'quality' controls in the subsystem will be exposed in the Media SDK so ISVs can start to offer speed or quality weighted results.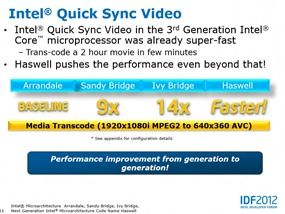 MJPEG, MPEG2 and SVC support will be introduced in Haswell meaning DVD decoding can be done in hardware (already supported for years on competitors architectures) and that multi-party video conferencing can be better supported. Lower latency will also assist that scenario.
4K video will be supported too. Ivy Bridge does support 4K video but does not have the output support. Haswell will up the max bitrate and offer DisplayPort 1.2 support.
We saw a demo of a 200Mbps 4K stream being displayed on a 4K monitor: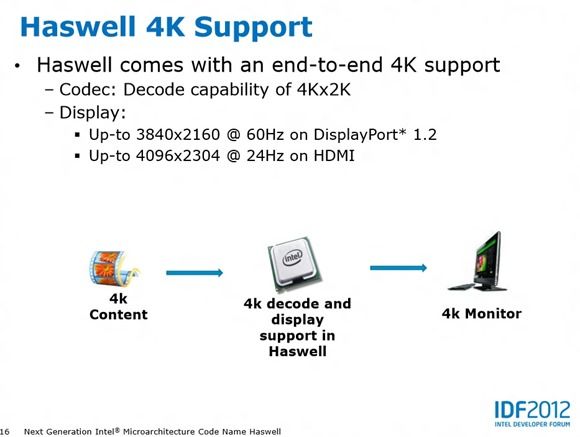 More video processing features will be introduced in hardware. E.g. Tuning of quality/speed in Intel Quick Sync, frame-rate conversion, video stabilization and skin tone correction.
Haswell Summary
Overall it looks like Haswell will bring a lot to 3D, media and power efficiency which means either better battery life or higher clock rates.  Screen-off, connected idle power figures will change considerably and there'll be a 2X improvement in 3D and media handling. TDP-down will enable those 10W designs but by using the new DTPF power-control architecture we should se convertible designs that are quiet and cool when undocked but significantly more powerful when docked and mains powered . Haswell will extend its dynamic range.
As for the timescale, we get the feeling, based on rumors flying in the press room at IDF, that there could be a small acceleration in the roadmap. We don't know if this is related to ultra mobile parts but there's one thing worth thinking about – Could Microsoft Surface Pro get Haswell?