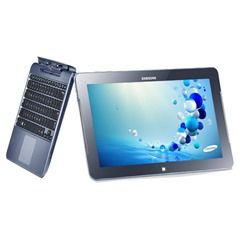 You know what's coming? The biggest personal computing fight, ever.
Windows  8 and the expansion of the laptop into smartbook territory will go head to head with an important launch in the handheld computing space – the iPad Mini. Following that, Windows Phone 8 and a non-desktop Windows tablet, Microsoft Surface with Windows RT, will start shipping. There has never been a month in history where the personal computer has had such an upheaval. No-one really knows what's going to happen.
Some of these products could fail showing us again that what people want is not always what the manufacturers think. Touch-enabled sliding and convertible Ultrabooks is one of those risk areas. Windows RT, I believe, is another, at least for the time being but I think there's a product category that has fantastic change. The SmartPC, Smartbook could finally succeed with Windows 8 on Intel Atom.
Laptops were boring. I've been highlighting this a lot over the 6 years of my life that I've tracked, researched and reported on new computing form factors, operating systems and application ecosystems. There's been a huge gap for years and I honestly thought Android could fill it, until I heard about Windows 8 and the 'always-on' capabilities of new Intel-based platforms.
The Smartbook concept was perfect. Make the UI dynamic, add a simple application store, include sensors to enhance social and location applications and make it 'always on.' Android chose to focus on Smartphones and Tablets. Google continues to test waters with the Chromebook. [new ARM-version released this week.] but there's a combo out there that might have just about got it right.
It's not an Ultrabook or the Microsoft Surface that's going to fill the gap. An unlikely candidate will be the first to offer a true Smartbook. Intel, an i86 platform and the evolution of Windows TabletPC could provide the perfect balance.
Next week we'll see the first availability of Clover-Trail based Windows 8 dockable 'transformer' tablets that, in my mind, fulfil more of the personal computing requirements than an Ultrabook could. Why? Co-re based tablet designs will remain too heavy, with too short battery life until Haswell launches in 2013. At that point, the new Atom architecture will be available too.
Battery life on these new Windows 8 tablets will be impressive for two reasons. Firstly, the Clover Trail architecture has some very important low-power states that no other x86 platform has at the moment. Secondly, Windows 8 has some new lower power features in the 'Modern UI' (was Metro) user mode. Together, they could surprise quite a few.
There are a few other things to consider too. Firstly, these new Clover-Trail tablets are SSD-based. Fast SSDs are responsible for a lot of the quick response you see on Ultrabooks. Where netbooks 'felt' a little laggy, it was mostly because of a combination of cheap hard drive and RAM caused it. By breaking out of the netbook restrictions, the SSD and 2GB of RAM should really help pep these Atom-based platforms up.
Turbo-boost to 1.8Ghz will help too. While you won't always see these speeds, it allows short-term operations to get a boost. 2 cores at 1.8Ghz is a long way away from the good old single core 1.6Ghz netbook. A boost in graphics power on Clovertrail will help too although this will still be a limiting factor for some people. Graphics intensive operations will be slow.
Let's put this into perspective though. Clover Trail tablets will be as light, have similar battery, better processing power and similar graphics power to most ARM-based tablets, and yet offer a huge range flexibility with Windows 8 desktop. For the consumer, it fits well. The web browser will work perfectly with full-size web sites. There will be enough perceived speed, the UI will be fluid (it's really quite impressive how responsive it is on Atom) and, more important than you might think, some of the designs look very cool indeed.
Take the Samsung Ativ 500T SmartPC or the ASUS Vivo Tab, the Acer W510 or the Envy X2. These are really stylish looking devices and by having a separable keyboard and display they clearly show what they're capable of. Similar Android and RT-based designs could disappoint by having an OS that doesn't offer the level of productivity that a keyboard might suggest.
There are a couple of issues to consider of course. Price, and Atom.  Because of the design and positioning in the market, we'll see some really high early pricing.  The Samsung Ativ 500T with 64GB, dock and HSDPA (and GPS, NFC, digitiser, pen etc) will cost 900 Euro, the ASUS Vivo Tab, more for the same spec. Personally I think that's OK. I know the average user will react differently, largely because we're dealing with an 'Atom' CPU here.
'Atom' appears to be doing OK as a platform. It's getting into phones and next year we'll even see a new Atom CPU architecture introduced for the first time since its launch but for most people it's synonymous with netbooks, those 'slow' and 'cheap' products that are now rare in the market. The Atom brand may be an issue for anyone thinking about a Windows 8 laptop or tablet. Tegra, Exynos and other brands have a better feel for many as they appear in high-end smartphones. Until Intel can re-brand Atom for the desktop (or, with the introduction of Haswell, introduce a new 'Core' offering with similar capabilities and price points) they might have an issue.
Will dockable Ultrabooks be a better solution? I don't think so. Problems mean that Core-based dockable or convertible Ultrabooks won't quite be a hit in 2012/2013. Firstly the Core architecture just doesn't idle down well enough yet. The new power states seen in the Clover Trail platform come with 4th Gen Core in mid 2013. That means the Core-based tablet solutions will be perceived as hot, heavy, noisy and have battery life issues even in a 1KG solution. In terms of design challenges, it's not able to meet requirements in the consumer market. The issues will greatly affect acceptance in the consumer market.
Finally there's another risk factor – apps. Windows 8 and RT are relying on a strong app ecosystem. The stats, specs and potential all check-out well to make it an interesting business proposal for software vendors but other factors could mean that developers might choose to spend time on IOS, Android or HTML5. Despite the fact we could see 200 million Windows 8 PC's in the market by end of 2013 this critical part of the ecosystem remains at risk.
Click for more info on Acer Iconia W510, Samsung Ativ 500T SmartPC, ASUS Vivo Tab, HP Envy X2.
See the specs and additional information here.
To round-up, here's how I think the market will play out until Christmas.
iPad Mini / iPad Air – Will launch in a market where price is critical and where Google's Nexus 7 is king. It will be a smart product that should have launched 12 months ago. It will sell huge numbers but will only be a small percentage of IOS sales.
Google Chromebook – The new $249 ARM-based version is interesting, but not yet practical for many. In fact the user interface and capability makes it appear more boring than a Windows 7 laptop.  After an initial bump in sales to developers and early adopters, it will be a minor player. So much more needs to happen with cloud, HTML5 and ChromeOS before it becomes interesting for a consumer or SMB.
Touch Ultrabooks – I think touch Ultrabooks and touch laptops have a great chance in the market. Prices need to come down but Windows 8 (and RT) will do a huge amount to market the need for a finger on the Modern UI. If prices don't drop quickly and apps don't flow into the store, the sector could stall for a while, especially in this economic climate.
Convertible Win 8 'transformers' on Atom – It's a sector that has the right ingredients but could suffer due to the Atom brand. While pricing could be an issue, if early reviews are favourable (and you can guarantee that the biggest tech websites are already working on them for next week!) and if 'RT' flops like I think it will, this sector could really pick up pace.
Windows RT. I'm not confident about this sector at all as it hinges 100% on the applications available in the Windows 8 store. Prices are high and the competition is fierce. Windows 8 Phone, and apps that migrate across to RT is a factor to consider along with it being one of the only consumer or mobile OC platforms to offer a decent office experience.  Sales could be weak for two quarters before RT get a speed-up. Android is maturing quickly though and the IOS ecosystem keeps all the software vendors very busy indeed.
That's my though on the matter. How do you see it?