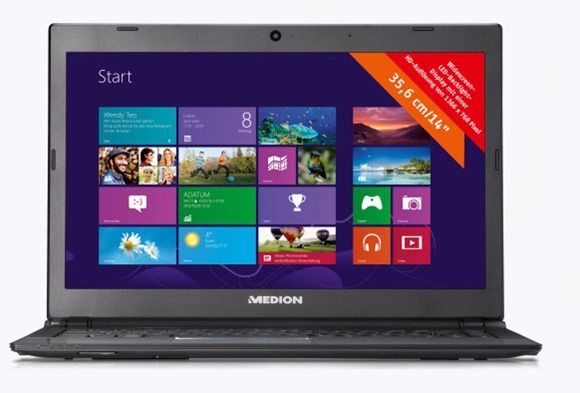 On the morning of the 22.11.2012 Aldi Sud in Germany is probably going to sell over ten thousand Ultrabooks. The new Medion AKOYA S4216 (MD 99080) includes a 1TB SSD-supported hard drive and a removable DVD that can be replaced with an included extra battery. We highlighted the Medion S4211 recently and the S4216 is exactly the Ultrabook variant we were expecting. Yours, if you're in Germany and standing in line, for €599
Update: Medion Akoya S4216 Specs now in the database. We'll add info links, videos and reviews as we find them so keep it bookmarked!
We saw this box-shifting show with the first Netbooks back 2008. At that time we estimated 20,000 sales in just a few hours. This time 2535 shops are likely to be carrying an estimated average of 5 per store resulting in over 10K boxes shifted, probably in under 2 hours given the virality of Aldi's Monday and Thursday offers.
'Mainstream' is the target market here and that's highlighted by the size, the DVD, the features and the price. A 1TB drive is exactly what could excite an Aldi-goer. It's a big spec for a small price. The Core i3 with 1.8GHz (not a Core i5 with 1.7 Ghz) is targeted in that direction too. A 14" screen is big enough for everyone and a 1366×768 resolution won't have those mainstream customers complaining they can't read their emails. DVD, 'Dolby', WiDi, Centrino, USB3.0, HDMI, Gigabyte LAN, HD Webcam, SDXC,  Windows 8 and two batteries. The Medion Akoya S5216 marketing is peppered with keywords.  At 1.9KG it will half the weight of most customers previous laptops. At 21mm thick, half as high!
This is a fantastic deal on the face of it.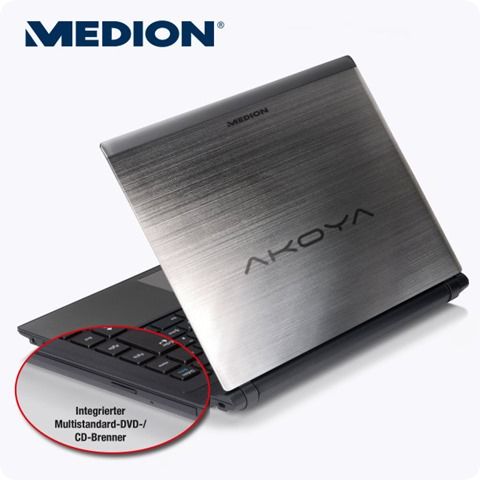 At €599 (that's a pre-tax equivalent of about $640) Aldi won't be offering the cheapest Ultrabook on the block but there's enough in here to put at the top of many a list.  We'll get this into the database for you German readers. UK and Holland readers may also see this too after the Aldi Nord roll-out.
You can find out more here. If you're planning to queue up on the 22nd, don't forget to take pictures for us!
Via Chip.de
Source: Aldi Nord