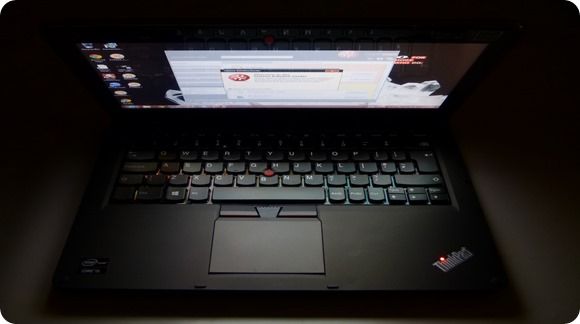 Business and pleasure mixed into a fun and inspirational package. The touch-swivel Windows 8 Lenovo ThinkPad Twist is a solid performer with an excellent working fascia for many scenarios. It's not a consumer tablet though and there are one or two characteristics to be aware of but at a starting price of $899 for a Core i5 variant (959 Euro, 899 Euro street price) we think it offers solid value for money.
Read the full review…
Lenovo Thinkpad Twist review model full specifications
Manufacturer: Lenovo
Model name: ThinkPad Twist S230U
CPU type: Intel Core i5-3317U 1700-2600Mhz
Graphics: Intel HD 4000
OS: Windows 8 Pro
Display Size: 12.5″ 1366X768 180 degree rotating.
Screen Type: LED-Backlit LCD, IPS (wide viewing angles) with high brightness.
Touch Technology: 5-point capacitive multitouch
RAM: 4GB
Battery Capacity: 42Wh
Hybrid HDD: Hitachi HTS725050AE7E630 (500GB 7200RPM) + Samsung MZMPA024HMCD 24GB SSD. HDD is easily removable – 7mm height.
Weight: 1555gm / 54.8 oz. (measured)
Ports: DC-in, Line-out / Headphone (3.5mm), DisplayPort (Mini), SDHC Card Slot, USB3.0 x2, Mini HDMI, Ethernet
Wireless: Intel Centrino N2230, Bluetooth 4.0.
Security: TPM Module. Intel Anti-Theft
Other features: TrackPoint, Glossy Screen, Array microphone, Multitouch Touchpad, Stereo speakers with Dolby Processing, rubberised casing, ambient light sensor, HD active protection, robust construction with Gorilla Glass.
Unofficial: Evidence of accelerometer, e-compass, gyrometer.
We weren't able to bring you an unboxing video or experience as the review samples ship in basic packaging.
First Impressions
Detailed first impressions have been published here.
External Build, Size and Weight
The Lenovo Twist comes across as a stylish, quality laptop with a solid, grippy feel although somewhat denser than the best lightweight Ultrabooks. This is 400gm heavier than the 'old' Toshiba Z830 which even has a bigger screen but in terms of convertibles, there isn't much that's lighter.
Ports
By avoiding a wedge design Lenovo have retained space for a great selection of ports. Gigabit Ethernet, Mini DP, Mini HDMI, 2xUSB3.0 and a full SD card slot. VGA users will need a dongle. On the review model there's a SIM card slot but the 3G module is not installed.
Screen
The 5-point multitouch, Gorillas Glass covered, LED-backlit, IPS, 1366×768 screen with Windows key, volume up.down, rotate lock and power button has features! Overall it's a cut above those found on mainstream Ultrabooks and we found ourselves disappointed when going back to a non-IPS Ultrabook. IPS is almost a must-have on a convertible to avoid strange unbalanced left-right eye color balance in portrait mode. It's a glossy screen – as you'll find on almost all touchscreens. The wide-viewing angles aren't perfect all the way through the viewing angle range but are good enough that you don't have to fine-tune the angle of the screen. Overall the screen is a great part of the package but there's one downside – it appears to take a lot of energy. See our battery life testing section below.
There's no digitizer layer on the Lenovo Twist screen
The main feature of the screen is the ability to rotate and fold back flat against the keyboard to provide a tablet mode. Center hinges never provide for the most stable of screens and on the Twist, as on every other center-mounted rotating display, there is a certain amount of wobble and play. The mount point is metal and likely to be strong and well-tested but of course we can't give you a long-term test here.
Be aware that this laptop weighs twice as much as most consumer tablets and is, relatively, huge! You won't be using it one-handed for long and the size limits many of the tablet usage scenarios you might have seen or used before. Having said that, there are some useful modes here. On the laptop or belly, the Twist works well as a TV partner and in bed the completely open laptop can be usable. Lenovo and Windows 8 work together to disable the on-screen keyboard unless the Twist is completely in tablet mode. That works against some of the ways the device can be used with finger-only because it disables the OSK. We suspect there's a setting for this somewhere though but haven't found it yet. (Comments?)
Keyboard, Trackpad, TouchPoint
This reviewer is a big fan of Touchpoint mouse control and has rarely had to use the touchpad but the overall impression of the keyboard and mouse control is that it's flexible and well designed. Only a backlight would make this working surface any better because yes, the keyboard is top-notch too. This review is being written on the Twist right now and there's very little to complain or worry about. Fn-keys are reversed for easy control access
General Performance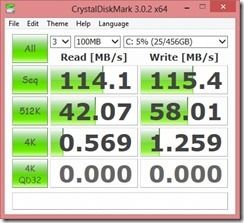 Overall, the Lenovo Twist performs in an average manner WRT to other Ultrabooks and a lot of that is to do with the hard drive. It's an SSD-enhanced drive and use ExpressCache for acceleration but that doesn't help in all scenarios and the terrible small-block read and write speeds really show up in some areas. Not only can you also hear the HDD but you can feel the heat it generated right under the right palm. At least Lenovo have added an access cover for the HDD which can be swapped out with ease. As an upgrade path this is one to consider. We dropped in an Intel 520-series SSD, loaded up Windows 8 Pro and saw much snappier performance. We can only assume that the SSD option on the Twist does the same. It's a 128GB 140 Euro option in Europe.
Startup times are also affected by the HDD although are relatively (compared to Windows 7, HDD PCs) fast.
In terms of CPU performance the Lenovo Twist is a cut above many others due to the thermal design which tends towards letting the device warm up (and fan-up) a little more than others and thus allowing Turbo Boost to work better than on other devices. In a CPU load test we saw the clockrate hang-in at 2.4Ghz for a couple of minutes. Other Ultrabooks don't seem to have that much staying power. The downside is that the device was its warm areas and the fan can turn on under normal use. (Writing this review in power-save  800Mhz mode the fan has been silent throughout.)
Audio Performance
The stereo speakers are loud enough and provide some sort of separation but be sure to turn off the horrible Movie Mode Dolby virtual surround processing. Yuck! Some of the graphic equalizer presets are more satisfying, especially for music. These are tinny PC speakers though so you'll want to either use the headset port for quality analogue output or DP / HDMI for a digital output.
Video (external) performance
One of the features of the Twist is that you've got three ways (actually four if you buy an accessory) to get video out to a screen, TV or projector. Mini HDMI is straightforward for your requirements up to Full HD but the mini DisplayPort is more flexible and provides support to 2560 × 1600 (untested) You've also got Wireless Display for a Wi-Di compatible screen or converter box and, if you buy the Lenovo USB3.0 Video adaptor, video over USB3.0 which, based on DisplayLink technology we've tested before, works well for normal business usage. You should be able to get three simultaneous screens running form the built-in capability.
Video (internal) performance.
Background on Ivy Bridge  Ultrabook video performance:
The video playback capabilities of PCs have three limiting factors. CPU, video decoding hardware and software codecs. Windows 7 provides a good set of software codecs out of the box and supports most hardware video decoders. MPEG2, MPGEG4 part 2 (like Xvid, Divx) and MPEG 4 part 10 (like H.264) along with WMV of course. You'll need to download and install codecs for other types of file. Windows 8 does not support MPEG2 playback out of the box.
The HD 4000 GPU supports full HD (1080p) decoding in hardware and we tested it up to 50fps and 30Mbps which is as high as you'll get on most consumer video cameras. In theory the chip can decode twice that much and can even handle 4K video decoding. Unfortunately we weren't able to test that that. CPU usage levels were low (average 5-10% on 'balanced' mode battery power) while decoding 1080p (H.264) video content. The fan came on at a medium level while testing a 1 minute HD video playback. At 50% brightness and 'balanced' battery mode the power usage averaged 14W which is a lot higher than other devices in this category of CPU. It equates to under 3hrs of HD video playback which is quite poor.
The Wi-Fi card, a Centrino N-2230 module, supports Intel Wireless Display (Wi-Di) so you can send 1080p video (up to 60fps) to a screen without a cable. Wi-Di is not a lossless transport and targeted at video, not wireless desktop usage. A Wi-Di / HDMI receiver costs from around $50.
All Ultrabooks include the Intel Quick Sync Video hardware that, through use of the Intel SDK, can provide accelerated decoding and encoding capabilities for common video file formats. The HD 4000 implementation is theoretically faster than the HD3000 implementation. For example it will take around 15 seconds to convert 60 seconds of 1080p to 720p video. We tested video encoding with Cyberlink Power Director and the results were as quick as on any other Ultrabook.
Gaming
We didn't put the Lenovo Twist through any high-end gaming tests for a number of reasons. Firstly the battery is really too small to support any serious gaming (expect 1.5hrs maximum under heavy gaming) and the 1.7Ghz Core i5 with HD4000 really isn't ideal for anything other than casual gaming or games that allow low GPU settings. The HD4000 is way more capable than anything you'll find on a netbook with on-chip graphics though and can provide some entertainment with older titles. A 3DMark score is provided below.
Support Ultrabooknews and our detailed reviews.
You'll find a Facebook 'Like', Twitter and Google +1 buttons at the top of this post. Please take the time to promote us if you feel this review was useful. It will help us with the next Ultrabook review. Thanks!
WiFi Performance
We didn't perform any formal throughput testing but it appears that the antenna quality is good as we got strong signals in places where other Ultrabooks have struggled. Not that the N-2230 WiFi module is dual-stream but only single, 2.4Ghz. band. WiFi Direct, Smart Connect and Wi-Di are supported.
Bluetooth was not tested for quality but an image transfer worked from a smartphone.
Continued on Page 2
Pages: 1 2