Page 2 of 2. Go to Page 1
Performance Tests
All performance test done under 'balanced' battery power mode unless stated. SB= Sandy Bridge 2ng generation Intel Core CPU with HD 3000 graphics.
3DMark 06
Lenovo Thinkpad Twist (mains power – balanced performance mode @ 1280×768 resolution) = 4023
Previous results:
Lenovo Thinkpad X1 Carbon (1280×800) = 5224
Samsung Series 9 2012 15" (Core i5 3317U, balanced battery mode) = 5112
Lenovo U300S (Core i7 SB 1.7Ghz) high performance battery power: 3520, mains power: 3611
Samsung Series 5 (Core i5 SB 1.6Ghz) Battery power – high performance mode: 3416
PCMark7
Lenovo Thinkpad Twist (mains power – balanced mode) = 3386
Previous Results

Cinebench 11.5 CPU Test (2 Core)
Lenovo Thinkpad Twist = 2.34
Previous results
Lenovo Thinkpad X1 Carbon = 2.55
Samsung Series 9 2012 15" (Core i5 3317U, balanced battery mode) = 1.68
Lenovo U300S (Core i7 SB): 2.12 points
Cinebench 11.5 OpenGL
Lenovo Thinkpad Twist – 10.73
Previous results
Lenovo Thinkpad X1 Carbon (battery balanced) = 13.73
Lenovo Thinkpad X1 Carbon (mains, max performance) = 15.03
Samsung Series 9 2012 15" (Core i5 3317U, balanced mains mode) = 15.63
Lenovo U300s (Core i7 SB 1.7Ghz) high performance mode : 8.68
Performance Summary
The Thinkpad performs well under pure CPU operations, poorly under small-block hard disk operations and about average in terms of 3D. Video encoding/decoding support is as good as any other Ultrabook. The problem is that many operations rely heavily on hard drive access. Browser cache, indexing, temporary files and many more background operations will slow-down as a result of the disk bottleneck. Fortunately most users won't notice any restrictions on a fresh system but we do worry about a fully-loaded system that's been used for a few years. A Windows 8 reset is recommended yearly for the ThinkPad Twist.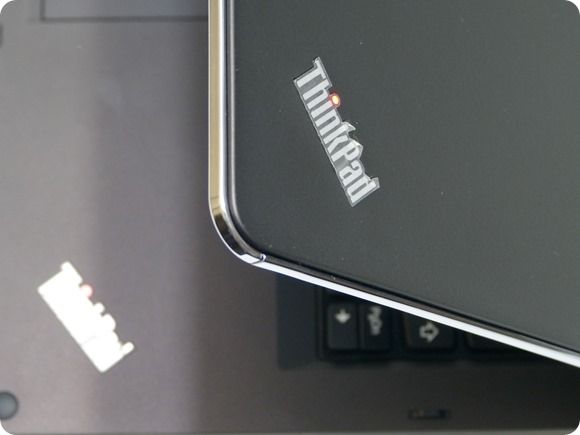 Security
We haven't had a chance to test Intel Anti-Theft and other security features on the Thinkpad Twist.
Battery Life
In some respects the battery life is a bit disappointing. There appears to be a high-level of background drain that's nothing to do with software and nothing to do with the hard drive although we would expect a pure SSD-based Twist to add 10% to the figures you see below.
One point to note is that the IPS touchscreen appears to take more power than the average LED-backlit screen although we have seen non-touch screens take this amount of power in the past and those have generally been high-brightness screens like the one on the Twist.  In addition to the slightly high battery usage under idle conditions there's also that fact that the built-in battery has only 42Wh capacity which is below many 1.5KG devices. It's a trade-off. Lenovo could have dropped the 3G and removable hard-drive option, put in an mSATA drive and made the battery 15Wh bigger. They chose to go with a 3G option and removable drive instead.
Here are the battery life figures (Most extrapolated from our battery drain measurements under given conditions)
Scenario 1: Idle, no Wi-Fi, sound off, battery 'stretch' mode.
Screen off idle – 4.3W absolute minimum (10hrs)
Screen Low (level 0) – 6.6W (6.3hrs)
Screen max backlight – 8W (5.25hrs)
Scenario 2: Wifi on, Screen 50%, power save mode. Typing in LiveWriter.
5hrs battery life
Scenario 3: Wifi on, screen 50%, balanced mode, mixed browsing and typing
4hrs battery life
Scenario 4: HD H.264 video playback, screen 50%, balanced mode.
3hrs max battery life
Under gaming conditions we expect well under 2hrs of battery life.
This review written with 50% screen brightness, WiFi on, balance power mode averaging 8.7W for just under 5hrs of battery life.
Note: Battery stretch mode via the Windows 8 Lenovo Settings application doesn't seem to work.
Heat and Noise
Under Wi-Fi-Off, 50% screen brightness and power-save mode it's possible to keep the fan from spinning up but under continuous browsing in balanced mode the fan start ups regularly. Noise can be noticeable in a quiet room. Under Video playback the fan also runs. Heat is noticeable under the right palm where the hard drive is located and under load there is some heat build-up underneath the unit. In 'pillow' situations, the heat build-up can be significant is this blocks the air intake.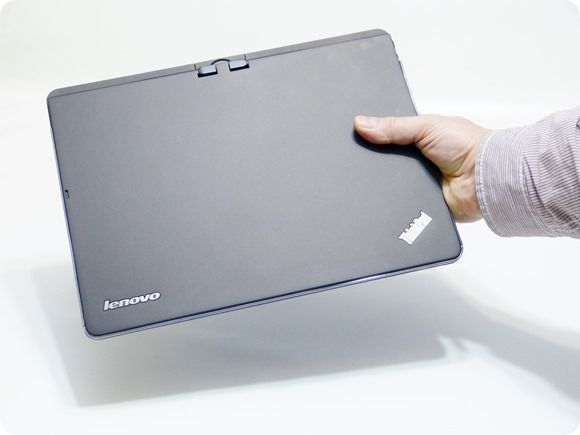 Issues and notes.
During our 4-day test period the Lenovo Twist locked up three times and required a 4-second power-button press to shutdown in each of these cases. We also noted that Windows Updates failed. We tried fully resetting the Windows 8 build but the same issues occurred. This could be a build problem on the review units. We've informed Lenovo.
Standard charge period is 90 minutes to about 80%. There's no quick-charge features but the power adaptor is relatively small and light (compared to that provided with the Lenovo X1 Carbon which has a rapid charge feature.)
This review written 100% on the Lenovo Thinkpad Twist without any issues.
Slightly protruding base unit behind screen hinge is a good one-handed grip-point.
SD cards slot fully into the card reader slot.
Wi-Fi-Off FN key is actually 'airplane mode' and there's no easy way to turn BT and WiFi on/off separately via the keyboard although separate controls appear in the Windows 8 Wireless menu.
Intel Series 520 180GB SSD fits into the drive bay. (7mm)
Video cam quality is reasonable.
Lenovo have shipped a Windows 8 application that allows easy access to settings.  We like it and hope Lenovo develops it further.
Target Customer
The Twist is going to be an exciting Ultrabook for many but it has limitations. It's not an all-day road-warrior for example. There's a little bit of warmth and fan noise and that might put of writers too which is a shame because the screen and keyboard lend themselves to this scenario. The screen is excellent and with the large storage and SD card slot and good processing power it makes a good option for photographers and videographers. Swiveling the screen to show-off images and videos to clients is an easy operation. The Lenovo Twist also appears to be strong enough to take a few knocks and bumps too and there's plenty of feedback on that keyboard for cold-finger work! Given the MiniDP port the Twist also works well as a daily PC that will remain mostly on the desk with commuting work duties being covered by the 4-5hr battery life. A keyboard back-light would have been nice for those dark, seat-back scenarios though.
As a standard laptop there's better value out there for those not needing the screen (yes, a 1600×900 screen might have been a nice option for some) but if you want to take a laptop home and have it as your Internet screen while watching TV in the evening then the Twist does that quite well. More Windows 8 apps would help though and for this scenario there are a few Atom-based tablets and dockables that might be better.Is this one for students? Given the price, probably not. A digitizer would have helped make it appealing in that area.
In summary then, if you're a hot-desker, a media type or someone that would like to extend the range of a working laptop into something that can be used in more relaxed scenarios, the Lenovo Twist should provide quite a few years of fun and productivity.
Summary
A 1600×900 screen, larger battery and faster storage would have been welcome on the Lenovo Thinkpad Twist but despite that this is a good package and one that really lets you get your work done with the minimum of fuss. Both the compute performance and the working fascia, the keyboard and screen, are excellent; class-leading even. As a tablet you can forget going mobile with 1.5KG of touchscreen but there are some good scenarios to discover. Even having a touchscren in front of you is fun and productive, especially after you get used to Windows 8. The Lenovo Thinkpad Twist appears to be extremely well built and, apart from the hybrid HDD, offers well-tuned components. The WiFi appears especially strong so not only can you grab attention in the coffee shop, you'll grab a good slice of the WiFi too.  We've been testing the Core i5 version but for users not wanting to run video editing or heavy compute tasks, the Core i3 version at 1.8Ghz is also worth considering, especially if it offsets the cost of an upgrade to SSD.
Evaluation
Made by reviewer in relation to the Ultrabook category as a whole.
| | | | | | | | | |
| --- | --- | --- | --- | --- | --- | --- | --- | --- |
| Battery Life | Connectivity | Screen Quality | Portability | Touch UI | Sensors | Productivity | A/V Experience | Gaming |
| 4 | 8 | 8 | 7 | 10 | 6 | 9 | 7 | 6 |
Specifications, links to other reviews, pricing, videos and gallery are available in our Lenovo Thinkpad Twist Tracking Page.
Overview Video
Pages: 1 2