Page 2 of 2. Go to Page 1
Performance Tests
All performance test done under 'balanced' battery power mode unless stated. SB= Sandy Bridge 2nd generation Intel Core CPU with HD 3000 graphics.
3DMark 06
Toshiba Satellite U940 = 2337
Toshiba Satellite U940 (mains power, performance profile) = 4335
Note: GPU appears to be heavily de-tuned under battery mode. This maybe adjustable in the Intel graphics control panel.
Previous results:
PCMark7
Toshiba Satellite U940 = 3085
Toshiba Satellite U940 (mains power, performance power profile) =
Previous Results

Cinebench 11.5 CPU Test (2 Core)
Toshiba Satellite U940 – 1.79
Previous results
Cinebench 11.5 OpenGL
Toshiba Satellite U940 – 12.93 fps
Previous results
Lenovo Thinkpad Twist – 10.73
Lenovo Thinkpad X1 Carbon (battery balanced) = 13.73
Lenovo ThinkPad X1 Carbon (mains, max performance) = 15.03
Samsung Series 9 2012 15" (Core i5 3317U, balanced mains mode) = 15.63
Lenovo U300s (Core i7 SB 1.7Ghz) high performance mode : 8.68
Toshiba Satellite U940 Performance Summary
The Toshiba Satellite U940 is a good all-round performer and well-balanced. Graphics performance is even beating some recent Core i5 Ultrabooks when under performance/mains mode and is walking all over the previous generation Ultrabooks n 3D performance. As for CPU performance there's a noticeable performance handicap due to the missing Turbo Boost but it beats the Samsung Series 9 that we tested which was locked to 1.7Ghz under battery power. The Intel Smart Response Technology seems to be doing a good job of boosting hard drive speeds under many conditions.
Battery Life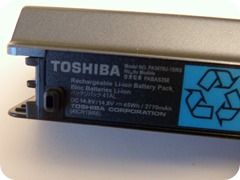 The Satellite U940 is an efficient device, especially when compared to some laptops, but given that it only has a 45Wh battery it can't compete with the likes of the HP Folio 13 or other 60+Wh Ultrabooks. On the positive side you've got the removable battery and due to the lack of Turbo Boost, the CPU is capped lower than others in its power usage.
We had some problems using our usual technique of measuring battery usage via ACPI readings as the battery only seems to report capacity very occasionally.  As a result of that we can't bring you our usual detailed battery report.
Our best battery life indication came after 30 minutes of typing this review where an average of 5.5hours of total battery life was indicated. (WiFi-On)
We also tested a video playback loop. A fullHD 30Mbps video was played back with 30% screen brightness, balanced power mode and WiFi on for 3hrs and 9 minutes on 85% of battery life. That equates to a 3.6hr video playback time with a full battery. Wi-Fi off would increase that to over 4hrs.
In summary the U940 is quite efficient compared to laptops, has average efficiency in the Ultrabook segment but because of the small battery size results in lower-than-average battery life for the Ultrabook segment.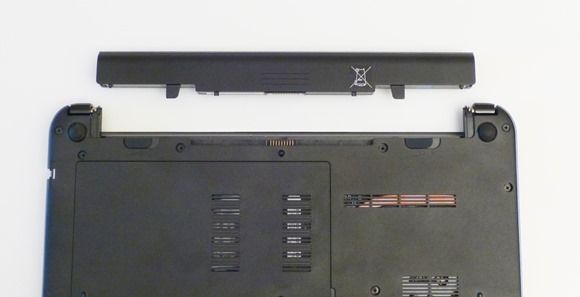 Heat and Noise
The U940 can be made silent under battery power by using Toshiba's eco mode. It's able to maintain silence for typing input while online but the fan kicks in as soon as any heavy web activity is done. Under balanced mode the fan tends to be running all the time. The system doesn't get overly warm even under our 3DMark test conditions but there's some detectable warming under the right palm where the hard drive bay is. This might get uncomfortable in places where ambient temperature is more than normal. The fan noise consists of mainly air movement and not mechanical noise.
Toshiba Applications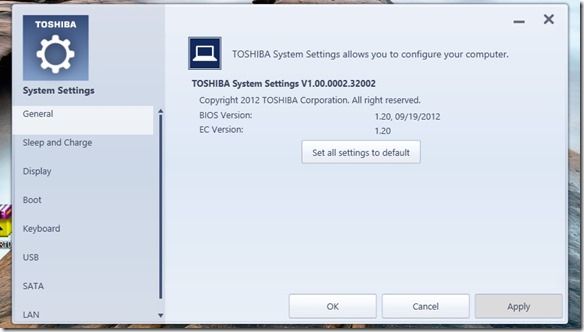 Toshiba provide backup and imaging applications, a registration application and a central control panel for all special features.
Eco utility allows fine-grain control of lower-power options
SRS sound utility allows virtual surround and equalization to be set on the sound module
A system settings menu allows control of…
USB sleep and charge, boot-up screen, boot priority, function key function swap, wake on keyboard, disable USB3.0 controller for USB2.0 and lower-power, SATA mode (power or battery life), wake-on-LAN, built-in-LAN disable. (Many of these are the same options as found in the BIOS)
Toshiba Places is a Windows 8 up that failed on startup in our tests.
Toshiba Media Player – A DLNA and SkyDrive capable media player.
Mcafee, Skitch, Fresh Paint, WildTangent, Nero 12, Amazon kindle and Evernote are pre-installed as Windows 8 apps.
Issues and notes
Battery life estimates are averaged over a long period (5 minutes of more in our tests)
Video cam quality not tested
Toshiba Warranty is 2-years with pick-up and return in German and Austria
We experienced 2 lock-ups when using the PCMark7 test suite
Target Customer
The Toshiba Satellite U940 (and U945 in the USA) is clearly targeted toward the low-cost Ultrabook segment and crosses over into the mainstream laptop segment although the hybrid hard drive, access panel, relatively slim and light design (compared to mainstream 14" laptops)  and backlit keyboard are features that you rarely find together in the mainstream laptop market. CPU power however, is quite a bit lower than found on recent mainstream laptops but you're getting premium silicon that can run quite efficiently. Customers looking for a budget lightweight and mobile laptop should definitely take a look at the Toshiba Satellite U940. Build quality appears strong enough for average usage and the back-lit keyboard is an advantage for customers wanting laptop capability while traveling on trains and planes. The strong Wi-Fi, great touchpad and upgrade features add to the overall package for budget-conscious customers.
Summary
When we tested the Acer S3 with hybrid hard drive a year ago we called it an honest Ultrabook. The Toshiba Satellite U940 is also honest, but better and, because it doesn't look 'flashy' it surprised us. The touchpad beats many we've tested before, there are expansion options, a good set of ports and the hybrid hard drive is well implemented. Efficiency is OK too which means you get relatively good battery life times for that battery size. Core i3 might sound a little cheap but in this generation of Core it's a really good option and more than good enough for all the needs of an average PC user. The screen is the only thing that should have been better and unfortunately it could annoy anyone that's been used to higher pixel density, better viewing angles and truer colors.
Overall we can recommend the Toshiba Satellite U940 as a flexible and very well balanced budget Ultrabook.
[embedsite height=400px src=http://ultrabooknews.com/pullin/productdetails-pullin-generic.php?id=949]
Pages: 1 2