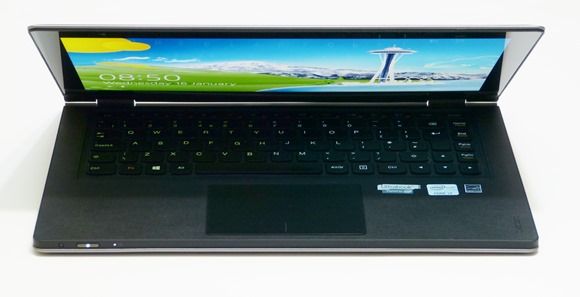 The Yoga 13 is a truly exiting form factor and a well-made device. It's a good Ultrabook and yet there are serious issues to be considered. The Yoga 13 is missing a few features and fails on a few aspects related to the convertible form-factor and convergence. Read on for a full review of the Lenovo Ideapad Yoga 13.
This review written on the Lenovo Ideapad Yoga 13.
Lenovo Ideapad Yoga 13 Review model full specs.
Manufacturer: Lenovo
Model name: IdeaPad Yoga 13
CPU type: Intel Core i7-3517U (Ivy Bridge, 1.9Ghz nominal)
Graphics: Intel HD 4000
OS: Windows 8
Display Size: 13.3″ 1600 X 900
Screen Type: LED-Backlit LCD
Touch Technology: 10-point Multi-touch
Synaptics Touchpad
RAM: 4GB
SSD: 128 GB (Samsung MZMPC128HBFU-000L1)
Battery capacity: 54 (Wh)
Weight: 1530gm / 51.9 oz. (measured)
Ports: 1xUSB2.0, 1xUSB3.0, No  USB sleep-and-charge, 1x full SD card slot. 1 X HDMI, 1 x headset port.
Ambient light sensor, rotation sensor.
NO TPM module, No VPro, Sealed battery. No expansion ports or access covers.
First Impressions and unboxing.
You'll find a Lenovo Yoga 13 unboxing and detailed first impressions post already on the site.
External Build, Ports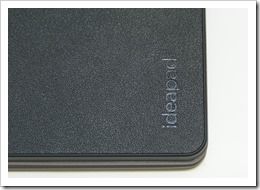 Lenovo have done their usual good job on build quality with the Yoga 13. The device looks stylish and feels solid with a grippy and clean finish all over. That rubberized finish extends to the keyboard area too (see image above) because when the Yoga 13 is being used in tablet mode, you don't want a slippery finish causing problems. If you haven't seen the tablet mode yet, it's the main feature here as the screen can rotate back 360 degrees around the hinge.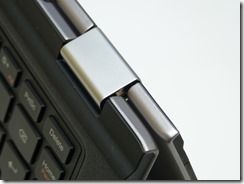 The hinge mechanism is solid and stiff so there's very little play in the touchscreen which is important as it's going to get prodded on a regular basis. In term of screen stability it beats the Lenovo Twist and, likely, every other rotating center-hinge design. It's not as easy to get into tablet mode though. The 360 degree rotation requires the unit to be completely lifted up. There's a little scope for fumbling here so be well-practiced if you're doing this in the coffee shop or boardroom.
The Yoga 13 is a relatively thin Ultrabook considering its features but it's a solid 1.5KG / 3.3lb in weight which is one of the issues we'll talk about later in this review.
Port offerings are minimal on this Ideapad. 2xUSB (one of which is USB3.0), one full-size HDMI and a full-size card-reader are all you're getting so if you're looking for Ethernet or DisplayPort, you're out of luck. Audio in/out is via a combo headset port. Power, rotate lock and volume buttons are provided on the device edges. There's no access panel on the rear for upgrades and the battery is sealed inside.
Working Fascia (Keyboard, Screen, Mouse)
Let's take our time here because these are the parts of the Lenovo Yoga 13 an owner will be using most. The screen is a 13.3-inch 1600×900 IPS display which is comfortable to read. There's a glossy finish though so a little screen positioning might be needed. IPS helps here.
As for colors and brightness we can only say we're disappointed. Although we haven't done any color gamut or brightness measurements there's an obvious yellow tint to the screen and a backlight that needs 75% power where other Ultrabooks are working with under 50%. It does, we admit, feel comfortable when using in an office but we worry that it's not going to be good for anyone working outdoors or near windows. That includes commuters.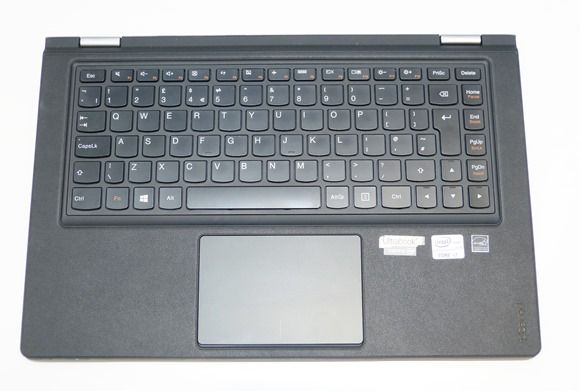 Moving on to the keyboard it's a similar story. The overall experience is very comfortable indeed and over the last two weeks the Yoga has been used to write around 30 articles containing tens of thousands of words. It's not quite up to the standard of the Lenovo Thinkpads but it's very very good. The only issue here is that it doesn't have a keyboard backlight. Functions keys are sensibly reversed. We had no problems with touchpad interference.
On the touchpad, it's smooth and does its job. It's up there as a 'good' touchpad, but perhaps not the best. Don't forget to learn two-finger right-click which is more reliable than finding the right click area on the pad.
Overall we've got a very good office and home set-up here but a set-up that's lacking in features for other extremes.
Tablet Mode
If you're expecting an always-available tablet with the Lenovo Yoga 13 you're going to be disappointed. If you expect to do some 'easel' scenario work you could also be disappointed. The Yoga 13 is a heavy, sometimes cumbersome bit of kit that is often too wide for tablet use. 1.5Kg (3.3lbs) and 13.3" restricts the usage scenarios down to a few which require the support of a table, lap or belly. Unlike the Twist, the display mechanism isn't even that good for quickly showing other people content as the process of converting the Yoga is two-handed. It's not quick to get it into tablet mode at all, despite what you might see on Intel's advertising.  [On that point, don't start showing it off on London train stations because the little boy that says 'Crikey!' is likely to run off with it!]
This awkwardness in converting from tablet or 'easel' to laptop means it becomes annoying if you're switching between Windows 8 desktop and Windows 8 Modern UI, especially if the power cable is connected. You'll also notice that if you're using the easel mode on the breakfast table, you'll get bits and pieces all over the rubberized surround on the keyboard. As you drag the device around it's likely to get scuffed too on that area too. We put the Yoga on a shelf in tablet mode and were a bit worried when we dragged all the dust off the shelf with it the next day. Rubber feet on laptops are there for a very good reason.
When in tablet mode, the keyboard does feel a little strange behind the fingers, but you get used to it and it's locked-out so doesn't register any key presses.
Finally, on the negative points, there's no digitizer so if you want to get precise with selection, enable hovering or do some accurate pen-based annotations using Windows desktop applications, you can't.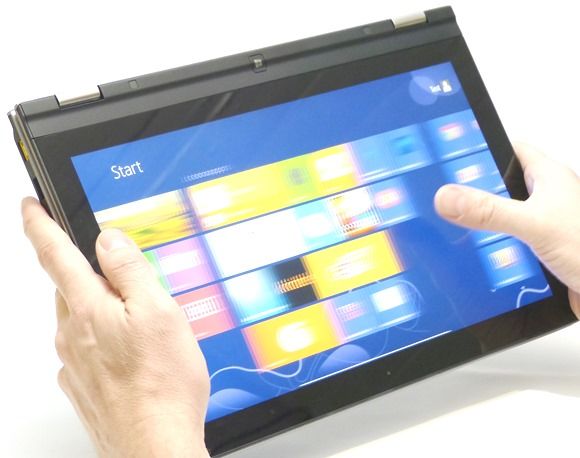 If the Yoga 13 was lighter it might be more useful as a convertible but, quite honestly, it's the most awkward tablet we've ever used.
The touchscreen is genuinely useful in laptop mode and there are games that are great fun in easel and tablet mode. Reading on a table is OK too but for this amount of money you'd be better off getting a recent 10" Android tablet for games or reading and a touchscreen laptop/Ultrabook for Windows 8.
There's one more thing that needs to be mentioned for the users that wants a relaxed tablet-style experience – the fan. It was on 100% of the time on this test device and the it generates quite a bit of warmth to the rear / at the left-hand holding point in portrait mode as a tablet.
We'll be interested in testing the 11.6" Lenovo Yoga 11S because it's slightly lighter, smaller and has a lower-power CPU in it which could drastically improve the tablet experience but in 13.3", 1.5KG guide, the Yoga isn't working as a tablet for us. It's cool, fun and exciting, but not very practical.
[embedsite height=380px src=http://ultrabooknews.com/pullin/productdetails-pullin-generic.php?id=828]
Pages: 1 2