There's no question that the Acer W510 is now stable enough, has huge amounts of battery power and is portable enough to be a real advantage for a mobile blogger but is it good enough in other departments, namely CPU, storage and keyboard? Can this 1300gm dockable do the business?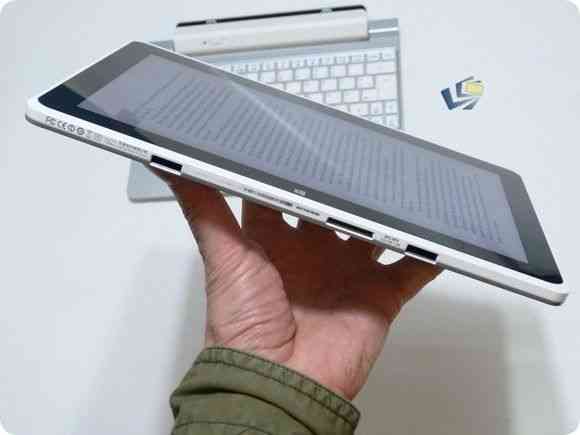 [Update below]
The Acer W510 is an Intel Clovertrail-based tablet with docking keyboard and battery. Not only is the tablet very efficient at running Windows 8 but there's a total of 60Wh of battery in total, equivalent to a good 6-cell on a netbook. That's a huge amount for such a small device and combined with super efficiency and Connected Standby is means there should be absolutely no need for a power cable during a 16hours period of working – typical for the sort of trade-show working I'm thinking of next week at MWC in Barcelona.
But is it comfortable enough? Under the pressure of having to get videos and blog posts out as soon as possible is the keyboard and CPU combination – a borderline one at the best of times – going to cause me to, well, lose productiity? Or is the portability and battery life going to be worth the potentially longer video rendering times, the raised stress levels when typing and the annoyance at applications that don't start up immediately. The Wi-Fi isn't professional-grade either!
There are other things to think about too.
Ethernet – You want to be able to connect via cable to get those videos up as quickly as possible. Solution – USB Ethernet cable. I'm using it right now!
3G – Built-in 3G would be really good. The W511 has it but I really can't afford to trade-up right now. The good old MiFi unit, tied to a battery pack, will have to do 3G duties.
Cam – Forget using a cam on any tablet for good quality YouTube videos. There's no zoom, no stabilisation and generally very poor optics. Even my Nokia 808 isn't good enough. You need mechanical stabilisation if you want to shoot products in low-light so I'll be using my tried and tested Panasonic FZ150 bridge camera. It's been fantastic over the last year or so.
SD card slot – An SD card slot is a must-have for all my PCs but the W510 doesn't have one. It has a Micro-SD slot but that's not going to help with the 16GB SD card I've got in the FZ150. The only answer is a USB SD card adaptor, and the mini USB cable adaptor that was supplied with the Acer W510. There's room for problems here so I'll take the USB cable for the camera too.
Storage – I've got some clearing up to do. 20Gb free space should be enough though as I don't archive original video footage once it's uploaded to YouTube.
Is there a better solution than the ASUS W510? Ye I believe there is in the 11.6 inch Clovertrail devices that have docking keyboard with additional battery capacity. The HP Envy X2 and ASUS Vivo Tab Smart are are two on my list but I haven't got either of those so the W510 it is.
Here's the software pack I need.
Twitter client – Tweetro+
Basic photo management and editing – Live Gallery
Video editing – Power Director 10 (with a tailored 720 profile)
Website management – Desktop browser, SSH client
Podcasts – Skype and Audactiy
Offline Blogging – Live Writer
Mail and other tools – Desktop browser
At the end of the day though I'm here to test, to learn and to tell you what works and what doesn't. I plan to work a full day tomorrow with the W510 and then make a final decision on whether it should be my MWC reporting PC.
Any thoughts on  the setup?
More mobile reporting kits here.
Update: After a few hours going hard with the keyboard I've decided the W510 isn't working out. Not only does the mousepad have the well-know hardware issue but I'm getting occasional repeated keys. Every praragraph or so one of the keys characters will repeat on the screen between 10 and 20 times! The Acer W510 needs to go back but the good news is that I had some luck exchanging the Samsung ATIV 500T today. I upgraded to 3G too. This is the device i'll be testing all day tomorrow. Already I know that the keyboard and mouse (which includes multitouch gestures) is way more comfortable than the W510. In fact it's pretty much exactly the same keyboard as you get on a Samsung Series5 Ultrabook. I get on really well with that keyboard so fingers crossed. More on my Samsung ATIV 500T testing here.