I must be nuts. I've just paid 900 Euro for an Atom-based notebook. Or am I?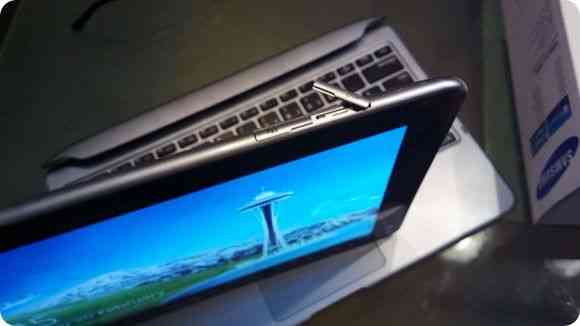 A few days ago I bought the Samsung ATIV 500T after a disappointing time with the Lenovo Lynx keyboard (of all things Lenovo!) The unboxing went well until I spotted a connectivity problem between the dock and the tablet. I really wasn't very happy. Today I swapped it out for a new one. I also spotted the 3G version in stock so I end up paying 899 Euro. It's more expensive than at other retailers too although, for you US people, it's a business sale which is 19% tax-free here in Germany.
I've got the 64GB version with 3G, GNSS (GPS) and NFC now though so at least I can test and demo that.  3G runs up to HSPA+ speeds. In this case 21Mbps D/L and 5.76Mbps U/L. Let's see how it performs though because I'd rather have a quality 1Mbps than an occasional 20Mbps. I'll know more about antenna quality soon. I'm also interested in doing more with the digitizer on the AVIT 500T.
The plan is, having fully tested the Acer W510 and found issues with the small keyboard, that i'll use this at Mobile World Congress next week as my only PC. I won't even be taking a 7 inch tablet as I usually do.
More about that soon though. For the time being I'm happy that, after four attempts, I've got what seems to be a 100% working Clovertrail tablet.
One more thing. Now I've got 3G I've effectively got a huge, always-on Skype phone!