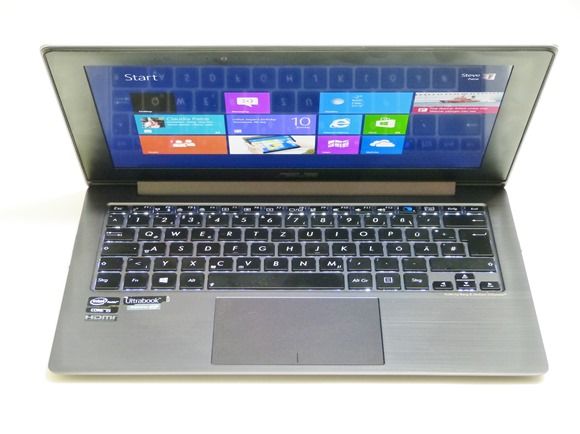 It's an exciting, stylish, well-built and thought-provoking Ultrabook Convertible. The ASUS Taichi 21 contains two screens and can be used as a tablet, or a very mobile Ultrabook. Read the full review below.
Many thanks to notebooksbilliger.de for providing the ASUS Taichi 21 for review.
ASUS Taichi 21 Review Model Full Specs
ASUS Taichi 21 Specs, images, review links and videos are always available in our database.
CPU type: Intel Core i5-3317U (Ivy Bridge, 1.7Ghz nominal)
Graphics: Intel HD 4000
OS: Windows 8
Display Size:11.6? 1920×1024 on both sides.
Screen Type: LED-Backlit LCD. Inside: Matt with wide viewing angle. Outside: Glossy wide viewing angle.
Touch Technology: 10-point Multi-touch on outer screen.
ASUS Touchpad
RAM: 4GB
SSD: 128GB (Sandisk SDS5E2128G1002E)
Battery capacity: 36.8 (Wh) (35.2Wh capacity available)
Weight: 1258gm / 2.77lb
Ports: 2xUSB3.0 (1xsleep and charge,) 1xmicro HDMI, 1xmicro VGA, 1 x headset port.
WiFi/BT4.0 – Centrino Advanced-N 6235
Included accessories. USB 10/100 Ethernet adapter. Micro VGA adapter. Sleeve case.
Ambient light sensor, rotation sensor.
No TPM Module, No VPro, Sealed battery. No expansion ports or access covers.
Keyboard backlight. 2MP and 5MP cams. Stereo speakers. Array Mic. Bang & Oulfsen ICEPower audio.
First Impressions and unboxing
We have an unboxing available here but we also did a live overview of the ASUS Taichi 21 in a recent live videocast. It's embedded below.
External Build, Ports
In summary, the ASUS Taichi 21 is a well-built Ultrabook converitble that is noticably lighter and more usable as a tablet than the Dell XPS 12 or the Lenovo Yoga 13. The external screen is a high-quality touch-enabled FullHD wide-viewing angle unit and the internal screen offers the same but without touch and the glossy finish. As with all convertibles some edge space is given over to tablet controls (power, volume, screen lock) so space for ports, especially on such a small and thin device, is minimal. You'll need to carry a few cables with you but fortunately ASUS provide a few of them in the box.
Because the Taichi 21 with its 11.6" screen is smaller and lighter than other convertibles there's a big improvement in not just portability but usability when in tablet mode. The only annoying thing is that it takes 2 seconds for the screen to switch to the outside when the Ultrabook is closed. Sometimes it feels like a lifetime. There's another problem too – the outside screen gets dirty through touch and unless you clean it after each tablet session it looks dirty and ugly when closed.
Working Fascia (Keyboard, Screen, Mouse)
Obviously an 11.6" screen, keyboard and touchpad combination isn't as easy to work with as a larger Ultrabook but ASUS have kept any potential issues to a minimum with good quality components. The matt internal screen, backlit keyboard and relatively large mousepad area work without any issues although keystroke is very short . Cursor control buttons are small though and the mousepad has integrated buttons. The lack of a touchscreen on the inside could be a problem for those that already use it to augment mousepad control although the size of the Windows control areas in desktop mode on this Full HD screen are extremely small. Some tweaking is required to improve this.
ASUS ship the desktop with font sizes, icon sizes increased by 125% but if you've got bad eyesight, be aware that you could have problems. Increasing the font sizes to 150% can help but decreases usable screen area and can sometime result in strange effects in some Windows elements.
The viewing angles, brightness, sharpness and color quality appear to be very good all-round. The matt internal screen helps to improve the working experience. The glossy high-def external screen is impressive as a consumption screen.
Overall, the working area is very high quality.
Tablet Mode
Although we've mentioned that the ASUS Taichi 21 is better as a tablet than some of it's rivals, it's still not a consumer tablet. It weighs considerably more than a consumer tablet and has relatively poor battery life too. More on battery life below.
For occasional use thought the capacitive touchscreen works well with Windows 8 Modern UI for gaming, presentations and for quick access to Windows 8 apps without having to open up the Ultrabook. There's another feature too.
The ASUS Taichi 21 we have here has a digitizer layer which enables the use to expand the se of the tablet in to some creative and business areas. Unfortunately the pen isn't included in this 1299 Euro 'low-end' model. It's a surprising and annoying bit of corner cutting, especially when other accessories are already included. IF the pen had been included we could have shown you accurate drawing, image editing, hover actions, annotations and handwriting recognition. But we can't. There's an indication that the high-end Core i7 model includes the pen and that it's also available, if you can find it, separately for an unconfirmed price between 30 and 50 Euro / dollar.
The weight, size and digitizer layer takes the ASUS Taichi 21 into a different category to the Dell XPS 12 and Lenovo Yoga 13. It's a more usable, creative, mobile and professional category and adds a lot of value to the Taichi 21.
ASUS Control Panel
By pressing the ASUS control key you get instant access to the ASUS Taichi control panel. This will mostly be used for switch screen modes. Windows-P is disabled as a mode-switching method. Multiple presses of the key take you to different screen modes which must be confirmed by pressing enter. Access to ASUS Cloud, audio settings, screen settings and a screen-share application are also provided.
Screen share is an application that enables extended screen mode and provides a user interface for running slideshows on the external screen. It would be nice if the application didn't show windows bars on the top and bottom of the external screen. It kind of ruins the effect.
Continued on Page 2
ASUS Taichi 21 provided by Notebooksbilliger.

Pages: 1 2