Page 2 of 2. Go to Page 1
General Performance
The ASUS is not only well-built on the outside but also well-built on the inside too. A good choice of SSD and WiFi do there best make sure you get all you can from the Core i5 CPU which can run from 1.7 to 2.6Ghz. There's a great set of speakers and good efficiency which keeps the fan almost silent. Even under load the fan is one of the quietest around. There's no TPM or VPro capability.
Audio Performance
What a great set of built-in speakers. The Bang and Oulfsen ICEPower set-up is just as good as on the other Zenbooks. It even offers some low-frequency output which you rarely hear on such a small device. It's not HiFi, but it's not the proverbial monkey peeing in a tin can either. Headset output ives you an analogue signal and the HDMI output offers the digital audio signal.
Video (external)
The ASUS Taichi 21 offers HDMI, VGA and WiDi video outputs but there's no DisplayPort output which is the best choice for higher resolutions and multi-screen working. As long as you've got your adapter cables with you though, you'll have enough choices.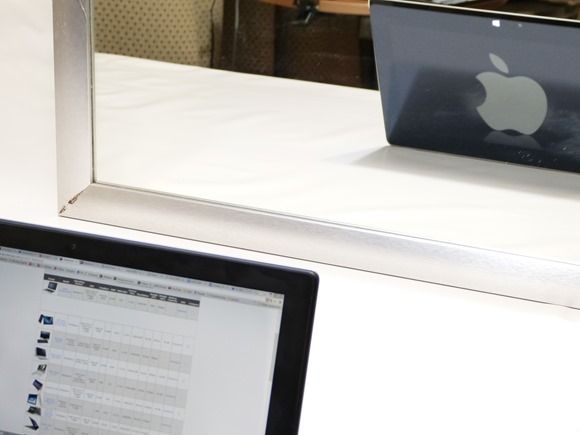 Video (Internal)
Background on Ivy Bridge Ultrabook video performance:
The video playback capabilities of PCs have three limiting factors. CPU, video decoding hardware and software codecs. Windows 7 provides a good set of software codecs out of the box and supports most hardware video decoders. MPEG2, MPGEG4 part 2 (like Xvid, Divx) and MPEG 4 part 10 (like H.264) along with WMV of course. You'll need to download and install codecs for other types of file. Windows 8 does not support MPEG2 playback out of the box.
The HD 4000 GPU supports full HD (1080p) decoding in hardware and we tested it up to 50fps and 30Mbps which is as high as you'll get on most consumer video cameras. At 50% brightness on the internal or external screen, 'balanced' battery mode with WiFi off the power usage measured by Perfmon (accessing ACPI battery data) averaged 14W which is much higher than average in this category of CPU. Using mirrored mode with both screens running we saw an additional 2W power consumption.
In theory the chip can decode 4K video . Unfortunately we weren't able to test that that and the HD 4000 GPU does not support 4K output via an of its video interfaces.
WiFi Performance
As mentioned, the WiFi on the ASUS Taichi 21 is above average. The top-of-the-range Centrino Advanced-N seems to be paired with good antennas for solid throughput. WiFi is a critical element in almost every laptop working scenario these days and customers should always make sure they choose an Ultrabook with good WiFi. Wi-Di (Wireless DIsplay) and Wi-USB (Wireless USB) services from Intel are also supported.
Performance Tests
All performance test done under 'balanced' battery power mode unless stated. SB= Sandy Bridge 2nd generation Intel Core CPU with HD 3000 graphics.
CrystalDIskMark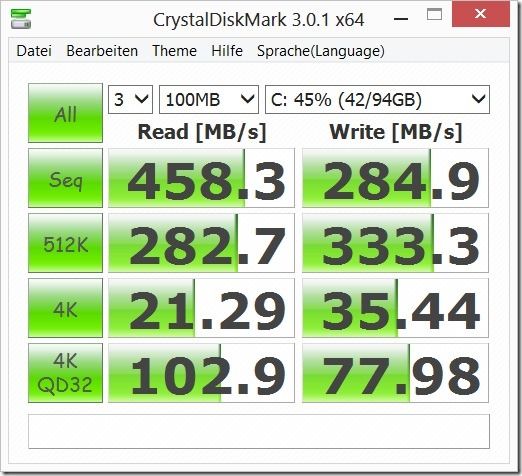 The SSD performance is excellent. The SanDisk SDS5E2128G1002E performs just as well as the Samsung SSD we saw in the Dell XPS 12 although as it's a smaller disk, only 128GB, you'll have to manage it well. The 94GB partition was down to 50GB free after we'd finished our tests.
3DMark 06
ASUS Taichi 21 (Core i5, 128GB SSD, balance battery mode) – 4658
Previous results:
PCMark7
ASUS Taichi 21 (Core i5, 128GB SSD, balance battery mode) – 4522
Previous Results
Cinebench 11.5 CPU Test (2 Core)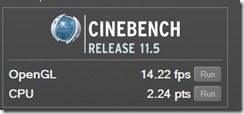 ASUS Taichi 21 (Core i5, 128GB SSD, balance battery mode) – 2.24
Previous results
Cinebench 11.5 OpenGL
ASUS Taichi 21 (Core i5, 128GB SSD, balance battery mode) – 14.22
Previous results
Battery Life
The battery life of the ASUS Taichi 21 is an issue that anyone considering the ASUS Taichi 21 should be aware of. Due to the lightweight build and screen components taking more volume than on other designs ASUS is left with very little space. We believe that there's not much more that ASUS could have done and are actually quite impressed that they've managed to squeeze in 35Wh of battery. However, in comparison with some other devices at a similar weight, it's just average. As a consumer tablet, it will disappoint. For those looking for a highly mobile Ultrabook for all-day use, the ASUS Taichi isn't going to get anywhere near the battery life requirements. In dual-screen mode the battery drain goes up and the FullHD and touch also add to the drain. Efficiency levels are good but the Taichi 21 can not overcome these hard technology limits.
The graph above shows a 1hr web-working scenario in balanced mode with about 50% screen brightness (one screen.) he average battery drain was 9.05W which equates to 3hrs and 50 minutes. We repeated this test in similar conditions and got the same result.
Using the second screen in mirror or extended screen mode with 50% brightness increases battery usage by about 2W.
We note that there's a number of additional background tasks on this build which include McAfee. 15 ASUS and 10 Intel software packages are installed on the Taichi 21. One task in particular – ASUS CloseLid – gave us a little concern due to the amount of CPU it was using under idle conditions. We terminated the ASUS CloseLid and ASUS Home tasks before doing these tests as these tasks appear to take quite a lot of CPU when running in the background. Taichi Home appears to re-start on pressing the screen button and can start to take unnecessary amounts of CPU. We measured as much as we could but aborted some
Dual-screen operation takes considerably more battery power.
Just to be clear again, there's no removable battery. There's also no quick-charge facility.
Usage Scenario
Power usage
Estimated battery life (new battery)
Idle, no Wi-Fi, sound off, power save profile
Screen low bright – min 5.2W
Screen High bright – min 8.0W
Dual Screen High bright – min 14.4W min
6.7hrs

4.3hrs2.5hrs (*1)
Local MP3 playback (Using WMP, medium vol, low screen brightness
Aborted due to intrusive Taichi Home process
Streaming MP3 playback (low screen brightness, 3 walls from hotspot)
Aborted due to intrusive Taichi Home process
Web working – 50% screen, balanced power mode, web applications tabs (*2)
Average 9.0W
3.8hrs
HD Video (Full HD, H.264, 50fps, 30Mbps) playback (WiFi Off, WMP, 50% brightness)
Average 14W
2.5hrs
(*1) Higher than expected drain, lower than expected effective battery life. This could be due to a runaway process as mentioned in the paragraph above.
(*2) Chrome: Tweetdeck, Facebook, Google Plus, YouTube, Gmail and other web windows.
Heat and Noise
Again, great engineering pays off. The ASUS Taichi remains cool during use and even under load, the noise is relatively low due to a very quiet fan.
Issues and Notes
ASUS Close-Lid process taking excessive CPU in some conditions
Many software packages installed
Auto-rotate failed
ASUS Taichi Target Customer
This is tough. The ASUS Taichi is a nice bit of engineering that stimulates one to think about new and interesting possibilities but it fails, like many converged devices, to hit any major use cases with 100% success. It's more manageable than some of the bigger Ultrabook Convertibles but is still way too big and heavy to be a consumer tablet. It's a nice lightweight Ultrabook with great screen and WiFi but fails to provide enough battery life for mobility. A lack of pen included in the review model means that the one potentially unique feature among one-piece convertibles, is useless. Assuming ASUS fixes the software issues then you could leave this on the coffee table and have quick (and impressive) access to Windows 8 apps. You could also ignore the external screen and have a very powerful netbook-like experience but you'll need to be able to afford it. We can think of many ways we could effectively market this to many customers as the perfect all-in-one system but our pragmatism prevents us from doing so. In all the years of testing mobile devices we've never struggled this hard to think of a target customer. The ASUS Taichi fits as a high-end presentation device, a first-class-cabin PC but mainly as food for thought.
ASUS Taichi 21 Review Summary
ASUS deserves applause for trying something new and doing it as well as is possible given the current technology. It's a flagship product that's brought ASUS a lot of well- deserved attention but we don't think it's going to sell that well. It's simply ahead of its time. Ivy Bridge is not a consumer tablet-capable processor and sandwiching two 1080p screens comes with big size and battery life trade-offs. The Taichi 21 needs to be 20% lighter with 50% better battery life. Interestingly that could be only one generation away. Haswell could make products like this into highly dynamic and usable devices that span consumer and business use. If 3hrs of battery life is OK for you then maybe the pen input makes this device attractive enough but we'd ask you to make sure you've looked at the Ultrabook detachables first. Hat Tip to ASUS for their sterling effort, We hope they take Taichi into a truly usable product in the next generation.

Pages: 1 2