At IDF we heard about three Baytrail-T devices. The ASUS T100 was launched, the Dell Encore was shown but the Acer Iconia was only mentioned in a press event. Finally we get confirmation that it exists along with a first-look by Tomas Hochstenbach of BouweenPC.nl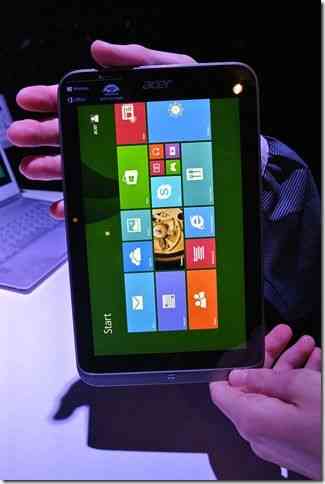 The Acer Iconia W4 is clearly going to replace the rather poor W3, a small-screen tablet on Clovertrail that didn't really have the best specifications. With the W4 we have the Intel Atom Z3740 (Baytrail, 1.3Ghz quad-core) and 2GB of RAM.
Screen: 1280×800, wide viewing angle
5MP Rear Cam
2MP front cam
Micro-USB, MicroSD card reader, a Micro-HDMI, Headset port.
5-point Multitouch
GPS
BT4, Wifi b/g/n
Windows 8.1 (Office included)
The price is said to be €330 euros for a 32GB version which, considering the Toshiba Encore is €299 and has the same specs, could be too much. Acer often plays at the lower-end of the pricing ranges so perhaps we'll see immediate discount to €299. Expect a US equivalent (pre-tax) price of around $300.
In the video below you'll see a surprisingly thick tablet. Did Acer simply upgrade the Iconia W3 internals?
See more images at the source…
Source: BouweenPC.nl