General Performance.
Haswell Core i5 and a good SSD in the Ultrabook platform is something we've never found lacking and the same is true of the Sony Vaio Duo 13 which is, in general use, as spritely as any other Haswell Ultrabook we've tested. Small designs like this can lead to top-end trade-offs though so let's see if we can find those limits.
SSD speeds could be a little more symmetric but a 4K random write speed of 66MB/s is pretty good. The read speeds at 4K could be better though. We saw a max 4K read of 17MB/s only when connected to mains, under 12MB/s when under battery power.
Here are the battery-powered and mains-powered SSD speed results.
Cinebench 11.5 reveals something that we were expecting under battery power – lockdown under 'balanced' power profile. Although all four cores were used for the test, the CPU clockrate was locked at 800Mhz which is half of the baseline clockrate of the CPU. Whether it's TDP-down or some other BIOS-based limit we don't know but it affects performance drastically.  Switching to High Performance mode releases the full power of the CPU. 2.27Ghz average clock through the test, a power drain of 16.5W (was under 7W in 800Mhz mode.) There's another issue that shows up here. Fan noise is significant under full load. Air noise and a little mechanical whirr that you wouldn't like to experience long-term.
Cinebench R11.5 CPU test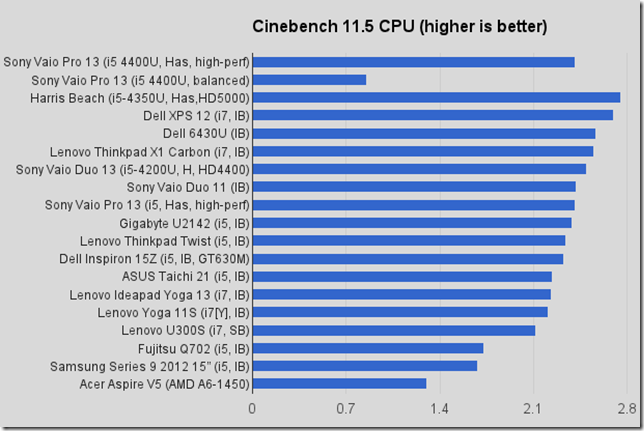 Battery power, High Performance: 2.14
Mains Power, High Performance: 2.41
Mains power, Balanced Performance: 2.20
Battery Power, Balanced Performance: 0.85 (CPU is locked at 800Mhz in this mode)
Cinebench R11.5 OpenGL test.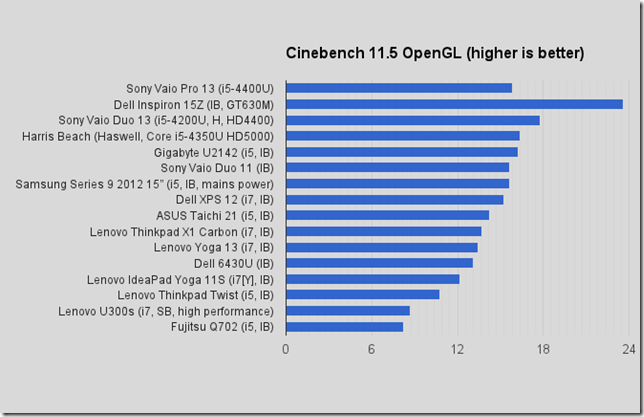 Battery power, High Performance: 15.83
Mains power, High performance: 16.6 (best, under cooled conditions)
Peacekeeper is a good test of the way many of us use our browsers – interactively, with web-apps and graphics.
Gaming
With high-power applications like gaming a lot of the battery life advantages of the Haswell processor are lost so don't expect much longer battery with Haswell compared to Ivy Bridge. The GPU performance in the HD 4400 isn't that much greater than the HD 4000 on Ivy Bridge either. Remember to use the High Performance power profile. We attempted to run our normal Just Cause 2 Demo but the Steam application failed to update and caused McAfee to push the CPU usage up to high levels. After waiting, and a few attempts we aborted our test. Given CPU, GPU and observed Turbo Boost activity we would expect the Sony Vaio Pro 13 to perform as well as similar Core i5 4200U-based Ultrabooks.
Battery Life
With a 37Wh battery the Vaio Pro 13 comes way down the list of Ultrabooks based on battery capacity but Haswell's efficiency helps to redress that imbalance. As mentioned at the top of this article, it's possible to be connected and working with the Sony Vaio Pro 13 for over 9 hours on one internal battery charge. Adding the external battery would take that up to around 17-18 hours which is pretty impressive. It must be noted though that the standard 'balanced' power mode is set to reduce the clockrate of the CPU.  High Performance mode is set to lock the CPU at the highest rate possible. [By adjusting the profile settings (CPU minimum clockrate) it's possible to have a full speed-stepping setup from 800Mhz to 2.4Ghz under both battery and mains power.]
We experienced interference from McAfee during many of our tests but after disabling it we were able to get some battery drain figures. Projected battery life figures are taken from these average loads.
As reported above, very basic use of the system will return about 9hrs of usage. It's a word-processing scenario with  the 'power saving' performance profile.
Freeing up the CPU to use its full range and by using some online apps through the Chrome browser (Note: Metro IE can be more efficient in some cases.) we saw an average 5.2W drain which would provide over 7 hours of usage. Fan noise was minimal in this scenario. WiFi was connected at 300Mbps (3 meters from hotspot.)
In a continuous file copy over the local network we saw 6.2W power drain
A Modern UI Video playback of a 1080p film (50 FPS, 30Mbps) took 6.2W of power for 6 hours of viewing on one full charge.
In a more extended web-based working session with 5 tabs running on Chrome, we were able to work through a number of mail items in an average of just over 5W of drain (CPU in the full-range balanced mode.) for over 7 hours of usage. (McAfee disabled. Fan on, noise acceptable.)
In a full CPU load using Cinebench R11.5 we measured 16W of drain for just over 2 hours of usage.
We estimate that gaming load would reach to over 20W for under 2 hours of usage.
With all that data in mind, we would estimate that the average user, under office or home web-based usage, is going to get about 6 hours of battery life which, for a 37Wh battery on a Core i5 Ultrabook with a 13.3-inch FHD screen, is pretty impressive.
WiFi Performance
The Sony Vaio Pro 13 includes a top-notch Centrino N-7260 module. It's capable of 300Mbps on 2.4 and 5Ghz networks. There's a problem though because the reception quality is extremely poor. In the same room as your hotspot you won't notice it. It's stable and good but as soon as you get one wall away the performance drops of quickly to the point where it's a serious problem. In a scenario where other Ultrabooks were getting 54-80Mbps of connectivity 2 walls from a 2.4Ghz hotspot the Sony Vaio 13 was struggling to connect at speeds over 12Mbps. Adding a USB-based ASUS N53 USB adaptor solved the problem but that might not suit everyone. We can recommend the ASUS N53 if you need to boost the WiFi across 5 and 2.4Ghz bands though. It's doubtful that this issue lies with drivers as the module seems stable and we've tested it before. We've heard from others with the same issue too.
WiFi Power-Dongle
While a USB WiFi dongle could help, the included WiFi hotspot could help. (this may not ship with all versions of the Sony Vaio Duo 13)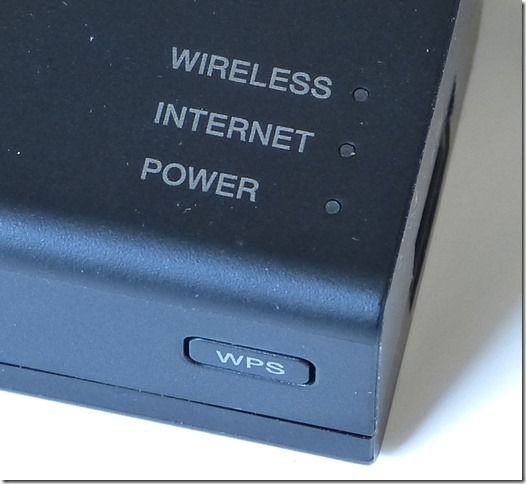 As you can see from the pics, the power adaptor has a USB port. It's able to charge phones and tablets at up to 1A. (Not enough for larger tablets.) Included as a plug-in module is a USB-powered Ethernet to WiFi adaptor. It won't power from every USB port as it appears to need a decent power supply but with a 2.0A Samsung Galaxy Tab adapter and extension cable we did get it to work without the use of the mains adapter. Sony' don't recommend you use third party power adapters, of course!
Plug an Ethernet cable into it and it will connect to the Internet via DHCP and relay that through a WiFi connection. It's a nice solution for hotels and conferences. The problem is that if you've got an Ethernet cable, you probably want to just plug it into your laptop for the best connectivity. A $10 USB-Ethernet adapter achieves that so why didn't Sony include that instead of this? It's a nice little gadget but I can't see many people using it.
The unit, a VGN-WAR100, has a web interface (default IP 192.168.11.1, default password: admin) where you can configure various basic features.
Heat and Noise
It's possible to work with the Sony Vaio Pro 13 in a silent mode with very little heat as you can see from the 'Highlight' paragraph at the beginning of this article. As this paragraph is being written with the power-profile in 'High Performance' mode and with the Sony Control Centre fan setting set to 'quiet' it's also silent. The problem is that it doesn't take much to turn the fan on. Just three page reloads of Gmail in Chrome was enough to start the fan. After 6 reloads the fan is audible in a quiet room. With an average CPU load of 40% over 2 minutes the fan will start to be annoying. (high performance mode, battery power.) Follow these tips to get as quiet a solution as possible.
McAfee is a CPU hog. Switch to Windows Defender if you are able.
Turn on 'quiet' fan mode in the Sony Control Centre (Modern UI app)
Don't charge and use the PC at the same time. (Charging introduces heat. To preserve battery, don't fully discharge it.)
Don't block the fan exit on the left of the Ultrabook
Reduce background CPU usage. One top would be to use the Task Manager's 'autostart' tab to reduce the programs started at boot time.
After time, through normal usage and app installations, any PC is likely to run with more and more background CPU usage so when you've got a clean system with all your essential apps installed, take a snapshot by creating a system image.
As for heat, it's possible to generate some significant levels on the rear of the left-hand side (where the DC power port is.) but in general it's not going to be a problem unless you're really working the Vaio Pro 13 hard.
Other Notes
McAfee takes too much background CPU. You'll hear the fan start up when it gets to work. It's not fit for use on an Ultrabook in our opinion. If you're careful with your software, turn on Windows Defender and uninstall McAfee to save power and noise.
Speakers loud enough and clear but not tuned for music
Automatic backlight sometimes felt too dim. That can be turned off in the Vaio Control Centre and adjusted by hand in the Windows 8 charm bar.
A larger screen opening angle would allow more usage scenarios.
No InstantGo / Connected Standby capability.
Target Customer
The Sony Vaio Pro 13 is a premium Ultrabook that offers good battery life, a good screen and good keyboard in one of the lightest packages you'll find. It's really only because of Haswell that it's possible but despite all the Haswell goodness Sony have come up against a few limits that could affect certain customer types. Those working in silent rooms or offices won't be impressed by the fan noise. This isn't an Ultrabook you take into an important boardroom meeting! Anyone who's moving between WiFi hotspots all the time is also going to suffer due to the poor WiFi reception. As a BYO or hot-desking Ultrabook it's perfect and if noise and WiFi isn't an issue, there's little to complain about for any type of customer, as long as the price is OK. Want more battery life? Add the slice. Photographers could be interested in this lightweight setup for on-the-road usage. The SD card slot and Triluminous screen will appeal. For those looking for value-for-money in terms of performance and battery life, you might do better allowing yourself a few hundred grams more weight but for anyone looking for an extremely light Ultrabook with up to 256GB, 8GB RAM and a Core i7 with a great keyboard and battery life needs to look carfeuly at the Sony Vaio Pro 13.
Sony Vaio Pro 13 Video Review
Summary
Breaking new ground for a 13-inch touch-enabled Ultrabook the Sony Vaio Pro offers an incredibly light package but retains screen, keyboard and battery life quality that is often missing in this bracket. Sony slipped-up on WiFi reception quality though which really shouldn't be this bad at this price-point. A gimmicky Ethernet router dongle doesn't do much to help the situation. The WiFi issue will be a deal-breaker for many. It's good to see a full HDMI port and a full SD card port though and if you're working away from power the additional battery is going to allow up to about 18 hours of activity time. The Sony Vaio Pro 13 is a quality bit of engineering and a prime example of how small and efficient a Haswell-based Ultrabook can be.
[embedsite height=800px src=http://ultrabooknews.com/pullin/productdetails-pullin-generic.php?id=1039]
Pages: 1 2