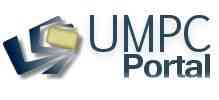 UMPCPortal has been active since 2007 and has its roots in sites started with Origami in 2006. DUring 2010 and 2011 the site was almost dead but that changed with the introduction of the Clovertral tablets at the end of 2012. Finally in 2013 we're seeing sub 10-inch Windows devices again. News and traffic levels have picked up across the board and although the market has changed, it's just as important to talk about ultra-mobile PCs. They're still the most flexible, dynamic and professional devices around. As a result, UMPCPortal has been updated. Here are a few of the changes.
What's an Ultra Mobile PC, in 2013?
If it's a Windows Tablet or Windows Laptop under 1201 grams / 2.6lb and less than two years old you'll find it in our Ultra Mobile PC database. In terms of news, anything with a productive and mobile slant is interesting.
Forum
The Forum is back, improved, more secure and Tapatalk-enabled. All the old accounts are still there. All the old posts are still there. [If you're account is locked, contact us]
Other Updates
The theme has been kamagra online simplified, the RSS feed is now a full feed.
RSS, YouTube, Twitter and Facebook accounts are linked at the top-right of the home and article pages. Follow and share wherever you can!
The product list now allows you to choose a form-factor. We tag clamshell, tablet, dockable, convertible and slider devices to make it easier for you to find what you want.
Each product page now has a more refined list of 'similar products.' [Example]
You can see new products as they are added to the database via an RSS feed.
Most importantly we've ramped up manpower and effort. For the time being our focus will be on devices using Baytrail-T and Baytrail-M, AMD-A4 and A6 'Temash' and the Y and U-Series Core and Pentium CPUs. Special attention will always be given to Windows-based devices of 10-inch and below, especially with the Microsoft Small Screen Touch program in place. We'll also keep any eye on developments in ChromeOS, IOS and Android.
Welcome back to UMPCPortal. We hope you enjoy it. If you do, don't forget to spread the word!