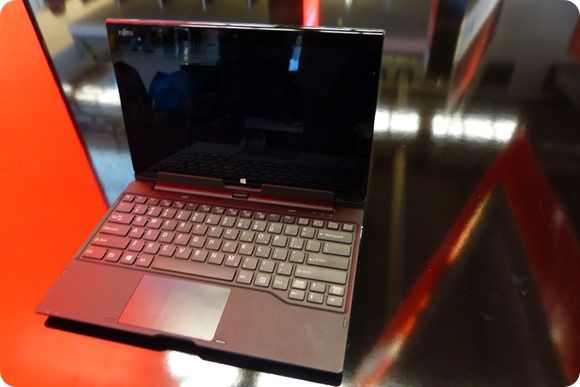 At the Fujitsu Forum 2013 preview in Munich yesterday (and continuing for the next 2 days) I had the chance to get hands-on with a number of new Fujitsu products. The Fujitsu Stylistic Q584 might interest you if you're looking for a very lightweight, waterproof 10-inch Windows 8.1 tablet on Baytrail but Ultrabooknews readers are more likely to want to know about what's cooking on Haswell. The Stylistic Q704 is the successor to the Q702 that I tested at MWC this year. That was "the most complex and multi-faceted PC we've ever tested." The Q704 follows the same path in offering fully-featured high-quality tablet or laptop-style productivity but this time in a waterproof and dustproof casing. The design is much improved, the keyboard feels better and Haswell will really improve the battery life.
The screen size goes up to 12.5" and FullHD resolution where the 702 offered 11.6 and 1366×768. Core i5 non-VPro and Core i5 and i7 VPro will be available. The digitizer is still included, the full SD card slot is gone and the internal battery is 46Wh, up from 34Wh. The tablet weight is up from 876gm to 980gm. Battery and weight details for the keyboard dock are unavailable at the moment. There's a simple dock (USB3.0x2 + Ethernet) also available.
I didn't have a chance to test much of the device but from a design perspective it at least looks better. The Q702 was so industrial-looking that it might have put some people off. The Q704 with the docking keyboard remains a very chunky and relatively heavy device. A lot of questions remain too. Does the CPU down-clock under battery as the Q702 did? How can a tablet with a fan be waterproof?
Video hands-on after the images below.
Note that the version with the smart-card reader is not waterproof.
Fujitsu Stylistic Q704 Images
Fujitsu Stylistic Q704 Hands-On Video