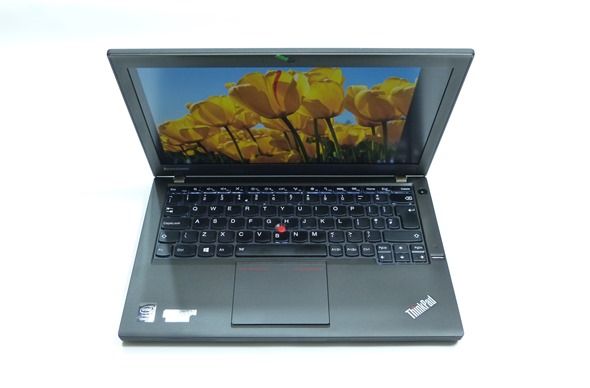 More images in the Lenovo Thinkpad X240 image gallery.
The Lenovo Thinkpad X240 has the opportunity to be a classic mobile road-warrior device. With hot-swap battery configurations up to nearly 100Wh and Haswell processors you can expect the best battery life of anything at this screen size. Rugged build, multiple options and upgrades ensure you'll get a product that matches your road-warrior requirements. Does it all add up to the best business-level ultraportable on the market? Read on to find out.
First impressions
We've had hands-on with the Lenovo Thinkpad X240 before so we knew what to expect when unboxing. A basic set of packaging (only for the loaners that are going out) and that squared-off traditional notebook look didn't raise excitement levels but let's be honest, that's not what this product is about.
Sturdy build quality, non-slip surfaces, a relatively long-throw keyboard, matt screen, plenty of ports, removable battery and the glowing red dot mean business. Thinkpad fans will immediately reach for the floating, buttonless touchpad and we did too. There's no telling if it's good or bad until you switch on and start using the X240. More on that below.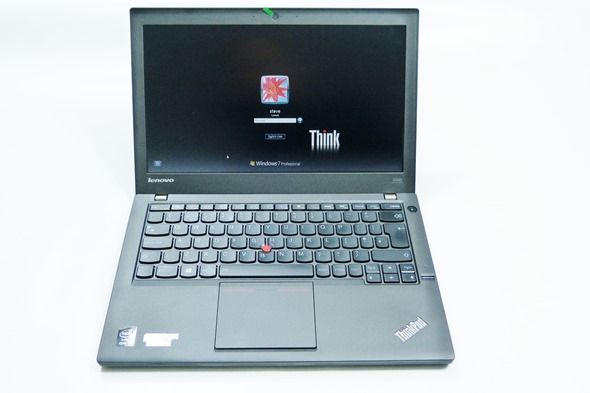 Specifications
Before we start with usage notes, lets go over the specifications on this review model.
We would have liked a FullHD touch version with the hi-cap battery, 256GB SSD and 8GB RAM but…we haven't. It's a low-end model we're looking at here and due to the lack of a touchscreen it doesn't match the latest Ultrabook requirements.
CPU: Core i5-4200U
RAM: 4GB
Screen: Matt, non-touch, 1366×768, IPS
OS: Windows 7 Pro 64 bit
Battery: Internal 24Wh. Removable:24Wh (Total 48Wh)
Weight: 1.47 (measured)
Graphics: Intel HD4400
500GB HDD + 24 GB Expresscache
Smartcard reader and fingerprint reader options not included.
Ports: Mini DisplayPort, Ethernet, VGA (with screw holes) SD card slot, 2xUSB3.0, headset.
TPM 1.2 module
Screen, Keyboard, Touchpad – Working Fascia
The screen is high quality, sharp and has good viewing angles. The matt finish helps in some cases too but the question of resolution is always there. Is 1366×768 good enough at this screen size considering this 12.5-inch laptop could be used in trains and planes where it's more important to have easily readable fonts? Possibly. The choice is yours but we can't deny that a fullHD screen, available as an option in touch and non-touch versions, would work just as well and offer more screen real-estate. This reviewer finds the 1366×768 resolution OK at this screen size for a highly mobile device. Brightness is impressive on this model and low brightness is really low. Expect 2-3W of additional power drain from low to high brightness though. In some scenarios that could reduce the battery life by 30%.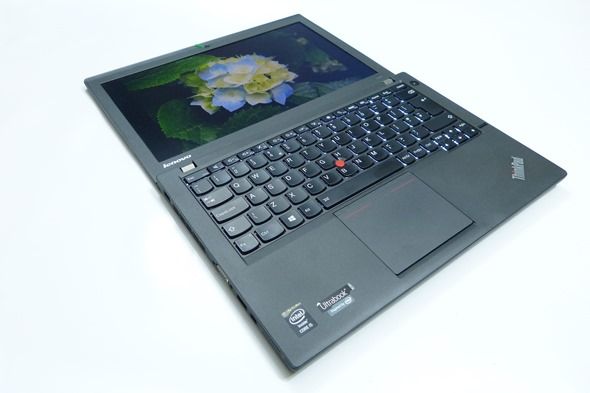 Keyboard and Mouse controls
The move away from the physical buttons on the mousepad is a brave one and will cause existing Thinkpad owners to change their style a little. previously we would have used the touchpointer and the related buttons but now, without those buttons, we're using the touchpad as normal. The trademark pointer could go and we wouldn't notice a thing. Obviously that might not apply to everyone. The pointer is accurate and may still be better in some cases but the touchpad has so many options and configuration settings that it might be worth focusing on that as the main mouse control. Having said that, we'd still prefer real buttons on the base of the touchpad unit, with the possible removal of the touchpoint and related button areas. No-one can say there's a lack of flexibility here though.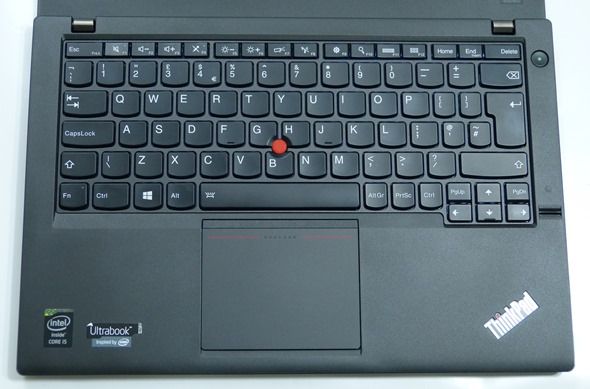 The keyboard feels very high quality and compared to most Ultrabooks has good long-throw keys. They're shaped well, are quiet and feel good. As Ultrabook users we may need some time to get used to that long throw though and we feel keys require a little more pressure than we're used to. We're having an especially bad time with right-thumbing the spacebar and keep dropping spaces. This is a keyboard that needs a bit more 'attack' than a regular Ultrabook keyboard but will probably please those coming from the traditional notebook space. For this screen size there's little competition but it's not as stress free as, say, the Dell E7440 keyboard and mouse button/pad.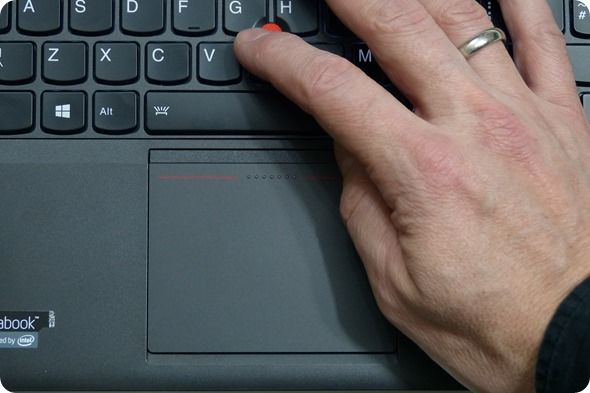 Function keys are reversed which makes them more usable and we are big fans of fold-flat screens so it's good to see that.
General Usage
Regular readers must bear in mind that we're testing the 500GB HDD + 24GB SSD version here. It's noticeably slower in use than a pure SSD and drive performance test results are pretty poor all round. We can imagine some especially slow start-up times after a few years of loading programs so we very strongly suggest going for an SSD so you won't hear the continuous spinning of the HDD, you improve ruggedness, lower weight, increase battery life and of course, vastly speed up the general experience. Windows 8 and a regular usage pattern might improve the general performance. (Expresscache takes time to learn program usage patterns.)
The VGA port with screw-locks gives the game away about where this X240 is targeted. If it doesn't, take a look underneath and see the docking port. The DisplayPort should allow daisy-chaining of two external screens, the SD card slot is full size (for permanent SD card installations) and there's a space for 3G/4G SIM card, SmartCard slot and fingerprint reader. It means business of course and there's no messing around with adaptors and dongles.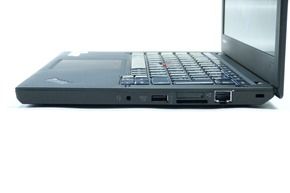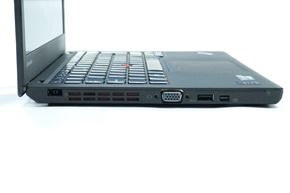 More images in the Lenovo Thinkpad X240 image gallery.
Overall there really is no messing around with quality here. Lenovo have done a good job on the fit and finish.
Performance testing results and battery life report can be found below along with other notes on the next page…
Page 2: Detailed performance report in Page 2 of the review. See page 1 of the review.
Pages: 1 2