Lenovo Thinkpad X240 Performance
Again, note that we've got the Windows 7 HDD version here (with 24GB SSD-based Expresscache) so some performance figures will look much lower than on current Ultrabooks and some of these tests may not benefit from Expresscache.
The Haswell-generation i5-4200U processor runs from 1.6Ghz up to 2.6Ghz depending on availability of Turbo Boost overhead. There's an HD 4400 GPU and Intel Quick Sync video enc/decode along with other Core features. There's no VPro capability on this model.
Battery reports are below but lets go through a few synthetic tests first.
Disk Performance
RAW disk performance on the HDD really is quite poor. We've added the scores for the Lenovo Yoga 11S which is a cheaper, but SSD-only model.
Here are the results of the CrystalDiskMark performance test results that we ran on the Lenovo Thinkpad X240. Yoga 11S (Core i3, SSD) on the right for comparison.
The pure hard drive disk speeds are in a much lower league than the Ideapad Yoga 11S although it should be noted that Expresscache, which doesn't get used for this test, helps to dramatically speed up program start times.
Cinebench
Cinebench 11.5 multi-core CPU: 2.47
Cinebench 11.5 OpenGL:12.21
Ultrabook-class CPU and OpenGL performance scores are returned from the Cinebench benchmarking program but they are in the Ivy-Bridge league and not competing with the current Haswell, 4th-Gen Core Ultrabooks. Enabling high performance mode, Lenovo Turbo Boost (which appears to simply run the fan at its highest setting) and plugging in mains didn't seem to help.
PCMark7: 3481
PCMark Score is slightly lower than expected and comparable to 3rd Gen Core Ultrabooks running with hard drives.
Overall the performance results were a little disappointing and we wonder if Turbo Boost is really working as it should. We've checked performance settings but there's not much difference in results between the settings we've tried.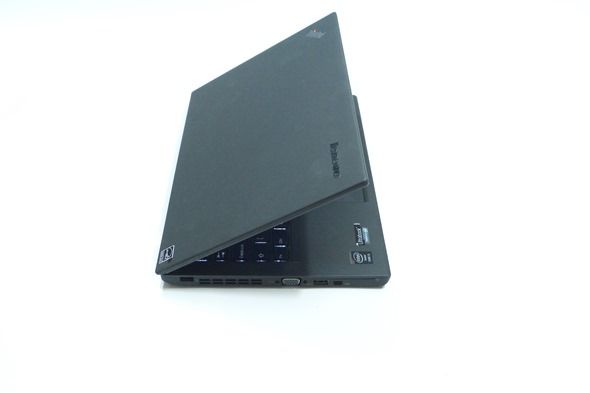 More images in the Lenovo Thinkpad X240 image gallery.
Other notes
No NFC enabled in Windows 7 (some models have NFC)
SD card fits flush into slot
Speakers loud and clear but not the best we've heard.
Lenovo Thinkpad X240 Fan Noise, Heat
There are two types of noise on the X240. Firstly, at least on this model, you'll hear the hard drive spinning when in a quiet room. It's a low white-noise and not annoying. The second noise is the fan which, we are disappointed to have to say, has a very high pitched element to it. While typing this report we've only heard it quietly a few times but under the performance tests it did kick in more loudly. The Lenovo 'Turbo Boost' mode drew attention from people in the area as it pushed the fan to a permanent high speed. I've tried to capture that fan noise on a video.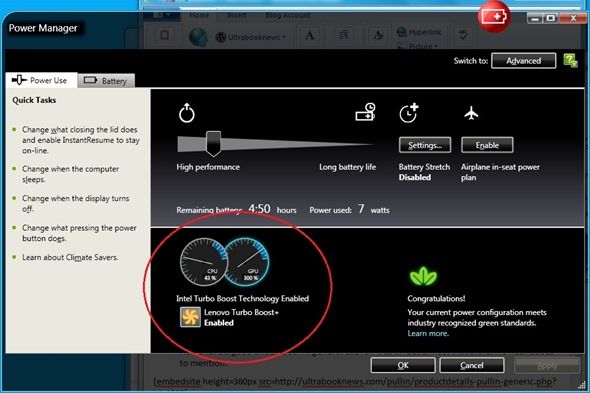 Heat is well managed under normal use.
[embedsite height=370px src=http://ultrabooknews.com/pullin/productdetails-pullin-generic.php?id=1060]
Battery Life / Power Usage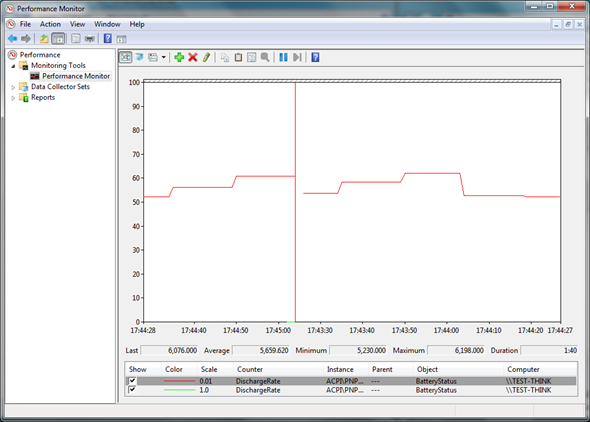 Typical drain while preparing this review: 5.6W for about 8.5hrs of usage. (WiFi on, screen level 6 of 15 in a living-room-lit environment. )
We're using Windows 7 for these tests. Windows 8 will bring improvements in certain areas, especially in video playback.
Battery life has been deter minded from short-term power usage measurements under different scenarios. Using this method we are able to test multiple scenarios in a short period of time and give the reader a feel for the 'range' of battery life available.
Minimum WiFi-on screen 50%, balanced mode, idle: Min 4.3W
Screen off to screen full differential: 3.1W
Screen min. to screen full differential: 2W
Wifi off to on differential (connected but idle): Negligible (under 200mW)
Web-based social networking (Interactive with G+, Facebook, Gmail, Tweetdeck over 5 minutes), WiFi-on screen 50%, balanced mode. 6.8W average (7hrs approx.)
Typing this article (10 minutes, WiFi on, Windows Live Writer) – 5.7W. (8.5hrs approx.)
Video playback (Windows 7 Media Player.) WiFi off, 50% brightness – 9.4W (5hrs approx. We would expect this scenario battery life to nearly double under Windows 8)
We have not tested gaming battery life or video editing battery life.


More images in the Lenovo Thinkpad X240 image gallery.
WiFi performance
WiFi is AC capable (Centrino AC 7260) is looks to have solid, good quality, if not excellent quality reception. Lenovo provide a suite of networking tools which, as regular users of the built-in Windows 8 / 8.1 networking tools, seemed a little unnecessary. That concern gets worse when you see the amount of Lenovo software running in the background.
Lenovo Thinkpad X240 Video Review
Summary
The Lenovo Thinkpad X240 is a classic. We've never tested something with this much battery life potential and the connectivity (hard and radio) along with the excellent working fascia make it a compact workhorse that can be relied-on. It's not stylish and it's even a little heavy for an Ultrabook and maybe, maybe Lenovo took a step back in terms of touchpad design but those are the trade-offs you'll have to consider. We would recommend going for an SSD-based version unless you really need that storage capacity. We counted 5 screen/touch/IPS options and as always, this Thinkpad comes with various security options along with the usual CPU and RAM choices. Windows 7 versions come, we believe, with Windows 8 licence so you don't have to make that choice today. Take note of the fan noise report if you're doing performance work in quiet areas.
Overall the Lenovo Thinkpad X240 an excellent business Ultrabook that should serve well, efficiently and productively over a long period of time.
For more information, images, videos, links and specifications, see our Thinkpad X240 information page. Thanks to Lenovo for the loan.
Pages: 1 2