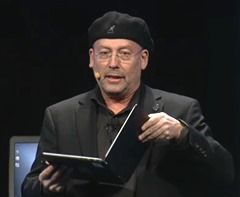 The big CES2014 Ultrabook news summary is that there isn't really anything major to talk about, which needs talking about.
Given that there were no major Ultrabook announcements or evidence of Ultrabook marketing at CES2014 we now have to think about the future of the Ultrabook and leading-edge notebooks. Importantly, who's going to carry the flag for new PC technologies? Or was CES2014 just a break in the project to allow Intel to promote themselves in newer emerging technologies? What's next for the Ultrabook, Ultrabook 2014.
As we went into the CES2014 news stream last week I wrote the following:
One of the most interesting and important Ultrabook-related topics to come out of CES this year will be a feeling. What sort of marketing push is the Ultrabook category going to get in 2014? Will Intel announce improvements such as built-in 3D cameras? Will we get detail on the 14nm Broadwell processors? Or will we get evidence that the Ultrabook project is largely done?
Based on what we saw in the (very impressive) Intel keynote, the press releases and the product launches there's very little marketing money being used to promote Ultrabooks this week. Ultrabooks got a mention, but only in relation to 3D cameras and natural language speech recognition. The only significant products we saw from manufacturers were the Lenovo Carbon X1 refresh and the ASUS Transformer Book TD300. The Lenovo 2 launch was aimed at mainstream markets as was the Lenovo Miix 2 10 and Sony Vaio FIT 11A Flip. The only product that I thought was leading-edge was the Lenovo Miix 2 11 on a Core platform. More tablet than Ultrabook though. Other announcements included the Toshiba Kirabook refresh, Samsung Series 9 15-inch refresh and the Acer Aspire S3 re-design.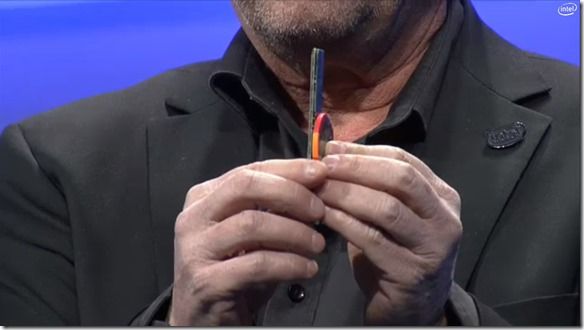 It's not really a surprise. Intel had always said that 4th-Gen Core would see the realization of the ultimate Ultrabook product and along the way the project has been responsible for introducing (and lowering the cost of) touch, fast storage, NFC, better screens, more attractive designs and of course, the SoC processors that have enabled some amazing hybrid designs, battery life improvements and always-on capabilities.
CES2014 creates a question though. Who is going to direct the OEMs to keep up the momentum or are the OEMs going to spiral into low-cost notebook territory and leave the innovative-but-accessible middle-ground of Ultrabooks to die-off leaving ultra high-end and ultra low-end? Intel is clearly continuing to push forward with technology and the integrated Realsense 3D sensors (watch out for that Dell announcement soon. Image below right is a sneak peek!) are proof of that but with marketing-money fully on wearable technology at CES 2014, OEMs could be more interested in that as their next high-margin savior.
Business-as-usual is not something I want to see in the notebook market and, to be honest, not something I'm interested in writing about but I don't expect the Ultrabook story to be over just yet. In terms of coverage here on Ultrabooknews though there cold be changes. I expect to continue to review Ultrabooks and leading-edge notebooks but will probably extend out to include interesting hybrid models too. Baytrail-M devices like the Lenovo Yoga 2 11 are likely to turn up in your feeds. We'll, of course, continue to track the technology and I've already seen some interesting Broadwell information under NDA. Intel's IDF in Beijing will give us more on that. I'll also be meeting with Intel at MWC in Barcelona next month. They've invited me out to look at their tablet and software developments so there will be a chance to get more detail on what's happening to the Ultrabook project and to get some inside info on their Dual-OS platform. After that it's the boring-but-important CeBIT event and then a break until Computex in June where you can expect the full Broadwell show to begin.
Keywords to watch in 2014 are: Windows 8.2, dual-OS, Perceptual Computing, Realsense, Natural Language, Wireless Power, Wireless Display, WiGig, 2-in-1 and of course, Broadwell.