Lenovo Miix 2 10 Review Page 1
Performance
As we've mentioned before, the performance advantage over previous, Clovertrail-generation tablets really shows up in Web browsing. It's close to a laptop experience in terms of speed and quality and perfect for guaranteeing that you don't miss any of those desktop URLs that reach you via social networks. Program startup times are good too. The SSD was running under Bitlocker encryption which, on these Baytrail devices, doesn't appear to slow down the device. [We've tested with and without on a previous Baytrail tablet.] Speeds were generally good when tested with CrystalDiskMark. The results are below and alongside the results for the Toshiba Encore WT8 which uses the same Baytrail platform. As you can see, there's barely any difference between the two devices. The ASUS T100, also shown, has some differences.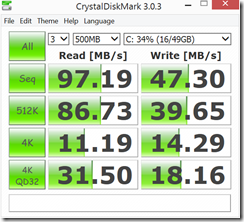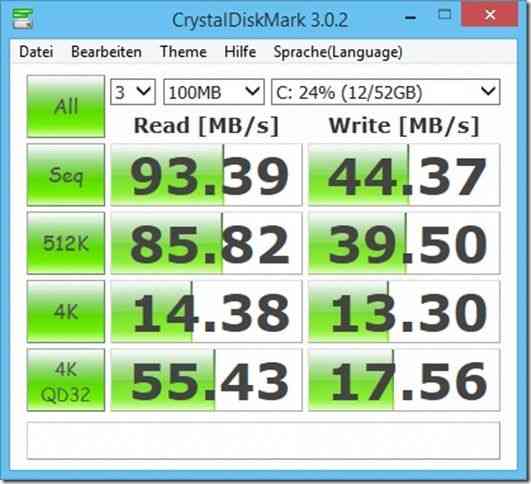 Lenovo Miix 2 10 on left. Toshiba Encore WT8 on right. Both with drive encryption enabled.
Note that 4K write speeds are 4x that which we see on the ASUS Transformer Book T100, shown below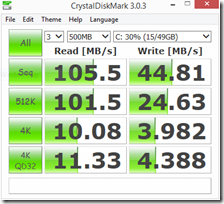 The CPU performance in the Cinebench test is about 50% of that which we see on current Ultrabooks although some of the lower-power Ultrabooks aren't that far ahead. A Cinebench CPU result of 1.21 is very good for this class of device though and it matches other Baytrail devices we've tested. Note that the Acer Aspire V5 with the AMD A6 (above the WT8 in the results) is a platform that requires a fan.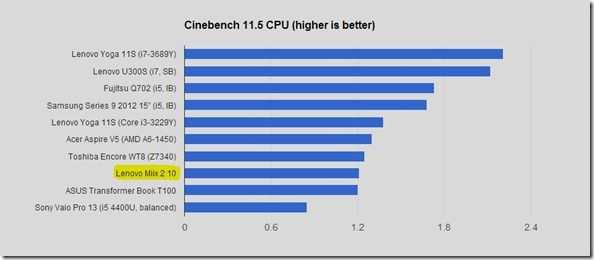 The OpenGL result of 6.17 is marginally better than other Baytrail devices in our test database but isn't anywhere near the results we see from Ultrabooks tested on our sister site Ultrabooknews.com where results of 20 still don't equate to barrier-free gaming. Some games will work but you'll need to choose carefully.
PCMark 07
Lenovo Miix 2 10 PC Mark 07 score: 2432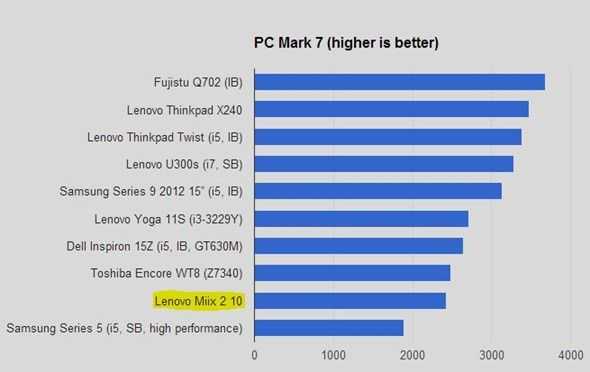 3DMark 06
Lenovo Miix 2 10 3DMark 06 score: 2432
Peacekeeper
Peacekeeper (by Futuremark) is a useful online test to note if you're interested in working within a browser. In our test the Miix 2 10 returned a score of 1086
The graph below shows some comparisons with other Baytrail devices and laptops we've tested across our sites.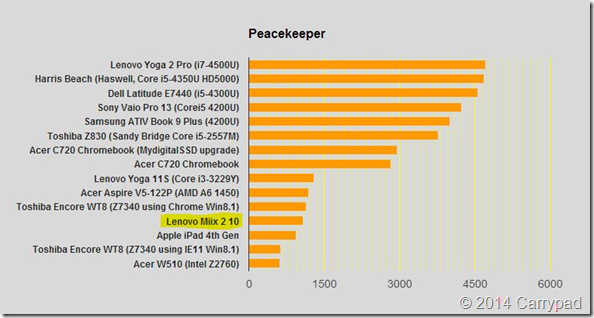 Click to enlarge
In an Intel-Quick-sync video conversion using a Handbrake 6013 nightly build (with Intel Quick Sync support) converting from 50fps, 30Mbps fullHD video down to 720p a conversion rate of 117 FPS was returned by. This is impressive and given the relatively fast SSD, good enough for some basic video editing using a Pro-sumer editing package. A test with Cyberlink PowerDirector proved that the Lenovo Miix 2 10 is good enough for simple and fast 720p video editing. A demo of video editing using PowerDirector is available here.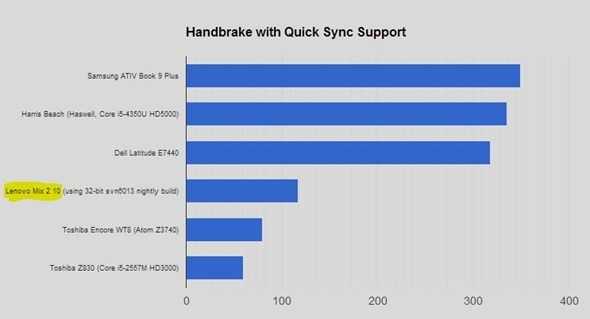 Specifications, Images, links, videos, comments and more information can always be found through our database on the Lenovo Miix 2 10 information page.
Battery Life
With a 24Wh battery inside one can not expect this to beat the ASUS Transformer Book T100 which has a 30Wh battery but the results for this 600 gram PC are pretty good.
An update from the powercfg batteryreport will be given after a few weeks usage but initial figures show a range of 5hrs to 7hrs of general WiFi-on screen-on usage over days that included multiple Connected Standby sessions.  (I.e. never shut down.)
We also measured two scenarios:
Video playback (Windows Media Player, FullHD, 50fps, 30Mbps) with lounge-level lighting, 30% volume, WiFi on used about 5.7% of battery in 30 minutes = 9hrs 20 minutes total battery life.
Web and Windows usage (continuous Peacekeeper web test + PCMark 7, Wifi On, Screen 30%) for 30 minutes: 10% battery used = 6hrs total battery life.
How to get a battery life report on Windows 8
Connected Standby battery life.
By using the Powercfg report it's clear to see that connected standby power is working correctly. Our report is showing 138hrs connected standby time (WiFi On) for a 100% battery discharge.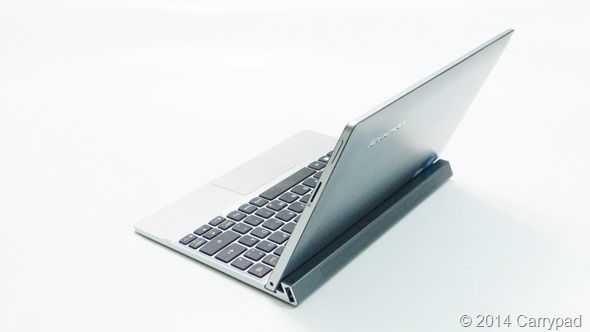 Battery Charging.
Battery charging is not a quick operation even with the 12V DC adaptor. Over 2 hours of usage under mains power we saw the charge go from 4% to 39%. Figures indicate that a screen-off full charge would take 4 hours. A shutdown charge would be quicker, but not by much.
Micro-USB charging appears to be possible. We used a 2A USB charger as saw Windows register a connected charger and a very slow increase in battery charge. Under usage it barely kept the battery at the same level though. The user manual does not mention anything about charging via the MicroUSB port so until we get official information we're going to recommend that the unit is charged via the 12V power unit and DC input.
Other notes
WiFi performance is average (about 5/10 compared to the best laptop solutions out there)  Is dual-band. 40Mhz channel width is supported for 300Mbps connections. We saw no dropouts on our 2.4Ghz WiFi-N network. In comaprison with the ASUS Transformer Book T100 the Lenovo Miix 2 10 was consistently slower in our edge-of-reception test and about 0.3X the speed of our 'reference'TP-Link USB2.0 external WiFi adaptor  (TL-WN822N)
There is no NFC
No micro USB or Micro HDMI converter cables included. (we tested with a USB converter cable from the Acer W510)
USB devices tested: USB3.0 SSD (no external power required) USB Audio device, USB cam, USB Gigabit Ethernet adaptor, DisplayLink adaptor.
Microsoft Office Home and Student license included, but not tested.
Heat and Noise: This is a fanless tablet with SSD so there's no noise at all. No heat was detected during the test period apart from when concurrently charging and in-use.
Specifications, Images, links, videos, comments and more information can always be found through our database on the Lenovo Miix 2 10 information page.
Comparison notes: ASUS Transformer T100 vs Lenovo Miix 2 10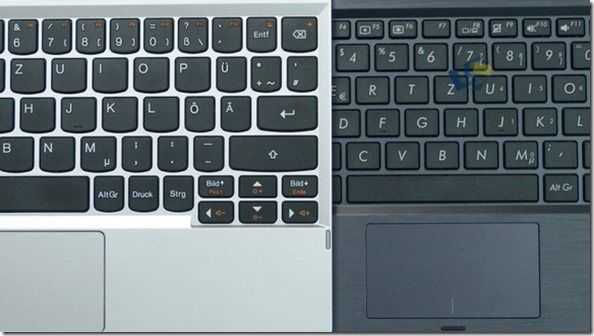 Many of you will be weighing-up the differences between the Lenovo Miix 2 10 and the ASUS Transformer Book T100. (Full comparison gallery here.)
Better on ASUS T100:
More confortable tablet to hold for long periods

WiFi performance

Battery life

Locked-in and adjustable screen hinge

USB3.0 on keyboard dock

Price

500GB keyboard dock version available
Better on Lenovo Miix 2 10:
Sound

Screen resolution, brightness, viewing angles.

Better touchpad

larger A-Z keys (but offset numerics)

SSD (storage) speed

2 USB2.0 ports on dock

128GB SSD available

MicroSD card slot on tablet (Update: also on ASUS T100)

3G version could be available soon

Face recognition unlock feature (actually works!)
To be tested further:
12V 1.5A charging (Cant the ASUS charge as quickly as the Lenovo)
Target customer
Just 3 years ago a 10-inch Windows tablet was a heavy, cumbersome product with poor battery life and user interface. Today, it's a completely different offering and, given the range of computing products people have today, fits in well. Many of you will be using a 7-inch or 8-inch consumer tablet already and might be happy with your laptop or desktop for work activities. The Lenovo Miix 2 10 works out really nicely as a magazine-style consumption tablet for sofa-side and bed and then given the docking keyboard, a semi-productive PC for moments when it's just too much effort to boot the PC or laptop. For those that travel a lot we really recommend the Miix 2 10 for business and pleasure although for those that require a real tablet dock, this isn't your solution.
Summary
The Lenovo Miix 2 10 is a truly smart PC with a high dynamic range of use cases, great screen and an exciting range of applications. Unlike the 8-inch Windows tablets the desktop on this 10-inch tablet is usable for short-term productive work right up to pro-sumer video editing. If you're typing emails or blogging you might take some time to get used to the keyboard but in the long-run you'll probably appreciate those large keys and the good (for this category) touchpad. The screen docking mechanism comes with some disadvantages that don't make it the best for long-term table-top work and we certainly won't class this as a true 2-in-1 but the keyboard magnet does allow it to transform quickly into a mobile tablet. Battery life isn't as good as on its competitor, the ASUS Transformer Book T100. One of the key advantages of a Windows Baytrail tablet over an Android is the quality of the web experience. You can guarantee than your Flash, Silverlight and other plugins will work and that the experience will be a lot quicker than on many of the non-Windows tablets. Full disk encryption and secure boot could be an advantage to some. Overall we're seeing good value for money on a good-looking tablet product that has a useful keyboard accessory and extended range of usage over a simple consumer tablet.
Specifications, Images, more articles, videos, comments and more information can always be found through our database on the Lenovo Miix 2 10 information page.
Pages: 1 2