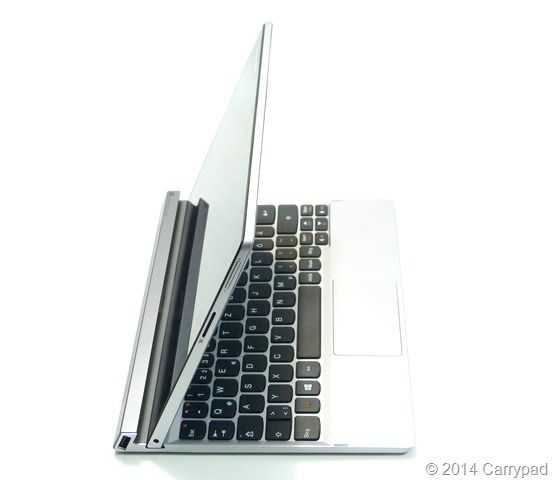 The Lenovo Miix 2 10 is a 2-in-1 Windows 8.1 tablet with a keyboard dock, not a laptop with detachable tablet! You'll find out why in the detailed Lenovo Miix 2 10 review below along with details on performance, battery life, usability and quality. We've also included a comparison with the ASUS Transformer Book T100.
Lenovo Miix 2 10 Full Specifications
Specifications, Images, links, videos, comments and more information can always be found through our database on the Lenovo Miix 2 10 information page.
For this 64GB version (model 59404517) we paid 469 Euro including German sales tax of 19% using a special offer . Current price is now 499 Euro.
Unboxing and overview
Our unboxing and overview video is shown below. (Article here.)
Packaging was good and we were pleased that the Lenovo Miix 2 10 looked well designed in terms of style and materials. Initial reaction to the screen and keyboard was positive but you can find more detail on that below.
Build and ports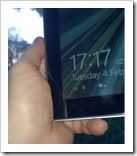 A matt, angular finish appears clean to the eye but it's very different to the rounded-edge glossy offerings that are available. The ASUS T100 is the polar opposite in terms of finishing, for example, but it's up to the reader to decide what they personally like. With those angles come some annoyances in comfort. The classic portrait-mode one-handed method could be more comfortable. Two-handed, as you'll probably be using more often than not, isn't so much of an issue.  With a matt finish comes more friction for dry hands but also less scratch resistance and we've already seen a few minor scratches appear.
The reason that the Lenovo Miix 2 10 is tablet first is because of the magnetic catch on the keyboard and tablet. The tablet simply sits in a grooved stand on the keyboard and there's no angle adjustment and the tablet is not locked into the unit while in transit. Think of the Lenovo Miix 2 10 as a tablet with a magnetic keyboard that might need extra care when carrying. We've done some tests which gave us confidence but still, be careful.  The other disadvantage is that as soon as you start to close the tablet against the keyboard the connection to the USB ports on the keyboard are lost. On the plus side you get a tablet that's extremely easy to remove from the 'dock ' and one that can be reversed which is a great advantage for travellers using small seat-back tables to watch films. The build-in speakers won't be used in that scenario but as a bed-side tablet the look and the sound quality are good enough. By having a magnetic catch you also reduce the need for an unsightly locking mechanism. The Lenovo Miix 2 10 would fit well in a living room but it's a shame the audio does not extend through the keyboard dock so that external speakers could be attached.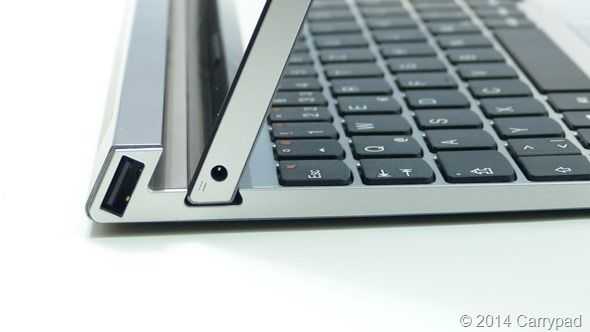 The weight of the tablet is good. With a 1920×1200 screen (16:10 ratio) you get an impressive amount of information on the screen and the additional 120 pixels (vs a 1080 resolution) is quite noticeable. 619 grams for a 10-inch display like this is useful. Naturally we want to see that weight figure go way, way down over time but right now it's at the point where the extra screen size could outweigh the weight advantage of an 8-inch Windows 8.1 tablet. The 8-inch vs 10-inch discussion is one we'll have here in more detail soon.
As you can see, the keyboard dock is also a USB dock. It's only USB2.0 but it's extremely useful for a keyboard/mouse and perhaps an external drive or USB WiFi module. (More on WiFi later.) Note to new owners: The USB ports are a really tight fit.
An audio output also feeds into the dock to power a 'sub-woofer.' A bass unit it is not but it does extend the range of the tablet speakers and boosts the volume. It works with the tablet docked in either direction, as do the USB ports. There is no additional battery in the docking station.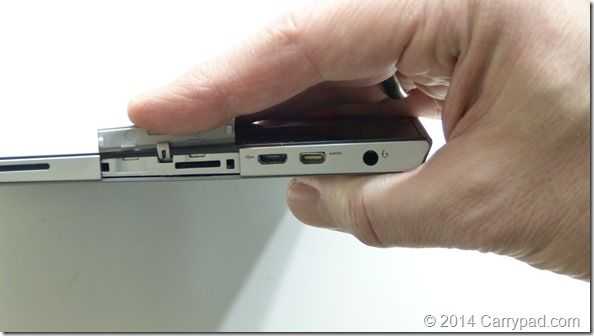 On the tablet you have a reasonably loud and clear set of speakers, a volume rocker and power button. There's no screen rotate-lock button. A capacitive Windows button requires a more solid, longer press than we're used to. In terms of ports you have a 12V DC input port. The charger is included. There's a microUSB2.0 port that can also be used to charge, albeit very slowly, the device although we see no evidence of that being a feature in any of the Lenovo manuals. Finally you've got the microHDMI, headset port and, tucked away under a flap, a MicroSD card slot with SDXC and SDHC support (64GB SDXC tested.) There's space under the slot for a microSIM card slot too so expect a 3G/4G version in some regions. The built-in microphone is a single unit, not an array unit.
Special Features
Connected standby (or InstantGo as it's now known) is a screen-off state similar to that on Android and IOS devices. Windows Store applications can remain active and connected while the tablet goes into low-power mode that can last for days. See important battery life notes below.
Camera The 5MP camera was unimpressive and seems to be a fixed-focus unit. A 2MP front-facing camera is available for video conferencing. Lenovo include a camera application which, given a good dose of daylight, might prove fun to use but overall, quality seems to be poor.
Security: As with other Baytrail-T tablets there's full-disk Bitlocker encryption available when you use a Microsoft Live account to log into the device (Encryption keys are held in your MS account.) Secure boot is standard and we haven't yet investigated any boot/BIOS settings that might disable this.
There is no GPS or NFC built into this Lenovo Mix 2 10 model.
Specifications, Images, links, videos, comments and more information can always be found through our database on the Lenovo Miix 2 10 information page.
Keyboard and Mouse Usability
The keyboard has good and bad points. The key mechanics are very good for such a small device and the main A-Z keys are relatively large. Full-size even. That size comes at the expense of a function-key row and additional keys on the top row to accommodate keys missing elsewhere. The result is a good keyboard to type a letter on until you get to the numerics which are off-set compared to the usual layout. The 1-4 keys are the worst but there are a few others that can catch you out too. If this is a keyboard you're going to us a lot then it could work out very well. If you switch between this and a standard keyboard however, you might find yourself preferring a standard layout with smaller keys as on the ASUS Transformer Book T100.
The mousepad is a single-touch unit but on a device like this where the multitouch keyboard is just a finger-stretch away, that might not be an issue. The mousepad button, integrated into the pad, are good and have a comfortable click. In comparison with the ASUS T100 the touchpad is a lot better but nothing like the multitouch units you'd expect to see on a standard modern laptop.
With the keyboard in use it's not recommended to pick the unit up by the keyboard and move it around as you might do with a laptop.
Tablet Usability
The Miix 2 10 is about 200 grams heavier than an 8-inch Windows tablet but includes so much more space and much higher pixel-count there's a good argument to be made for using this 16:10 screen over an 8-inch screen. Both will require two hands and both can be used for reasonably long periods. It's only when you've been reading for a long time that you really fancy the lighter weight and size of the 8-inch Windows 8 tablet, but then, if you're reading, why not get a cheaper, lighter and thinner 7-inch Android tablet for that? We think the 10-inch size at 600 grams and below is going to be more popular for general consumer-style use with Windows 8.1 modern apps and makes a more usable desktop–sized screen for occasional desktop applications use. If it's the ultimate in PC efficiency and mobility you need then yes, the 8-inch Windows 8 tablets are better but do try the 10-inch tablets before you decide.
As it turns out though the Miix 2 10 isn't that comfortable to hold for very long because of its cornered edges. After 20 minutes in portrait mode you'll want to change to a new grip or prop. It's a silly trade-off from Lenovo and a classic case of form over function. Does it make it a bad tablet? Read on…
Obviously there's no noise on this fanless tablet but there's also a comforting lack of heat. If you leave it charging and working hard at the same time you'll feel a patch of warmth on the rear but it's when it's not charging, when you're using it as a tablet it won't be a problem.
Buttons seem good quality.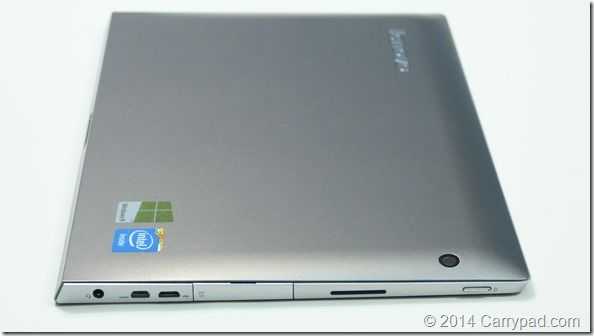 Note: We had a total failure of the system after 5 days of testing. The unit failed to charge at all and had to be returned for a replacement.
Screen
As for the screen it's a reasonable IPS model with no color cast or backlight issues that we could find. Brightness and viewing angles are better than the ASUS Transformer T100 we have here but there's still a drop-off in brightness that starts at about 20-30 degrees away from being perpendicular to the eye. It's not perfect but it's pretty good.
The overall brightness is good and direct comparison with the ASUS T100 showed it to be better. You might want to turn off adaptive brightness in the advanced power settings though as in low light levels you can see the brightness adjusting and it looks like a flicker.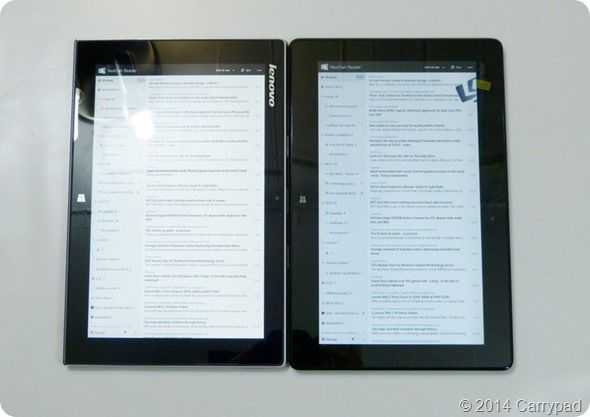 A fairly good representation of the brightness difference between the Miix 2 10 (left) and the ASUS T100 (right)
Page 2: Performance, Battery Life, T100 comparison and summary on Page 2.
Pages: 1 2