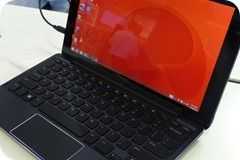 In 2008 we were measuring netbooks with a test called Crystalmark. It was a quick and simple test that allowed us to do compare across the devices we used it with. Two CPU tests, three GPU tests, a memory test and a disk test were all we needed to get a feel for the performance of a device.  In late 2011 we got hands-on with a Core i5 Windows 7 tablet from Samsung and were impressed with the scores. The cost and weight were high and the battery life was low. Today we're seeing Atom-based platforms beating that Core i5 from 2.5 years ago.
"In 5.5 years of testing, this is the first time I've ever seen a sub-1kg device break 100,000" I wrote in Sept 2011 after I had tested the dual-core  i5-2467M-based Samsung Series 7 Slate. It was effectively an SSD-based Ultrabook in a slate form-factor and it was priced high. 1100 Euros / US$. At that time we were testing the last of the netbooks and getting around 30K in the Crystalmark test. Today I'm testing an Intel Atom based 10.6-inch tablet and getting scores that beat that 100K Samsung.
The Dell Venue 11 Pro comes in two versions. I have the Baytrail version here which is the fanless, slightly smaller 'consumer' version. It runs an eMMC disk and the Z3770 processor and is available for $499. I'm seeing CrystalMark scores between 101K and 107K.
Samsung Series 7 Slate left. Dell Venue 11 Pro (Baytrail) right.
The CPU scores of the Baytrail-T Z3770 beat those of the Intel Core i5-2467M. The memory speeds on this product are faster. I tend to ignore the graphics scores from this test now as they are way out of date but the OpenGL score is clearly better here. If the disk on the Dell Venue 11 Pro (Baytrail) was in-line with other Baytrail tablets (it's a little sub-par according to my early tests) then the scores could be up to 120K.
Cinebench 11.5 Comparison.
In March 2013, just two years ago, Notebookcheck tested the Series 7 XE700T1A. It came with the digitizer and pen for 1300 Euros. The Dell Venue 11 Pro with optional slim keyboard and digitizer pen comes in at a total of 665 Euros. Notebookcheck recorded a Cinebench score of 1.63 points.
I've just tested the Dell Venue 11 Pro with the Z3770 and it gave me 1.47 points, just under the score of the Samsung Slate 7 with the i5-2467M but ahead of a Core-based Lenovo Yoga 11S I tested just last year. This version of the 11S was using a Core i3-3229Y and scored 1.38.
2006 comparison.
I took a look back at the UMPCs of 2006 and found a Crystalmark score from the original Celeron-based Samsung Q1 UMPC. It had a 7-inch touchscreen and weighed
The Baytrail-T CPU scores are now around 8X better than they were in 2006. (Image: UltramobilePC-Tips)
The current Baytrail-T platform is impressive in terms of performance but it's also enabling low-cost devices that combine that performance with amazing efficiency and battery life. The Dell Venue 11 Pro is the fastest Atom-based PC I've ever tested and is turning in 7 hours of in-use battery life in a 720gm package. It costs just $499 / €479 Euros!
For a detailed look at the Dell Venue 11 Pro, see the unboxing and live review session here.
Crystalmark and other useful testing tools are available here.