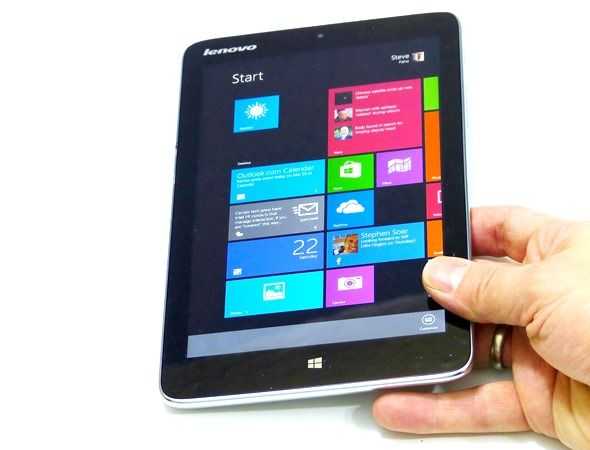 The 8-inch Windows Tablets all look similar but underneath the specifications there's always one or two unique features. The Lenovo Miix 2 8 offers us the lightest 8-inch Windows 8 tablet build, GPS, a good price and some good looks but are there any issues lurking under the cover? We take a deep-dive in our Lenovo Miix 2 8 review.
Lenovo Miix 2 8 Specifications, Package Contents
Specifications, Images, links, videos, comments and more information can always be found through our database on the Lenovo Miix 2 8 information page. We have the Lenovo IdeaTab Miix 2 8" W8.1 32GB model here which comes with 2GB RAM.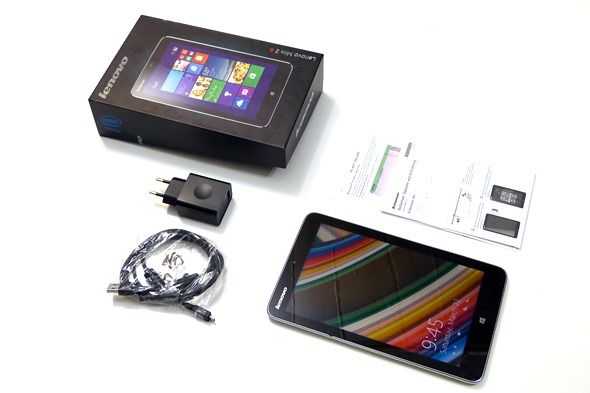 The Lenovo Miix 2 8 comes with a MicroUSB charger, charger cable and the Microsoft Office Home and Student license. There's no microUSB to USB host adaptor.
Build and ports
The Lenovo Miix 2 8 is attractive. It's thin, the materials give a good impression and it's a lightweight unit.
There's a capacitive Windows key on the front and most of the ports and controls are located on the right of the device. MicroUSB, a covered MicroSD slot (and space for a MicroSIM slot we assume) two mics (we're not sure if they're noise cancelling or stereo) and the volume rocker and power button. On the top you'll find the headset jack.
The MicroUSB port sits exactly where one would hold the device for portrait use which we discovered when trying to copy a file from a USB drive while trying to use the device.
The 5MP camera is on the rear along with a single mono speaker. All the labels on the rear are removable.
At 350 grams / 0.76 pounds the Lenovo Miix 2 8 is the lightest Windows 8 PC there is. It's noticeably lighter than the Toshiba WT8 and the Acer W4 and it's a pleasure to hold with its rounder edges. It's not as secure in the hand as the Dell Venue 8 Pro which has a rubberized finish and in portrait mode the 50:50 weight distribution means it fells a bit top heavy when thumbing text. A 60:40 distribution would have been better for portrait usage.
Special Features
Similar to the other Windows 8.1 8-inch tablets the following features are included:
Connected standby (or InstantGo as it's now known) is a screen-off state similar to that on Android and IOS devices. Windows Store applications can remain active and connected while the tablet goes into low-power mode that can last for days.
Camera The 5MP auto-focus rear camera is nothing special. A 2MP front-facing camera has low-light performance good enough for video chats.
GPS. A GNSS GPS receiver is included on this Wi-Fi-only unit.
Security: As with other Baytrail-T tablets there's full-disk Bitlocker encryption available when you use a Microsoft Live account to log into the device (Encryption keys are held in your MS account.) Secure boot is standard and we haven't yet investigated any boot/BIOS settings that might disable this. Update: Secure Boot is enabled in BIOS and can be disabled. Admin and User BIOS passwords are available to protect this if you require it.
Miracast: This wireless display technology is available in the Lenovo Miix 2 8 and can be used to project a screen or extended screen in FullHD to a display with Miracast capability or an attached Miracast receiver. Demo video here.
Dual-Array or Stereo mics. We haven't determined if the dual microphones are for noise cancelling or stereo recording but they both work and the recordings made are of good quality but there's an electrical interference on our model here that results in some very annoying clicks and pops. It can't be used for audio recording but is just about OK for Skype usage. Further testing is required here and maybe a firmware or application update will solve this problem. We used the Windows 8 audio recorder application to do the testing.
No NFC. No MicroHDMI. There's no physical video out port on the Lenovo Miix 2 8. Miracast is supported and the USB2.0 port can be used for DisplayLink.
Specifications, Images, links, videos, comments and more information can always be found through our database on the Lenovo Miix 2 8 information page
Tablet Usability
The Lenovo Miix 2 8 is a nice unit to use and screen clarity is up there with the best of the 8-inch  Windows tablets. In a direct comparison with the class-leading Dell Venue 8 Pro it's difficult to see any difference at all in brightness, color range and viewing angles. The Dell might have a slightly blacker black and a slightly whiter white in our current setup but it's difficult to see that without a direct comparison. The resolution of 1280×800 isn't as high as that of the Lenovo Thinkpad 8 which has a 1920×1200 8.3-inch panel but for those working in Modern apps there won't be much visible difference.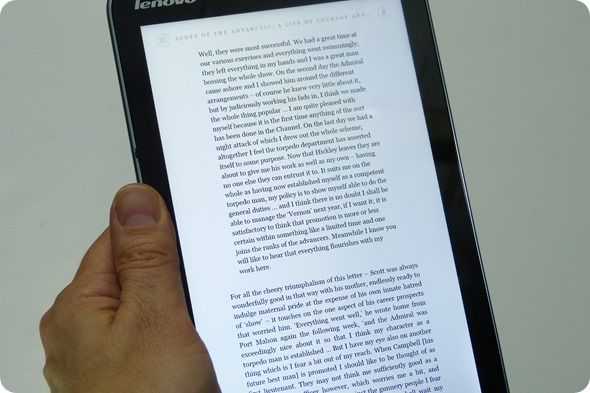 The front-facing Windows key is, well, we don't know. We're using the side-swipe Windows key charm nearly all of the time with the 8-inch devices unless it's the Acer W4 which has a front-facing physical Windows button. That's useful for the occasional screenshot and feels more accessible and usable.
Covered MicroSD access and subtle volume and power buttons make the unit look and feel smooth all round but remember there's no HDMI port or digitizer pen here.
Fit and Finish
As we mentioned before, the finishing seems to be good. It's certainly appealing to the eye but it's difficult to say how rugged the unit is. We've already got some scratches on the 'chrome' lower panel on the rear and a small flake of plastic chrome has chipped away from the front frame. There's no evidence of screen scratches at this stage. (We're the second owner for this tablet.) The fit of the plastic is very good all round and there is no creaking on twisting or pressing the unit. The camera lens is recessed and therefore slightly protected, but difficult to clean.
Specifications, Images, links, videos, comments and more information can always be found through our database on the Lenovo Miix 2 8 information page.
Page 2: Performance, Battery Life  and summary on Page 2.
Pages: 1 2