The immediate worry about the $99-$129 entry-level Windows tablets is around the issue of quality. Low-cost Chinese ODM tablets won't be the best tablets around but at least the performance won't go down. You'll still get Windows 8 on a Baytrail-T processor and because of that, the mid-range tablets at $200-$350 will have to get better. In this article we look at what could happen and the likely specifications.
The good news for everyone is that the Microsoft license cost for Windows has gone which means the $25-$50 charge (that we often get quoted by Windows tablet ODMs) falls away for all tablets in the 7-8-inch range. (10-inch tablets don't get the advantage.) Intel is also enabling cost savings through improvements made in the new Baytrail-CR processors that save space (shown in this video) and board component count. That board-size reduction means you might see $100 tablets with a 7-inch screen so lets look in detail at the specifications you might get for $100.
Windows 8.1 Update (Not RT on Intel, yet.)
Minimum 1GB RAM, 16Gb eMMC storage (1-16 build enabled by the 60% reduction in image size for Windows 8.1 update.)
7-inch screen allows cheaper components to be sourced from existing tablet markets and saves energy.
1280×800 resolution likely based on last-gen 7-inch Android tablet screen availability.
Cost Reduced Baytrail-T. CPU-World reports on the new Baytrail-T parts. The Atom Z3735E is the budget offering running at current 1.33Ghz-1.8Ghz speeds but only supporting 1GB RAM and a 32-bit memory bus. CPU-World reports that this is only for Android so the next model up is the Atom Z3735D which looks perfect for the job. A single-channel memory controller supports up to 2GB of RAM and there's a slightly lower processor burst speed. The non-D version supports dual-channel memory up to 4GB but there's no need for that in the low-cost tablets.
Although 1GB RAM is the minimum required we might see a few manufacturers trying to differentiate with 2GB RAM.
In terms of ports expect only the minimum. 1 USB 2.0 port for charging and data along with a headphone jack.
MicroSD slots are a must-have when offering only 16GB of on-board storage but you might even see that missing on the cheapest tablets.
Rear cameras are going to be unlikely but a front-facing cam is probably going to be a (Microsoft+Skype) requirement.
In order to reduce costs in creating and testing images, a 64-bit CPU and image is likely.
Lower cost plastics are going to be obvious.
Finally, due to energy savings of having a 7-inch screen and a smaller board build it's likely that battery size will drop. 13-16Wh (we currently have 16-20Wh) is likely.
In summary you'll get a less rugged tablet with less battery life than some of the current models but it's possible we'll get smaller 7-inch tablets too which could be attractive to some. You'll still be able to do this too…
Mid-Range differentiation
A $99 or even a $150 tablet creates a problem for the mid-range. Prices for current models will not be sustainable so two things will happen. We'll see a price drop on devices that have todays specifications and because there needs to be a technical advantage over the low-end, the specs will be boosted. Intel has already told us that we can expect a 15% performance increase on CPU and GPU operations and taking a look at that CPU-World article again you can see the interesting Atom Z3775 with a 14.6-2.38 clock, boosted GPU and 4GB RAM capability sitting below the high-end Z3795 that we've already seen on the Elitepad 1000 G2, the first 64-bit Baytrail tablet to hit the market. The 'Cost Reduction' changes seen on the lower-end products are also likely to be there as a space-saving advantage which means either lower-cost or, more likely, more flexibility in size, ports and battery . USB3.0 might be used to differentiate the mid-range products if there's no cost difference or port space issues.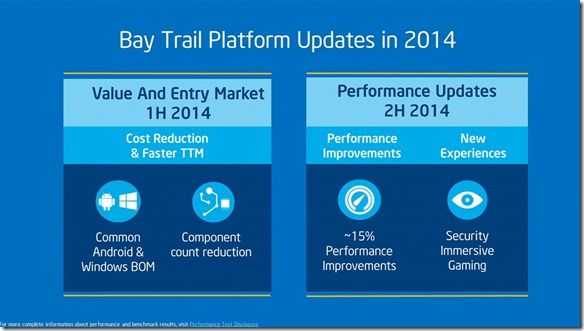 Naturally all the devices will be 64-bit to help OEMs and ODMs reduce the costs of creating and testing images and in some cases, but not all, we'll probably see 4GB RAM which aligns the product with expectations on a 'real' PC.
HMDI ports will continue to appear on some models as manufacturers mix and match their options.
Finally, we're hoping that we'll see a 1080p 7-inch Windows tablet on a mid-range offering but it could be that the engineering and component requirements push this into the $300-plus 'high-end' space.
High-end
Plently of options exist for high-end manufacturers that want to try and knock the Thinkpad 8 off its perch and Intel has already teased 'New Experiences' relating to security and immersive gaming. Given the fact that a dual-camera tablet was presented on video at IDF and that there's going to be space available if the processor mainboard becomes smaller, it's highly likely that security and immersive gaming are related to Realsense camera technology. See this article for demonstrations that Intel have already made with the Realsense technology.
Apart from Realsense, this is what OEMs have to play with…
High-end CPU (although thermal limits might prevent that in this generation of 8-inch tablets.)
Digitizer layer.
1080p screens.
4GB RAM.
Larger battery.
Best engineering and materials.
3G
Business-focused accessories (although given the short lifetime of these products, accessories could be limited and/or expensive.)
Biometric security (possibly related to Realsense.)
USB3.1 and USB Power Delivery. (2015)
Given the costs of developing new hardware for this fast-moving market we don't expect a huge number of products appearing in 2014. Waiting for 2015 and CherryTrail might be a better bet for high-end products. See you at CES 2015 for those but do keep an eye out in 2014 for a Lenovo Thinkpad 8 refresh. 4GB RAM, faster CPU and, if possible, a digitizer layer. We live in hope!