As we followed IDF yesterday we heard about a $99 tablet price target. We assumed it was for Android tablets but no, Intel are targeting their low-end Baytrail solution for Windows tablets at that price point. Intel are also increasing marketing and promising some new and improved features that could include Realsense 3D sensors for high-end Windows tablets.
Hermann Eul, corporate VP and GM of the Mobile and Communications Group at Intel explained in his keynote yesterday that by lining up low-cost SKUs (processor models) up with the removal of Windows licensing costs (announced at BUILD yesterday) they could enable Windows tablets "even down to $99 or $129. "As we speak we have more than 90 tablet designs coming to the market" spanning from below $100 to $500.
Full keynote video below.
The announcement was made during a segment in which Hermann highlighted the '4X' campaign which aims to increase tablet sales to 40 million this year across the Android and Windows range.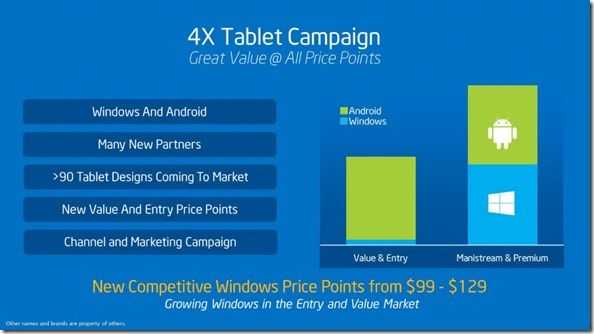 Clearly Intel don't expect the $100 segment to include too many $99 Windows tablets in 2014 but if the Windows Store takes-off as it may do after  Universal Apps become possible, why not more? It's likely to be down to differentiation. Low-performance ARM-based platforms will be cheaper so there's an opportunity to drop $20-$50 for higher performance and perhaps the extra USB functionality.
We can't read too much into the perceived split in the mainstream and premium segment but 50:50 seems about right. 20 million Windows tablet sales in total for 2014? Yes, we can see that happening as the products are already selling very well.
The low-cost products are likely to come from partners in China. Intel were happy to show who they're working with as local country partners.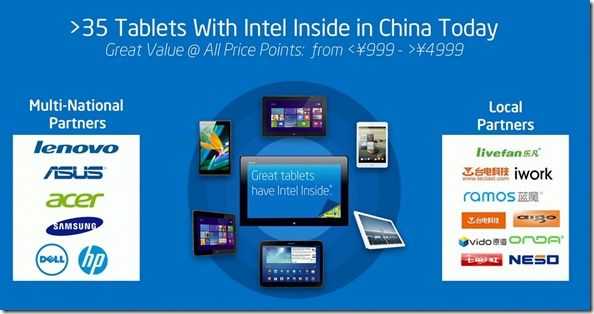 In the slide are listed: Livefan, Telcast, iWork, ramos, Aigo, Vido, onsa (sp?), Neso and two brands we can't translate. In 2014 Intel are going to set a target of getting 20 ODM partners to produce 60 global designs via the Intel Turnkey Program which includes references designs, tailored software and other support packages.
Intel also announced they will provide marketing campaigns for this segment and will market to both consumers and IT decision makers. Intel will also help by using their existing distribution channels.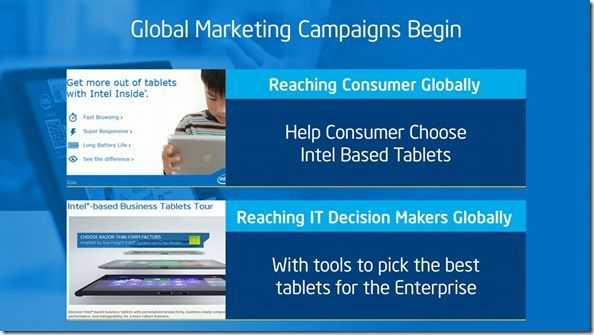 Realsense for Tablets?
Update: Video below
Finally, for the mainstream Windows tablet segment that closely matches the coverage we have here at UMPCPortal, we see that not only is Baytrail-T being updated for CR (cost reduced) versions now but there are also performance improvements coming later in the year too. An estimated 15% performance improvement along with 'new experiences' in the area of security and immersive gaming. We can't help thinking that is related to Realsense when we look at the icon.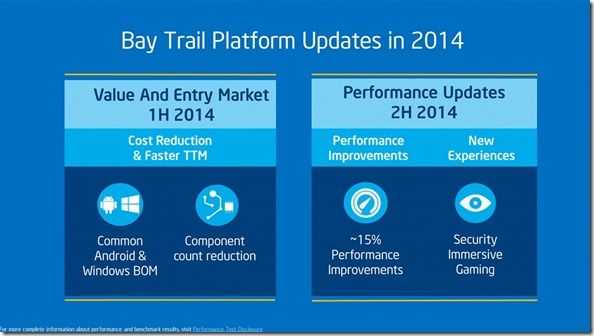 A depth-enabled camera features in the early part of the presentation. This feature would require Realsense on board so again, it looks like Realsense is coming to tablets this year. Watch the video below It's amazing.
It looks like we'll be busy here at UMPCPortal in 2014. We'll continue to focus on the mainstream and high-end of the Tablet PC and mobile PC market and bring you more details about the technologies and capabilities as soon as we can.