I recently wrote about what a late-2014 high-end 8-inch Windows tablet could offer. I talked about Intel's Realsense camera technology, 3G, USB3.1, 1080p screens and AC WiFi. A digitizer and additional access security could be interesting too but is there a market for these high-end features in the 8-inch sector? Could Microsoft create a market with a Surface Mini and a really special technical feature?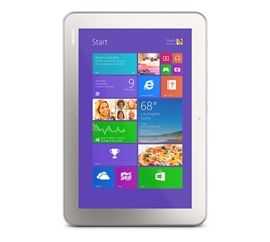 8-inch tablets are bobbing-along at the $200 price-point now and the excellent Dell Venue 8 Pro is just $224 today at Amazon.com.  At the high-end the Lenovo Thinkpad 8 is still $413 which is nearly double the price for very little more in terms of speed or power. The Dell VP8  is the #43 best-selling computer, tablet or accessory at Amazon.com which is pretty impressive. The Lenovo Thinkpad 8 is at #1828, which isn't that impressive.
Clearly there isn't a huge audience for high-end 8-inch tablets with a lot of bells and whistles so is there any reason to make one?
The Surface Pro 3 appears to have launched well and it too is a niche, high-end product but it's getting a lot of traction in terms of search traffic, news and review articles and good feedback from owners. After one month on Amazon.com there are 23 customer reviews with an average rating of 4.3 and It's the #154 most popular computer, tablet or accessory which is really very good for what is a niche product. Why is that?
Firstly the Surface Pro 3 has set a new bar in terms of engineering. They've cracked the 800 gram mark, reached an impressive level of thinness and still managed to design a tablet with a good battery life, at least for a powerful tablet like this. Secondly, it's a Surface. Surface has become a quality brand and is getting netter all the time. Microsoft continues to market the brand and products heavily across many types of media. Could the same engineering, branding and marketing make a Surface Mini a success?
A Surface Mini, or indeed any high-end 8-inch Windows tablet, will have to fit with a high-end brand so it doesn't have to be cheap. It also needs to match that higher price in terms of perceived quality, more importantly, in terms of breaking new ground with a new feature. That 'new feature' could be an issue in the 8-inch space because smaller tablets are bounded by tighter pricing.  Then there's the question of limited physical space in which to innovate.
Brand + Quality + Feature
We know Surface has the brand quality and that Microsoft can give us some great engineering but what can they pull out of the hat in terms of new features. I've done some brainstorming and come up with a set of features that could be possible given pricing and sizing constraints. Not many of them are really that interesting from a marketing perspective but some are worth further consideration.
Battery life – There's very little scope for a unique feature here in 2015.
WiDi – It's useful but there aren't many people that even know what it is and how it can be used.
USB3.1 – A point upgrade, as seen by the customer.
AC WiFi – Not exactly a deal breaker if it's not there at this stage.
Type cover keyboard –  There's little scope or demand for creating a good typing experience within the limited space.
Super-thin design – Sure, shave 0.5mm off but it won't look much thinner than a Lenovo Miix 2.
Screen size. Do users want a 5 or 7-inch Windows tablet? Given the huge competition in this area it's a risk not worth taking.
Digitizer – 8-inches is not really the best place to put a digtizer, adds thickness and reduces space for battery.
Camera
Given that Nokia camera technology is now under the control of Microsoft and that other companies, like Intel, are looking at depth-sensing cameras for new photographic experiences, security, gaming and gesture control there's an exciting possibility that a high-end 8-inch tablet could break new ground by being the smartest camera ever.  The hard technology is there to make an optically-stabilized sensor that might even have some zoom capability but it would need some very special software to make it work well. Is this something that consumers would be interested in or is there too much competition in the established smartphone sector?
Screen technology
Isn't it time to finally get an outdoor-readable screen with low-power properties in a reader-focused device?  8-inch tablets are great for reading both book and web-based content but the screens are terrible outdoors. Pump up the backlight and you'll use your battery charge quickly too. I'm not aware of any screen technology that's quite ready to transform the outdoor experience and battery life in 2015 so maybe it's something that's going to come with flexible or folding screens. While we're talking about screens, how about some waterproofing too? There's a lot of scope for change in screen technology.
Connector-less tablet / processor-less tablet.
Intel want to make a connector-less tablet after Broadwell products have launched. You might see something at IDF in September but it won't be a final product. WiGig is the technology that would be used and it can enable remote docks that offer completely transparent local wireless experiences. Someone could even make the first procesor-less tablet. Instead of having the CPU in the tablet and the connectors in the dock, why not put the CPU in the dock and run the screen and touch layer over WiGig? This would completely transform the tablet design and enable incredibly light builds with extremely long battery life. They wouldn't be usable without the dock but there's nothing stopping the dock from being small too. It could clip on to the back of the tablet.
Give us your feedback in the poll below and if you think there's a 'feature' just over the horizon that would be perfect for a high-end 8-inch Windows tablet, let us know in the comments below.
[poll id="7″]