Rounding-off a series of Chromebook updates here on UMPCPortal are my thoughts on the Lenovo N20p Chromebook which is built around a design I tested recently in the Lenovo Flex 10. In my opinion it adds a lot of value to a laptop and is actually more suited to a laptops design than a 'yoga' style tablet-capable design. Like the Flex 10 the N20P has a 270-degree fold-back 'stand mode' touchscreen and comes with a basic set of specifications. Atom CPU, 2GB of RAM and 16 GB of eMMC storage.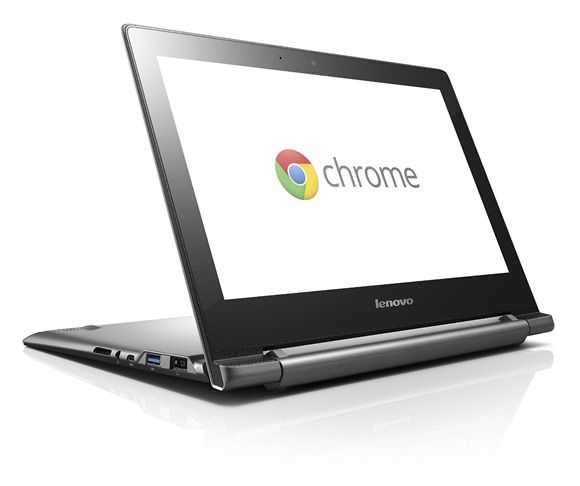 Unlike the Flex 10 this Chromebook doesn't have a touch-friendly user interface option and that, for the time being, could be seen as a big disadvantage. In practice though there are a lot of things you can do with a touchscreen in stand mode and web-browsing is an important one. When I did the in-depth Lenovo Flex 10 testing I found the unit to be more practical as a partner PC than a 7-inch or even 10-inch tablet without a stand. Magazine-style reader apps (I use Feedly) are great with coffee as is a Facebook or Tweetdeck 'easel.' Video applications work well too because this seat-back friendly mode brings the screen closer to the eye and, at full fold-back, has great stability. If you want to lift the screen to eye-height you're also able to fold the screen to 180-degrees and prop up the unit to balance on the keyboard edge. Flex is good and worth paying a little extra for.
At current prices the Lenovo N20p is going to set you back about $60-$80 more than the cheaper Chromebook options which is a significant 25%-33% more than the cheaper ASUS and Acer options and, presumably because of the design, it's a little heavier than, say, the ASUS C200. There's a 34.8Wh battery inside which is OK, but not the biggest either.
Screen resolution is a basic 1366×768 and there's no mention of wide-viewing angles in the Lenovo marketing materials. A USB 2.0. USB 3.0, SD card, headset and full-size HDMI port are on-board and there's AC-capable WiFi.
Although there isn't a perfect match between a 2-in-1 design and ChromeOS now the Lenovo N20p offers the consumer something that's been missing from Chromebooks up until now – fun. As ChromeOS develops with new features and improved touch capability the N20p could evolve into an attractive secondary PC for home and holiday use. If the AccuType full-size keyboard is good, this might make a good conference or hotel PC. In the Education market students are going to be far more excited about this Chromebook design.
If you've got the Lenovo N20p or are thinking of buying it (available at Amazon for $310 in the USA) let us know your thoughts.
To assist you in choosing a Chromebook we're adding selected (lightweight, portable) models to our database here. The N20p will be added shortly.
You can find out more about the N20p at Lenovo's US website.