Toshiba have just launched two low-cost 11.6-inch Windows laptops that hit the same price brackets as their new Chromebook 2 which tells us one thing – no-one really knows how the $200-$300 Windows vs Chromebook market is going to play-out. Do they have overlapping audiences or are they well separated? The Toshiba Satellite CL 10-B is obviously targeted at this market with a specification list that only differs from  Chromebooks by virtue of the fact that it runs Windows. 11.6-inch, Baytrail-M, small SSD. The Toshiba Satellite Radius 11 adds a 360-degree hinge. I took a look at both of these Windows laptops at IFA and here are two video overviews.
Toshiba Satellite CL10-B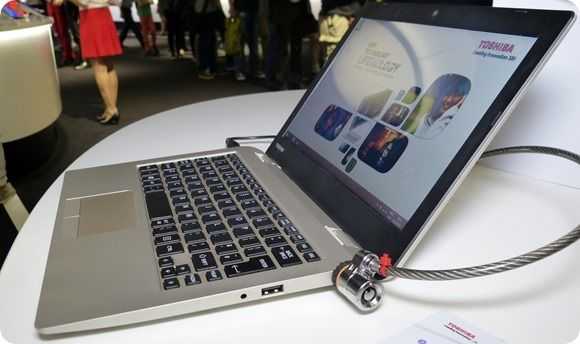 Full photoset here.
This basic Windows laptop is going to be a 'sub 300' product says Toshiba and we've subsequently heard that it will launch at 260 Euros. It still might be able to compete against the cheaper ASUS Eeebook X205 because in my opinion it's slightly better built than the X205 and has a better keyboard but it could also have upgrade possibilities as it's based on the SATA-capable Baytrail-M platform. With a battery capacity of  26Wh (unconfirmed) a TFT screen with a 1366×768 resolution, 2GB RAM and 16GB storage it's got baseline specifications. Weght:1300 grams.
Toshiba Satellite Radius 11
The Satellite Radius adds a 360-degree rotating screen to the mix. It's still a non-IPS screen and the specifications are much the same as the CL-10B apart from a larger battery and a 500GB drive. Of course the weight and price is higher. Price will play a major role in the success of the Radius 11 as it's competing against the Lenovo Yoga 2 11 and other low-cost Yoga-like hybrids. Weight: 1500 grams.