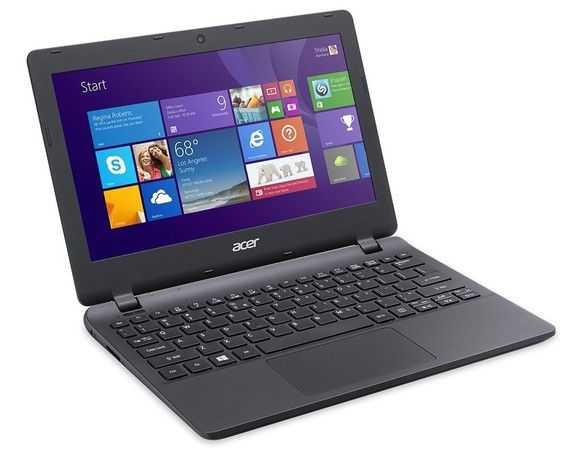 The Acer Aspire E11 (ES1 in some areas) is one of a new-wave of 200-euro / dollar Windows netbooks entering the market as both a response to low-cost Chromebooks and  part of a continuing drive to cut the cost of entry-level laptops. It's made possible by a low-cost Intel System on Chip and tight motherboard integration, low-cost storage and the removal of the fan. Just 32GB of SSD storage is offered so there are some limits to how you can use the ES1. Look at it as a cloud-computer though (100GB of free One Drive is included) and it's easy to see how it might fit into schools, bedrooms and living rooms in many houses across the world. The Acer Es1 can boot Linux too so if you feel like trying  XBMC , Tails, Ubuntu or other distros, you can. A full unboxing and test video is embedded below, after my words on the first 48 hours with the Acer Aspire E11 ES1-111M.
I unboxed the E 11 (ES1-111M from Amazon.co.uk) and spent an evening videoing and testing and came away feeling positive that the N2840 SoC and the eMMC were working well together. I continued the next day with general browsing, game testing and this…typing. The keyboard isn't bad at all and although it's got the a hollow-sounding plastic feel to it there's a reasonable amount of travel and good accuracy. The touchpad is OK but a bit uncertain on two-finger scrolling as there's a delay until it starts working.
More information including specifications and benchmarks in the database.
On opening the casing I found good and bad news. There's a memory slot (2GB installed) but the header for the 2.5-inch drive bay has been removed which is a real shame as a SATA SSD upgrade would have been an easy and rewarding process. You'll have to decide if you want to go for the slightly more expensive 500GB hard drive version but if you do, consider that until you add the SSD ($60-$100) you'll have a noisier, slower, less-efficient and less rugged system than this 32GB eMMC version. 10GB is reserved for recovery so if you clean everything up you'll have about 18GB of free space. The SD card slot is not full-length so you can't leave the SD card in as storage.
eMMC storage is never as fast as a good SATA-connected SSD drive but my initial tests on the Acer Aspire E1 showed it to be one of the best eMMCs I've tested, until the disk space reduced. After 2 days I had just 4GB of free space left and disk write speeds had dropped. The 4K write speed started a 10MB/s (acceptable) but is now in the 4MB/s range which isn't so good. I will clean the system, remove the recovery partition and re-test to see if I can improve those figures. I won't publish the figures I have until I've done more testing.
How-to survive with 32GB storage on a Windows laptop and tablet.
The matte screen has reasonable brightness but appears a little washed. Contrast could be better and of course it's only 1366×768 resolution which is a result of the price but improves battery life and some graphics performance over a Full HD screen.
Performance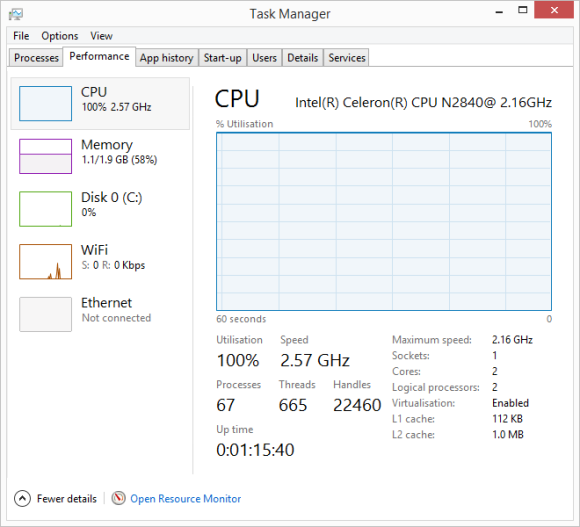 The image above shows the CPU Turbo Boost running at 2.55Ghz constantly under a dual-core load. After 5 minutes there was no throttling indicating that the passive cooling solution works well enough. General Windows operation (after updates, indexing, virus scanning) is quick and responsive.
I've added the first set of benchmarks to the product information page here (Cinebench, Sunspider, Peacekeeper etc.) and they're not bad considering this is an entry-level processor. The Aspire E11 certainly doesn't feel like anything is holding it up under single-tasking operations but after installing Minecraft and playing for 30 minutes I came out to find slow Chrome tabs and the sluggishness you would normally associate with a pageing / swapping. The 2GB RAM could be more of a limitation than the low-end CPU for some people so consider a 4GB RAM upgrade when you buy your E11. Disk storage is another issue though and you'll hear more about that below.
Something the Chromebook can't do is connect to printers, stream files from a NAS, play DVDs and simple things like AC3 support and Bluetooth file transfers. The Acer Aspire E11 is a full PC and can be docked to a 1080p monitor and used just as you would a desktop PC. And it's silent. I have a Surface Pro 3 that I use on the go sometimes and let me tell you this – at my co-working office space it's damn annoying to hear the fan when I'm working hard. The move to fanless laptops is welcome.
Skype works fine in the background on Windows 8.1 (I use the RT version for more efficiency) but the camera is a bit grainy.
Speaker quality is OK and goes loud without distortion. There's a typical lack of bass and roundedness though.
Battery Life
I'm impressed, so far, with the battery life on the Acer Aspire E11. A 36Wh battery isn't that big and yet it looks like the Acer Aspire E11 is a true 7-hour browsing laptop. Checking battery usage under various conditions showed good efficiency and very low background drain. I was using the E11 for 4hrs and 8 minutes on the first full day of usage (according to powercfg -batteryreport) and 40% battery was available on the next day. [As I finish this article there's still 2 hours battery life left. 15% has been used in the last 2 hours.] Windows 8.1 with a highly consolidated mainboard can be incredibly efficient and I don't see much difference at all between the Acer CB3 Chromebook and this Acer E11 Windows laptop.
Notes
Gigabit Ethernet port is included. (Why don't we see these on the Chromebooks?)
No GPS or other sensors.
No TPM (and therefore no Windows 8.1 disk encryption.)
No detected heat during use.
Easy to remove back cover. Access to memory requires removing the mainboard (see video.)
Power button feals flimsy and low quality
Minecraft works on low settings but it's totally smooth. Still, quite enjoyable.
8GB of storage free out of box (10GB is used for recovery partition. This can be removed.)
Lots of Acer-installed programs but nothing much running in background except McAfee Live Safe (remove if you're happy with Windows Defender)
No free Office 365 license. 100GB free One Drive (2 years) included.
Acer Office and cloud programs pre-installed. Not tested.
Screen is matte, not glossy.
Wifi is a/b/g/n  (Broadcom) and appears to be only 2.4Ghz capable
N2840 SoC includes Intel Quick Sync hardware encoding support. (Tested and working with Handbrake)
Linux on the Acer Aspire E11
There's a legacy boot mode in the UEFI BIOS which is available after you add an administrator password, reboot, disable secure boot and reboot into UEFI again. [I think it's F2 to get into the UEFI. I had problems though and used Windows recovery reboot options to get into UEFI] I booted Openelec from a USB stick and after wating a while was able to stream a YouTube video. You'll see that in the video too.  There are issues though. WiFi didn't work, the touchpad didn't work and audio didn't work. I couldn't even output through the HDMI port. I haven't tried Ubuntu but I suspect it will be better as it's a distro that covers a wider range of hardware than Openelec. I will also try Tails (the privacy-focused, TOR-enabled distro) and XBMCBuntu over the coming weeks.
Video – 30 minutes unbox, tests, Linux, internals and more
Summary
The Acer Aspire E11 looks like a real bargain of a Windows laptop and once it's settled after updating, indexing and virus-checking it's a smooth experience for browsing and Windows RT apps.  Office has installed and is working. Minecraft too! The Acer E11 is nothing like the cramped 10-inch netbooks of 5 years ago and has more than 'just enough' performance but in a way, this new generation of low cost laptops is way more suited to being a Net-book than the original netbooks. The infrastructure is there too so I have non in continuing to use that label.
The disk space is going to limit local application use so consider this more of a cloud-storage laptop with occasional native app capability. There's a big problem for the average consumer here though and we've seen it on Windows 8 tablets – disk management. After just 48 hours I had filled up the disk and that was without adding any content like videos or music. Chrome, Windows update files (not easy to remove before they are 30 days old) and other 'cruft' build up quickly.
These 1500 words have proven that the keyboard is accurate but the touchpad has poor multitouch performance and the mouse button clicks have a squishy feeling.
It's silent, Linux-capable, 4GB RAM-capable, has long battery life and runs a complete Windows 8.1 build which , if kept clean is a smooth experience for basic Windows usage.
Testing continues…
Will I use a Netbook?
The Acer ES1 might cover most of my working scenarios well. I type a lot, I use the browser a lot. I'm getting used to OneDrive integration, music and video playback are important and when a laptop is as light and as quiet as this it's a bonus. The big issue for someone like me is video editing when i'm mobile. While the Acer ES1 will be able to edit 720p videos with a basic desktop video editing application there are two issues. 1) speed of rendering. I think the ES1 will be able to render 720p in H.264 at about 2|X real time which is fine for me. 2) Storage of 10's of Gigabytes of source videos and images. That's the biggest problem I have with netbooks. I could, indeed, offload everything onto a fast USB3 SSD drive and I will try this Maybe the Acer E3-112 is for me. It's a version of the E11 that comes with a 500GB hard drive. Upgrade that with a 250GB SSD and we're talking!
More information including specifications and benchmarks in the database.