10 years ago today I posted a set of blog posts about the need for a 5-7 inch mobile internet device. The Carrypad Journal covered the early days of the Windows tablet, the growth of consumer tablets and the evolution of mobile productivity. It's a pleasure to be writing about a very intresting new product from HP today. The HP Elite X3.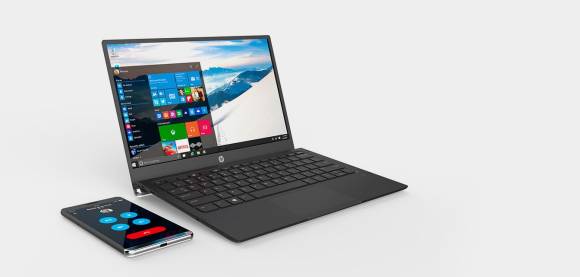 Earlier today at Mobile World Congress a smartphone company launched a PC. Huawei's Matebook is big, light and stylish. A short while ago HP, a PC-centric company, launched a Windows 10 Phone that's designed to offer a PC experience.
The HP Elite X2 is a high-end 6-inch business-focused smartphone that uses Windows 10 Continuum to offer a PC experience. Not only is there a docking station available similar to that available for the Lumia 950 but HP have also created a Continuum laptop – a 1 KG 12.5-inch barebones laptop with a 45 Wh battery, screen, keyboard, and ports. It's called the HP Mobile Extender and it's driven from the phone where you'll be able to use Continuum-enabled Universal Windows Platform apps. I demonstrated this in a Continuum demo video recently.
Continuum is an extremely powerful feature, unique and one of the best chances that Microsoft have to get moving in the smartphone space. It could springboard the development of Universal Windows Applications, at least for the business sector and if this idea takes off it could inspire consumer-level products along the same lines. My bet is on a Surface Phone that does exactly this.
Windows Central have a good series of articles with more specifications, information and hands-on and there's an HP Elite X3 page here. I've embedded a video below.
The HP Elite X3 This is going to be an expensive bit of mobile computing but it's going to be one incredibly flexible setup.