The Lenovo Yoga 710 that I'm writing on now will be available in 3 weeks for and entry-level price of $549. Pricing appears on the Lenovo USA website. A Lenovo Yoga 710 for $549 will include a Pentium 4405Y CPU which is effectively a cut-down Core M CPU at 1.5 Ghz and a low-end GPU (HD 515) and it allows Lenovo to keep the price down. You'll still get 128 GB of SSD (not eMMC) and 4 GB of RAM along  with Windows 10 and the full HD touchscreen.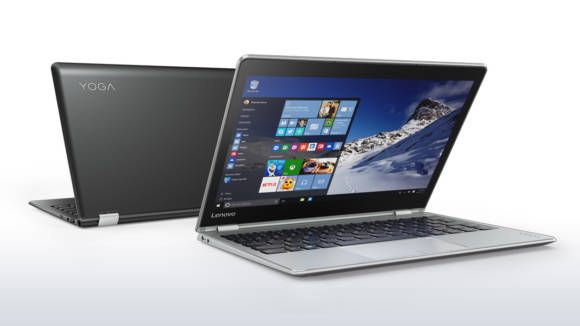 I like the Yoga 710 and can tell you with some level of confidence that it will fit well into a home scenario because I've used a prototype since March. Battery life is great, the screen is great and it's incredibly mobile.  2.3 pounds.
The keyboard is great (no backlight though) and it's silent. Screen brightness is good and it feels like it's got reasonable color spread and accuracy. Contrast isn't extreme, but it's good enough for an excellent video experience.
On the downside there's only a single full-size USB port and micro HDMI. No microSD expansion.
Add another $100 and you'll get the Core m3 and 256 GB of SSD and if you want to go up to the Core m5 with 8GB of RAM then you'll be paying $799 which isn't bad considering some of the 2-in-1's running on the same platform are well over $1000.
I like the Yoga 710 a lot. You can read my Yoga 710 first impressions (of the pre-production sample) and if you have any questions please ask below and I'll do my best to answer.
Shipping is said to be in three weeks.
You can find out more on the USA versions of the Lenovo Yoga 710 here. For those in Germany you'll find the Yoga 710 listed on Amazon.de for a much higher price.
Here's my hands-on Lenovo Yoga 710 video from CeBIT.
Keep an eye out for more low-cost laptops and Chromebooks based on this 'Core M' CPU because it looks like it's going to drive prices down. Is there any space for Atom-driven PCs now?