Intel has launched the Hades Canyon NUC, a quad-core high-end mini PC in the style of the Skull Canyon NUC that I've personally been close to buying several times after I tested it for NotebookCheck. It's aimed at gaming and graphics-heavy processing including video editing and I tip this to be quite the hot product for the new generation of multi-camera live streaming systems based on NDI (video over IP) standards.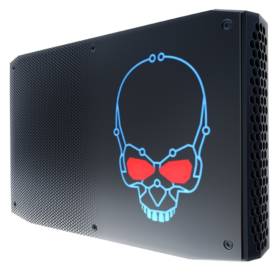 Update: New Hades Canyon review information.
This time round the mini-PC will include not only a high-end quad-core 8th Generation (2018) processor but will also include completely new graphics…from AMD. This signals a possible end to the Iris brand of on-board graphics Intel had developed specifically for gaming and video applications. Will the Radeon RX Vega M GL / GH (two variants, think of them as Low and High performance) GPU be better than the previous Iris Pro graphics? Yes! This processor has a system design point (SDP) of 65W or 100W. In the GL (65 W) version Intel are comparing it to an Nvidia GTX950. The GH graphics version (100 W) is being compared to a GTX 1060. That's full-HD high-level 'all games' capability.
The new product, which will be part of our 8th Gen Intel Core family, brings together our high-performing Intel Core H-series processor, second generation High Bandwidth Memory (HBM2) and a custom-to-Intel third-party discrete graphics chip from AMD's Radeon Technologies Group* – all in a single processor package.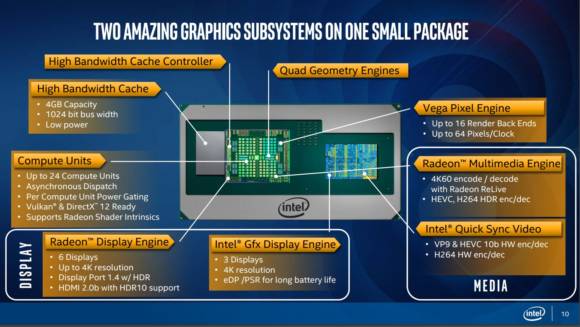 Independent test results aren't available yet but look at where Intel are pitching the performance.
Radeon RX Vega M GL – 2 X as fast 3DMark 11 as a 3 year old system with Nvidia GTX950M graphics / comparable to GTX 1050 graphics.
Radeon RX Vega M GH – 2.7 X as fast 3DMark 11 as a 3 year old system with Nvidia GTX960M graphics / comparable to GTX 1060 Max Q graphics.
I'm not a gamer but I can tell you that for video editing this is a hugely useful level of editing power, even in the low-end NUC8i7HNK model. Don't forget that you still get Intel Quick Sync video encoding and decoding too. Quick Sync is fantastic for fast-speed drafting or quick H.265 uploads to YouTube.
As for VR, you #ll need to be looking at the NUC8i7HVK high-end variant.
The new Intel VR machine NUC Hades Canyon will be available in spring. Pricing for the barebones systems (without OS, storage and RAM) start at $799. The GL variant will be $999 which makes it a $1500 PC when loaded with the required RAM, SSD and OS.

Hades Canyon VR Machine specifications.
NUC8i7HVK
8th Generation Intel® Core™ i7-8809G
3.1 GHz to 4.2 GHz Turbo, Quad Core, 8 MB cache, 100W
Radeon™ RX Vega M GH graphics, 1063 MHz – 1190 MHz
Unlocked and VR-capable
NUC8i7HNK
8th Generation Intel® Core™ i7-8705G
3.1 GHz to 4.1 GHz Turbo, Quad Core, 8 MB cache, 65W
Radeon™ RX Vega M GL graphics, 931 MHz – 1011 MHz
Common specificaations:
RAM Dual channel DDR4-2400+ SODIMMs, 1.2V, 32GB maximum
M.2 & SDXC 2x M.2 22×42/80 (key M) slots for SATA3 or PCIe x4 Gen3 NVMe or AHCI SSD, RAID-0 and RAID-1 capable
SDXC slot
Connectivity
2x rear Thunderbolt™ 3 (40 Gbps) and USB 3.1 Gen2 (10 Gbps) and DisplayPort 1.2 via USB-C™ connector
Front USB 3.1 Gen2 via USB-C™ and front USB type-A connector
Front charging USB 3.0, 4x rear USB 3.0, 2x internal USB 3.0 and 2x USB 2.0 via headers
Front Consumer Infrared port
Video Outputs
Front and rear HDMI 2.0a (4K 60Hz, HDR) connectors
DisplayPort 1.3 via 2x rear Mini DisplayPort ports, and 2x rear Thunderbolt™ USB-C™ ports
All ports support HDCP 2.2
Networking
2x Intel® 10/100/1000 Mbps (i219-LM and i210-AT) Ethernet ports
Intel® Wireless-AC 8265 M.2 22×30 card, IEEE 802.11ac 2×2 + Bluetooth v4.2, internal antennas
Audio
Up to 7.1 multichannel digital audio via HDMI or DisplayPort signals
3.5mm front headset jack, 3.5mm rear speaker / TOSLINK combo jack
Enclosure / Casing
Metal and plastic with replaceable lid, Kensington lock with base security
Dimensions 221 x 142 x 39 mm (1.2 L)
Internal Headers Common I/O header with Front Panel, CEC, 2x USB 3.0, 2x USB2.0 signals
Power Adapter 19VDC 230W power supply with replaceable AC cords
Other Features
Replaceable lid with customizable RGB LED illumination and front panel status RGB LEDs
Quad beam-forming mic array
VESA mounting plate included
3 year warranty
Sources: Intel.
My Intel Skull Canyon NUC review video is shown below.