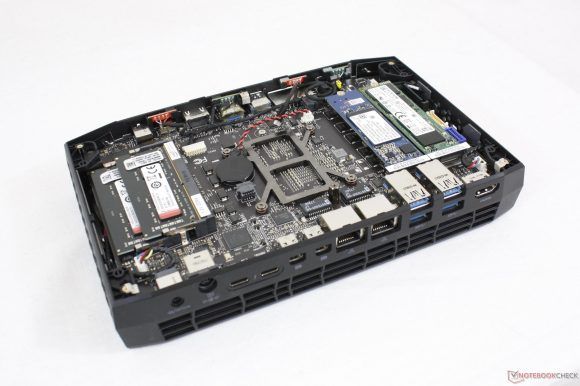 Hades Canyon NUC
If you're looking for a mobile PC for high-end work such as gaming, video editing or live video production then this Hades Canyon NUC8i7HVK is the most powerful solution you can find today. In 1300 grams, lighter than most laptops, you'll find a Kaby Lake G Quad Core i7 CPU package with a TDP of 100W. That huge TDP figure is because Intel have dropped an AMD Radeon RX Vega M GH on to the package. It's an incredibly powerful solution and will compete with Nvidia GTX 1060 – level laptops.
Hades Canyon Specifications and information.
Of course this isn't a self-contained mobile PC. With no screen and no internal power you won't be able to work on the go but as a mobile multimedia workstation the Hades Canyon solution is perfect.
Notebookcheck ran the Hades Canyon NUC through it's extensive suite of tests back in March and here are some of the highlights.
Hades Canyon NUC8i7HVK key features.
Max power consumption at the wall – 173W
Quieter than most gaming laptops thanks to a vapor chamber cooling system
2 thunderbolt ports and 3 displayPort outputs. Up to 6 monitors!
2 M.2 slots for SSD
Intel Optane and FreeSync support
High-end gaming with some 4K possibilities
More information on the new Intel / AMD Radeon RX Vega.
Take a look at the heat map that Notebookcheck did. It looks like it's about take off!!
Don't worry though, as long as you keep the exhaust free of obstructions it's not going to get too hot on the casing. If you're mounting it to the back of a monitor with the included VESA mount, just be careful about what's sitting underneath it or consider mounting it with the exhaust ports facing up if possible.
I tested the Skull Canyon NUC last year and was really impressed with the build quality and the attention to detail in the BIOS settings. At that time I was involved with live video production and was close to buying one. If you're doing any network-based video switching (NDI with VMIX software, for example) then Hades Canyon is going to support a huge number of inputs and graphics without getting overloaded.
The high-end Hades Canyon NUC is retailing for about 900 Euros / $900 without Windows 10, memory and storage. Budget about 1300 Euros / dollars for a working system.
Budget Hades Canyon NUC
If this high-end NUC is a little above your budget then you need to take a look at the lower-end version with the Intel Core i7-8705G and AMD Radeon RX Vega M GL. This is still a Core i7 quad-core PC but everytug slightly lower-clocked to stay within a lower TDP. You'll find this combination in the new Dell XPS 15 and the NUC will set you back about 750 Euros (including tax) / $750. Again this is a barebones NUC and you'll need to add an OS, memory and storage. If you're careful you could bring it in at under $1000.
Is Skull Canyon still a good deal?
Skull Canyon, the 2017 version of this NUC, based on the Core i7-6770HQ with Intel Iris Pro Graphics 580 is still a good option if you're looking at 1080p gaming, 1080p video editing and lower-end live video production. With a fast SSD it makes a powerful desktop and can be had for under 500 euros / dollars. It's smaller and lighter too.
Pre-built versions of Skull Canyon are available for around 800-900.
If you're a NDI video producer using VMIX, for example, Skull Canyon is going to be perfect.
If you're looking at VR or high-end gaming and 4K video editing / rendering though, the Hades Canyon NUCs are looking perfect.
Check out the full NUC8i7HVK review.