As I prepare a full review of this 10.9-inch 2-in-1 ChromeOS based device I need to put something into perspective. I haven't fully tested an ultra-mobile PC for over 6 years. I'm going to need some time to re-base my expectations because this Lenovo Duet 3 just seems too good. I must be missing something. Maybe you can help me!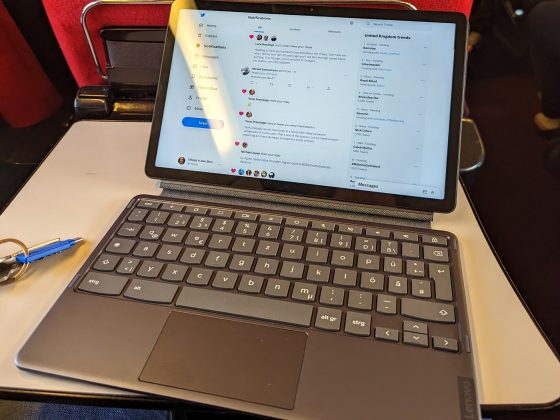 With the Duet 3 you're getting a good keyboard, a very bright 2K 10.9-inch touch and pen-enabled screen, 10+ hours of battery life, an advanced app-store, high levels of security, silent operation and enough power to be productive, for under €300? Please, people, what am I missing? [Update: The local price is back up to €399 now, but it might still be worth it. US pricing ranges from $300 to $379]
The question of productivity on this 8-core Snapdragon 7c needs to be quantified, as does the battery life which can go down to sub 4 hours at full-load. There's no LTE or GPS, the speakers are poor and I'm working with 64 GB of relatively slow eMMC storage…which is already down to 30 GB after installing a bunch of Android apps. Finally, on the list of negatives, and this is going to shock some of you, there's only 4GB of RAM. That pretty much kills the possibilities of using the Linux subsystem, especially as you'll be looking to reserve 10 GB of storage for that.
Also note that this is a late-2022 system and it's likely that a new version will appear soon. Having said that, if this is good enough for ultra-mobile SaaS applications, then why bother with the new version?
Surprisingly, the webcam is good. Surprisingly, Chrome is excellent with its memory management. Surprisingly, there's USB-C PD support so you can use a single-cable solution to turn this into a desktop PC. My Pixel 6 can even charge the Duet 3, if I so choose!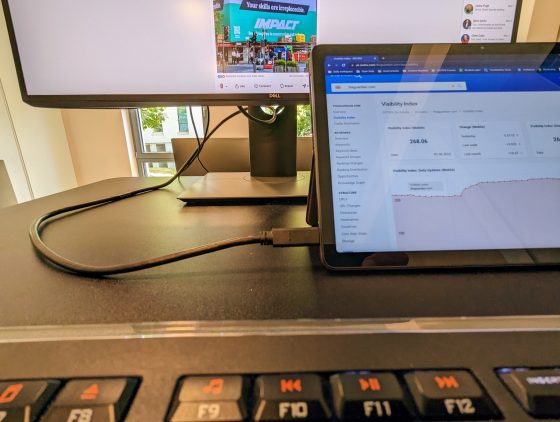 Included in the box is a USB-C to 3.5 mm headphone (possibly headset) adaptor, a 30W USB-C PD charger and a USB-C cable which is €25 bundle I was not expecting. That USB headphone adaptor works with my Pixel 6 too so…result!
Speaking of Pixel 6, that's about the level of browsing power available.
The JetStream 2 results for the Duet 3 Chromebook are around 90 putting it level with the Google Pixel 6 and in the same category as Core i5 PCs of about three or four years ago. For me, that's enough to drive my daily office work. Admittedly, I live in a SAAS world now but there's a fair bit of Javascript processing going on.
In a full-day test where I'd normally be ufsing a recent Core i5 8GB Chromebook it was a seamless slot-in, until I tried to open 76 tabs in one go…which brought the Duet 3 to a standstill.
And yes, i'm writing this review on the Duet 3. Here I am…picture taken with the Pixel 6…auto-synchronised to Google Photos and…boom…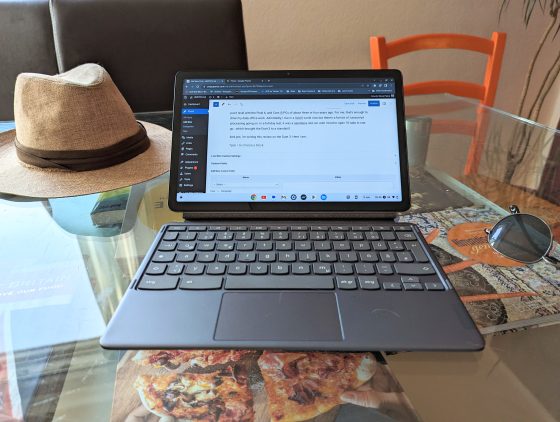 In the full review I'll write more about ChromeOS and it's limitations but I have to say that i'm extremely impressed with how well the Android apps are working.
I'm loving the screen for my Calimoto motorbike tour planning. Doodle jump seems responsive enough. Google News, Google Authenticator, Gmail, Google Photos and the One app VPN are working smoothly. Kindle, Instagram, WhatsApp, Weather and Radar round off my current list. I'll test more of course.
So while I go through the full review, including an unboxing video and the usual Chippy extras, take your time to let me know what you think?
I'll tell you what I think. This is the best travel PC I've tested since the Lenovo 710 11.6-inch 2-in-1 from back in 2017.
And one more thing. As I write this, with about 20% screen brightness, I've got 11% battery life, and 1:35 on the clock. Can we just put that into perspective please. A running PC, with a 2K screen, with WiFi on, and a few tabs open, on a 29 Wh battery. That's 15 hours of battery life, giving me an average power consumption of under 2 watts.
This is the most efficient PC I've ever tested.