I've upgraded the Ainol Mini PC to Windows 10 and apart from it completely resetting itself to Chinese language everything went smoothly. After doing some battery tests I got a bit curious and opened it up. There was a surprise waiting for me inside.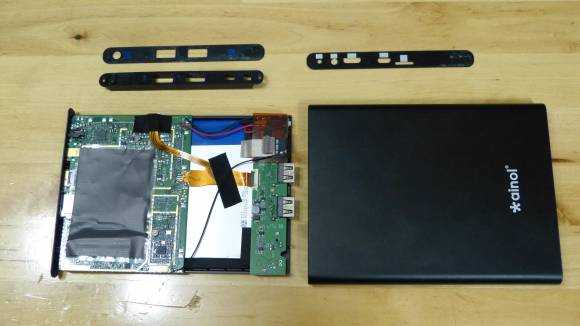 I've started some testing which includes Kodi (summary: Great apart from some 1.5 Mbps Hi10p files.) but first let me give you a few images that will help you reset the language.
It helps if you have another Windows 10 PC in your own language next to you when you do that as the UI positioning is the same and that's how I managed to sort out the problem.
There's one other thing I needed to do to make sure that the login screen was in English…
Reboot, possibly twice, and you should see a pure chosen-language experience which includes login screen.
Inside the Ainol Mini PC.
The Ainol Mini PC reports a 13 Wh battery in Windows and when I tested video playback battery drain I was shocked at how efficient it was. Could it really play back video at 1.5 W battery drain? A second, longer test resulted in 1.68 W drain. For a 13 Wh battery that would be 7 hours and 45 minutes of playback but incredibly efficient.
I've tested hundreds of Intel Atom based PCs and full-HD video playback rarely uses less than 5W of battery power. Assuming the screen backlight takes 1-1.5W (which it does on smaller tablets) the maths didn't add-up. Time to take a look inside to see exactly what was going on.
The inside of the Ainol Mini PC is primarily Li-Po battery and it's big. 25.9 Wh is double what's reported in Windows 10. That explains the exceptionally good power drain figures then!
You'll still get 7 hours and 45 minutes of full HD playback from the Ainol Mini PC but the power drain is 3.36, not 1.68 W. It's still very competitive but directly in-line with an Atom-based Windows tablets if you remove the screen drain from the equation.
It's a tiny mainboard but the interesting bit for me was the sticky-back heat-spreader. You'll need to make sure it's replaced carefully to avoid overheating if you remove it.
As you can see, nothing is upgradeable.
I'll be doing more testing on the Ainol Mini PC but as it stands I'm primarily interested in it as a home theatre PC. That battery means you don't need mains power for an evening's entertainment.
Thanks to Gearbest for sending the Ainol Mini PC over for testing. It costs just $99 to buy but I had to pay about 40 Euros in import costs here in Germany. You might be lucky on your import and get it for free but you might not. You can buy the Ainol Mini PC here.