In my last report  – How Was my CES 2011 Mobile Reporting Kit?  I didn't have much positive to say about my plan for quick-fire mobile blogging. 3G failed me and I ended up scrabbling around trying to find WiFi hotspots. Not only is it a pain in the neck, it's also a security risk. I connected to 18 different SSIDs in Las Vegas!
In Barcelona last week, it was a completely different story. On day-one I used the hotel WiFi but as soon as my 3G card was configured, I didn't touch another Wi-Fi all week. Everything, including video uploading, was done via Vodafone 3G and finally, because of the 3G, the kit worked together in harmony, including a new photo blogging process that I've detailed below.
A reminder of what I'm using:
I took my Atom-powered Gigabyte Touchnote netbook (in use since April 2009) and the Canon S2IS (In use since Mid 2007)  I added the Galaxy Tab and the Nokia N8 Smartphone (thanks to Nokia UK for the loan of the phone) and a pay-as-you-go SIM card and 3G data service from Vodafone Spain. Although there's a nice range of tech there, it certainly isn't high-end across the board.
As always, the netbook was for long-form typing and video 'finishing' and uploading. I didn't do any live blogs with the Canon S2IS attached via USB this time but the S2IS was used for  videos. It's a rather embarrassing 640×480 resolution and I only get about 9 minutes in before the card runs out because it records in M-JPEG and only supports SD cards, not SDHC but, the optics and Mics are great and the video file is easy to process on a netbook. With the long zoom it also works well in keynotes and press events although I do realise that none of the images taken in low light are anywhere near print quality!
Despite my love for this camera I have to find something that is faster, supports 720p video, is more sensitive and, somehow, supports external audio input. The rotating viewfinder is a must for self-filming too. I really would love Bluetooth support on my next camera for instant sharing/pushing but for the time being, I'm considering an Eye-Fi solution and the Canon SX20 or new Fujitsu HS20. I just cant afford to go to four-thirds and and I can't justify 1 Kg of DSLR equipment!
The reason I'm so bent on having Bluetooth on my camera is due to the way I've been using phone cameras for the last 3 years. The Nokia N82 gave me the ease of transferring images to PCs and other mobile devices for easy editing, sharing and photo blogging. At MWC I used the N8 for just that and the experience was amazingly stress free and flexible. Far more than simple photo-bogging.
Photo blogging like never before, without a PC!
Take one Nokia N8. Pair it over Bluetooth to a Samsung Galaxy Tab, connect the Galaxy Tab to the internet via a 3G service and boom! You have one of the easiest, richest photo blogging solutions I've ever seen. The solution was so liberating that I ended up posting about half of my content last week without the use of a PC. In most of those cases I was standing up and in some cases, even walking! The solution also allows for multiple images in a post. Here's an example that was posted on the Samsung booth just minutes after shooting a video.
Here's a video demo of the solution.
Here's the blog entry I created during the video.
Note that this process also works with Twitter, Email, Pixelpipe, Evernote, Facebook and other sharing targets. That's the flexibility of the Android sharing subsystem coming in to play.
Unfortunately, the size of the N8 720p videos and the low speed of the Bluetooth 3 protocol (remember, the N8 and the Tab don't have the 'HS' Wi-Fi extension that speeds up transfers) mean it can't be used for that but 480p is possible on the Galaxy Tab, with video light and pause capability. There's no continuous auto-focus but if I can find a video splicing application that fits my needs, it might work! [I'm currently testing Clesh the web-based service which now has an Android client]
Other improvements could be made too. Ideally I'd like to be able to auto-send an image to the Galaxy Tab although selective sending isn't exactly a problematic or time-consuming task. The best improvement would be in the WordPress editor. Inclusion of html source, bullet-point support and positioning of photos (rather than just at 'top' or 'bottom') would make posts look less samey and if the WordPress application could support the sending of 'custom-fields' I could feed more layout info to my back-end.
Some of you might be thinking – "Why not use Pixelpipe or get a slider phone or Use the camera on the Galaxy Tab." Yes, this is something I've tried to do in the past but there are a few problems with that. Number 1 – The N8 takes extremely good low-light and close-up photos without flash. 2 – The large screen of the Galaxy Tab allows me to thumb type and review a lot of text (see pic below. )The WordPress application adds a lot of value to the processes enabling auto-resizing, links, tagging, geo-tagging and more. The portrait mode keyboard on the Galaxy Tab is superb. Haptics and Software work well together.
Take a look at this pic, taken with the N8 and transferred by Bluetooth of-course! You can see how much screen area is still usable with the keyboard on-screen.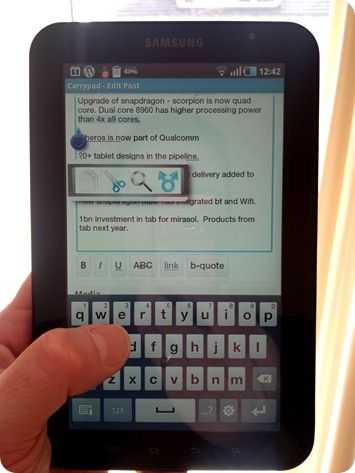 The N8 also has an excellent photo gallery application (fast, smooth, usable), high quality audio recording capability and good outdoor screen clarity. Its the perfect device for this set-up.
In terms of rich photo blogging, I've found a great pair of devices in the N8 and Galaxy Tab. So much so that I might reverse my original decision to hand back the N8 and look for a different phone.
As far as the camera and netbook go though, a move to 480p 720×480 or similar is a must. This is potentially a 1000 Euro and 2KG decision so I'm not going to do it without a lot of thought. The ideal solution will give me 720p source and 480p editing in 1.5 Kg but that will be very tough to achieve. The AMD Fusion platform (Toshiba NB550d perhaps?) and a Fujitsu HS20 could be a good place to start. I'll be testing soon so keep an eye out for the next mobile reporting kit.
I'll be at CeBIT, Hannover next week where the kit will be in action again.