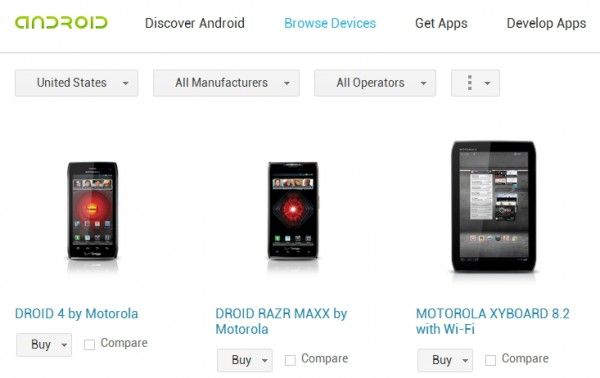 Google has relaunched and redesigned their database of 'official' Android devices. Previously found at google.com/phone, Google has moved the gallery under the Android domain; it can now be found at android.com/devices. Along with the domain move, the gallery has recieved a visual overhaul which uses cues from Android 4.0 Ice Cream Sandwich.
Obviously this move was partly motivated by Google wanting to show that the scope of Android is greater than just phones. By moving away from the google.com/phone domain, and calling it the 'Android Device Gallery' rather than 'Android Phone Gallery', Google has made it clear that Android is an all encompassing mobile OS.
You won't find 'unofficial' devices (those running the open-source version of Android which lacks the Android Market) in the Android device gallery. Unfortunately, it doesn't seem that the Android device gallery is all inclusive at this point — even for official devices. Some of the hottest Android devices currently on the market can not be found in Google's android device gallery. Take for instance the Galaxy Tab 7.7, Galaxy Note, Galaxy Tab Plus, the Archos G9 tablets, and quite a few others — none of these are currently in the Android device gallery, but of course you'll be able to find these in our very own device database.
One of the nice things about the Android device gallery is that you can sort by carrier, making it easy for those under contract (most of us!) to see which devices are available to them.