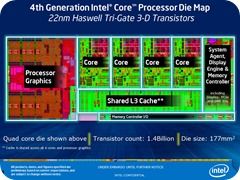 It's finally happened. Intel's 4th-Gen Core has launched.
At time of writing we're not seeing any news direct from Intel and it looks like only quad-core reviews are being let out of the gate for the time being but there's one important bit of news we're picking up and that's that products with Haswell inside will be available starting 4th June. Yes, next week. Those products include tablets so we assume that the first Ultrabooks with Haswell will be available too.
First out of the gate onto our search results was Techage but there's already a Core i7-4440K (desktop part) review available from Hexus and PC Advisor.
At this stage there's not much more we can add so we'll leave it at that and resume our search for more Ultrabook news related to Haswell and 4th-Gen Core.
We'll update with the Intel PR when we find it.
Update: Engadget are claiming Haswell will officially launch on 4th June. At this stage I think we can safely say that it's official and ignore any reference to 'launch.'
ARSTechnica have a technical review up.