I am constantly on the lookout for the ultimate mobile laptop. It's got an office-class CPU, has a 'real' SSD, an IPS screen and weighs under 1.3 KG / 2.9 pounds. Ideally it has a 5+ hours battery life, a full HD resolutions and costs $500 or less. It's not easy to find a solution but I've come up with 5 options and detailed them below.
13-inch lightweight laptops
Dell XPS 13 (2015)
One thing is for sure. If you want a 13-inch ultrabook (which in my opinion should have a Core U-series CPU inside) then you'll be looking at over $700 and there's nothing more to say here than Dell XPS 13 2015. It's popular, has had good reviews and has excellent battery life. The Core i3 version with Full HD display and 4GB RAM for $799 should be fine for most users.
ASUS UX305
The other option is the ASUS UX305 which has also had some good reviews. It's a Core M powered laptop with a 13.3-inch Full HD IPS display (also available with a QHD display) and a reasonably large battery. It weighs just 1.2 KG (2.6 pounds) and is the Windows equivalent of the new Apple Macbook, at a much better price – $699 is your starting point.
11 and 12-inch lightweight laptops
Move down to sub 13.3-inch sector and there are some interesting options that start at just $399. All of the options here are 2-in-1s as manufacturers like to put ultrabook-style products into a premium category. If you look at the mainstream-focused 2-in-1s however, there's some good value options.
Acer Aspire Switch 11
The Acer Aspire Switch 11 (below, left) is available with a 4th-Gen Core i3 (2014, Y series) and a SATA SSD for just $399 and it's the bargain of the bunch here. I've reviewed the 10-inch version of this and was happy with the price / quality ratio. Don't expect the best build, materials or performance but do expect to have some fun with the detachable tablet. There's a full-HD screen and there is even a model with a hard drive in the keyboard base.
Acer Aspire Switch 12
If you want a slightly bigger screen and more processing power, check out the Acer Aspire Switch 12 (above, right) which is unique for a Core-based 2-in-1 because of the large built-in 'lappable' stand and Bluetooth keyboard. Performance on this is much better than on the Switch 11 with Core i3 due to the latest 5th-Gen Core M processor. The screen is good and there's good battery life but it's heavier than the Switch 11. I really enjoyed doing a full review on the Switch 12 and I'm now seeing prices from $599 down to $499 in the USA which makes it a great deal.
Lenovo Yoga 3 11
Another Core M product consider is the Lenovo Yoga 3 11. This non-detachable design might suit those looking for more of a laptop experience and for $699 (offer at Dell.com) you get 8 GB of RAM and 180 GB of SSD with a Full HD touchscreen. The entry level 4 GB  version is just €599 in Europe (but $679 in the US which means there's scope for discounts) The Lenovo Yoga 3 11 is fresh on the market so there aren't many reviews around yet but i've added a few to the product database.
Summary
13.3-inch
Dell XPS 13 2015. Latest Intel Core CPU with a stylish laptop design and long battery life for $799 < Performance
ASUS UX305. Core-M based laptop with good performance but less battery life than the Dell. $699 < Balance
Under 13-inch
Acer Aspire Switch 11. A 2014 Core i3 CPU and newly announced Switch 11V means this one is nearing end of life. Hence prices for the Acer SW5-171 from $399 < Bargain
Acer Aspire Switch 12. Core M based 2-in-1 detachable with unique design. Offers starting at $499. < Flexible
Lenovo Yoga 3 11. Newly released stylish and laptop-like. Prices starting at $679. €599 in Europe (inc taxes) < Sensible
Click the image below for the interactive comparison table for the top 5 lightweight, ssd-based laptops.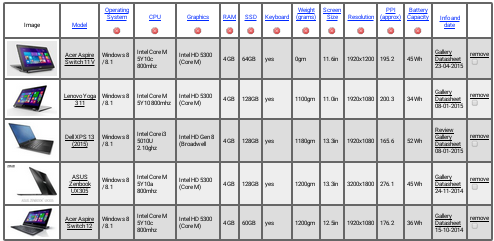 At $899 the MacBook Air 11 2015 isn't cheap so doesn't make the top-5 list here but it has to be mentioned as one of the cheapest and most powerful options in the 11.6-inch space.
One to watch out for soon: Acer Aspire Switch 11 V. A new design and Core M CPU, digitizer and 1.2 KG weight. Rumoured price is $500. Expect to hear more about this one during Computex next week.
Which one would you choose? Or are you looking for something else? Add your thoughts in the comments below.